Great Britain's Charlotte Green expects this year's UCI BMX Supercross World Cup in Manchester to be the toughest yet.
The series will start in the UK for a third successive year on 18-19 April with the cream of BMX talent descending on the indoor track housed at the National Cycling Centre.
Colombian Olympic and world champion Mariana Pajon and 2014 world cup winner Caroline Buchanan are among the multitude of riders who have made the journey.
"I think the event is going to be even harder this year compared to last year," said Green, who was fourth in 2014 as she reached her first world cup final.
"The likes of Mariana weren't here last year and Alise (Post) got injured here last year. I think everyone has stepped up again and I hope that I can be one of those people."
British champion Green will be the nation's sole female representative after three-time BMX world champion Shanaze Reade announced her return to the track after a year of competing in BMX in the USA.
Not since Reade's double in 2013 has Great Britain celebrated a victory in the elite women's competition on the world cup circuit.
After injury cut short a promising 2014 season for British Cycling Olympic Academy Programme athlete Green, the 20-year-old accepts that results will not come immediately on her return to elite competition.
"I do want to get a solid season in for sure but you know you can't help what happens in racing," Green said.
"We know going into it that it's high-risk injury sport but I can't back off in races because I want an injury-free year.
"I still have to go to every race and go out hard, it's not going to be any different I just need a bit of luck on my side."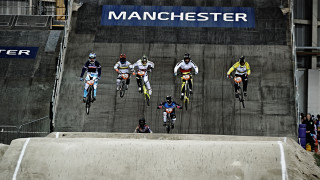 Green will start in the qualifying motos on Friday and has been sharing Great Britain Cycling Team's training base with the rest of the world.
It has been an experience she has enjoyed and one which she believes she will benefit from.
"Not only to ride with them but just to watch them ride, it's a massive learning curve," Green said after a morning of practice with her opposition, including Pajon and Buchanan.
"I had a small injury a few weeks ago and I wasn't able to ride with Mariana when she was over but I still got a massive benefit from watching her ride and how her positions are on her bike and all that kind of stuff.
"I think today was really enjoyable.
"To start with it was a little bit nerve-racking but once I got into it and settled down, riding with these girls is something else and it is great.
"To have two of the world's best here is crazy, just to train with them and ride with them is really good and they are both really nice."
How to follow the racing
Qualifying motos, time trial qualification and superfinals take place on Saturday with live video and reporting on the British Cycling website from 4.30pm.
The finals take place on Sunday with live video and reporting on the British Cycling website from 3pm.