2009 Open Individual Championships
30-31st August 2009, Leicester Cycle Speedway
Images & Report: Andy Whitehouse
Above: Lee Aris looking thrilled with his latest open championships win, flanked by his fellow riders
A determined Lee Aris (19pts) reclaimed the British Senior Individual title in front of a packed Glover Park on Monday. An estimated audience of over 500, the biggest cycle speedway crowd seen for many years, saw Aris muscle his way to victory dropping only one point.
From heat one the Wednesfield rider showed why he is one of the best riders in the World when after startgate problems he kept his cool and took the first win of the afternoon. Three more race wins proved too much for the other riders and Aris dropped his only point in heat eight, which Horspath's Mark Boaler won.
Fresh from his Veteran championship title win at Ipswich recently, runner up Steve Harris (17pts) finally got a podium place in his 20th final apperance. A classy rider, Harris almost didn't make it past heat seven after been thrown over the fence on the fourth bend and into the crowd - having dusted himself down, the Horspath rider took second place in the re run.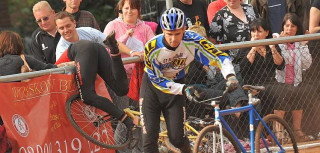 Above: Steve Harris made an unscheduled visit to the spectator section - but recovered to take silver

Pre-race favourite Leicester rider Dan Pike (14pts) started his campaign with three race wins but a third in heat fifteen and a crash in the last race of the day saw a bemused Pike sitting against the fence on the first bend wondering what had gone wrong.
Birmingham's Nathan Groves,one of three final debutants,scored an impressive fourteen points taking a win from Steve Harris in heat nineteen and beating his personal goal of ten points from the day.
Open Championship Final
Lee Aris (Wednesfield) 19, 2 Steve Harris (Horspath) 17, Mark Boaler (Horspath) 15, Adam Peck (Great Blakenham) 15, Lewis Bates (Stoke Whiterock) 14, Daniel Pike (Leicester) 14, Nathan Groves (Birmingham) 14, Chris Osborne (Great Blakenham) 12, Mark Newey (Leicester) 12, Jamie Brown (Sheffield) 11, Leon Yelland (Leicester) 9, Lewis Osborne (Great Blakenham) 9, Marcus Wadhams (Birmingham) 9, Terry Norman (Wednesfield) 9, Adam Stephenson (Hull) 8, Andy Angell (Hull) 7.
Referee: Bob Prince (Birmingham)
The men's Individual Champs were just part of a full weekend of British Champs action. Check out the links below for more reports:
Women's Champs | Under 10s Champs | Under 16s Champs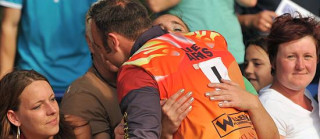 Above: An emotional Aris celebrates his win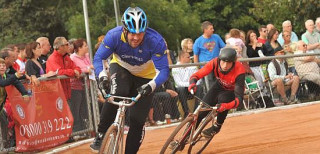 Above: He's behind you...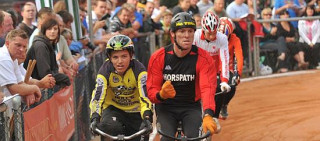 Above: A Horspath rider samples the sweet taste of victory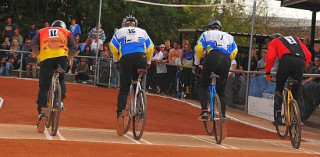 Above: Riders lay down the power at the start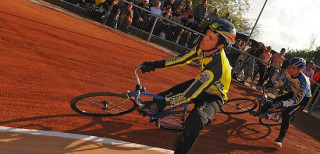 Above: The weather was changeable throughout - here, late afternoon sun lights up the Frog Island track
Thrills and Spills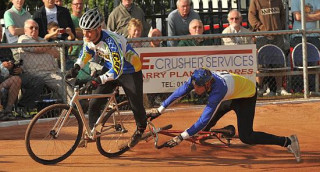 Above and below: A three step guide on how to crash with style