How to get into cycle speedway
Introduction to cycle speedway
Cycle speedway is a sport of passion, speed and sheer guts as well as one that has roots steeped in British cycling history. If you like the idea of track riding but are loath to give up your vitamin D, fear not – there is a cycling discipline for you!
Cycle speedway is a fast-paced dirt track sprint event, with a thriving domestic and international scene in the UK.
Rider race four laps of the 70 metre track, over several rounds, in order to win points for themselves and their teams.
The sport has a very inclusive, family-friendly atmosphere, while also showcasing some of Europe's top athletes at the elite league meetings.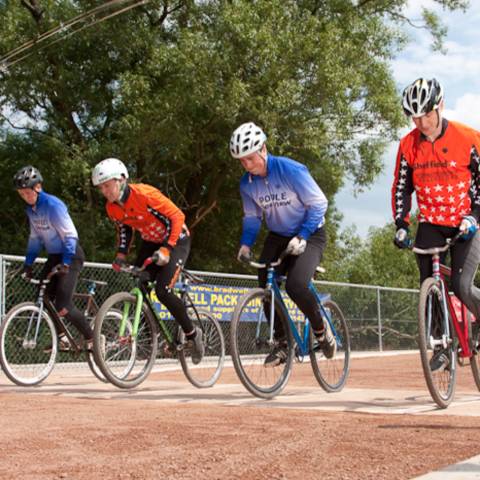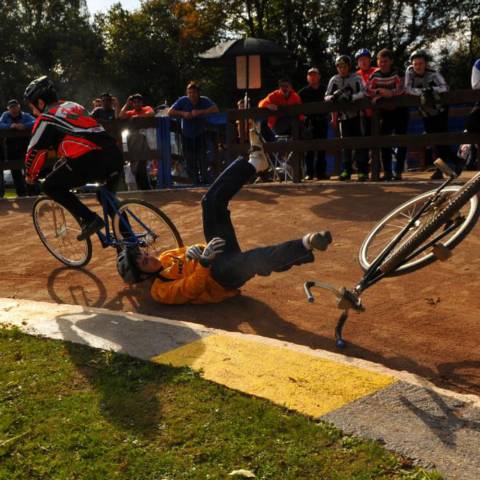 The venue
Oval shaped shale tracks are the domain of cycle speedway. Born on the bombsites of post war Europe, cycle speedway tracks are among the simplest of cycle sport facilities.
Tracks are 70-90 metres in length, with enough width for four riders to race shoulder-to-shoulder.
Cycle speedway riders refer to the four bends of the track, with both the bend going in and bend exiting the turn, both of which require skil and effort from the competitors to negotiate.
Speedway is an almost solely club-run sport, with clubs building and maintaining their own venues.
The cycle speedway rider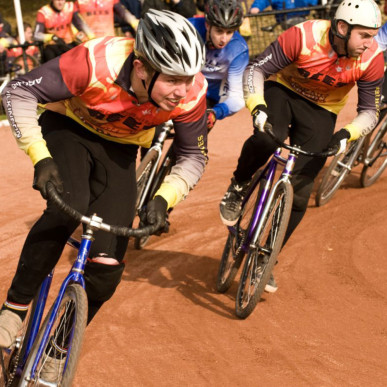 The best cycle speedway riders are explosive sprinters with great bike-handling skills, nerve and tactical awareness.
With two riders from opposing teams riding each heat, team working is also an essential attribute.
Although races are short, meetings are run over successive heats, so good endurance and recovery is essential too.
Cycle speedway
Riders explode from a standing start position and often bump shoulders to try and secure 4 points for first place or 3,2 and 1 point for second, third and fourth respectively.
Team Racing – Head to head matches between two clubs will see 2 riders take to the track in each heat. The team scoring the most points will win the match and spectators will get the chance to see a variety of tactics and manoeuvres as riders try to ensure their team accumulates the most points.
Individual Racing – Riders compete in a round robin style event where they will have the chance to race against every other rider in the competition with the riders scoring the most points wining the event.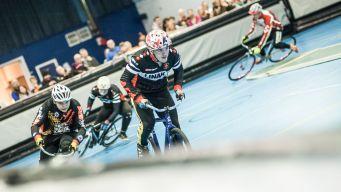 Cycle speedway bike
Cycle speedway bikes are simple and robust.
Steel and aluminium still rule in cycle-speedway. No suspension, upright handlebars, a low, single gear with a freewheel and 26 inch wheels with heavily treaded tyres.
They are purpose-built for taking in the sharp bends with minimum skidding and sliding, in theory!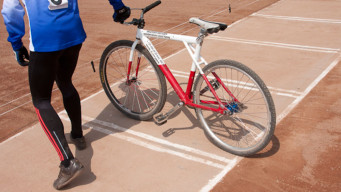 Protective clothing
Full length sleeves and trousers must be worn when riding in cycle speedway.
This reduces the risk of scrapes and bumps from the cinder track and clashes with other riders' bikes.
Riders must wear thick cycling gloves as they often clash elbows and handlebars and fingers need the protection of strong gloves.
Some choose to wear elbows and knee pads too, although this is not compulsory.
Helmet
Helmets became obligatory for all riders in cycle speedway in 1999, as accidents can happen.
The sport is proud to boast that, despite the rough and tumble nature of the racing, no serious injuries have ever occurred in speedway racing.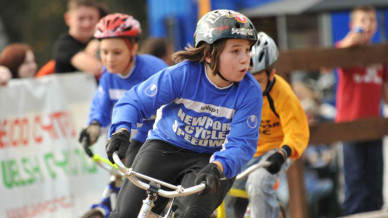 Get involved with cycle speedway
Watch cycle speedway
The short, sharp, explosive elbow-to-elbow action of cycle speedway makes it a great spectator sport.
So too does its friendly family atmosphere and its compact venue.
Most clubs don't charge admission fees for spectators and you'll definitely want to have a go yourself by the end of the match.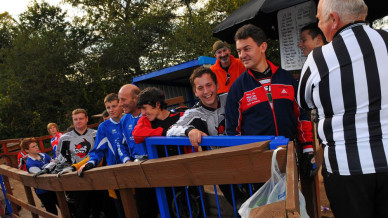 Cycle speedway clubs
Joining a club is a great way to get the most out of your cycling.Whether you are a seasoned racer or a complete beginner, there is nothing better than riding with like-minded cyclists to develop your skills and challenge yourself. Cycle speedway clubs (CSC) are keen to grow the sport and have taster sessions for all ages, from complete beginners through to more structured, event specific training for more experienced riders.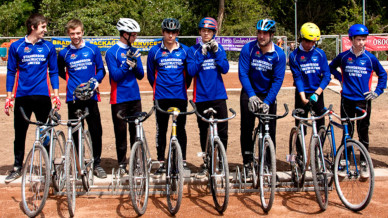 Cycle speedway events
The cycle speedway season extends from spring through to autumn, with regional and national leagues running throughout the season.
National championships for various team and individual categories take place throughout the season, including indoor racing in the winter. There is racing for all age groups and a range of abilities.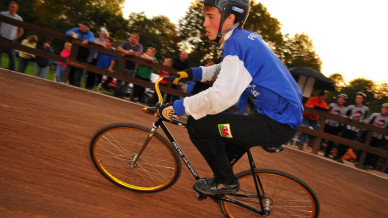 Volunteer
Support the sport by volunteering your time and skills at your local cycle speedway event.
British Cycling has a range of volunteer education courses to support your development.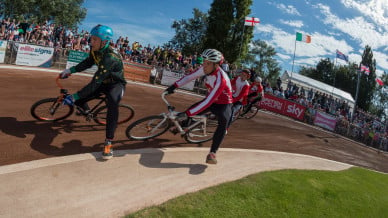 Race licence
A provisional race licence comes free with all Race Gold, Race Silver and Race Bronze memberships and is enough to get you into most cycle speedway races.