Ben Mould was crowned the Open championship winner at the Cycle Speedway European Championships this weekend at Astley and Tyldesley's Gin Pit track.
Mould is the first British winner of the Open championships since Dave Hemsley took the title in 2000, and the first ever Welsh winner of the championships.
Men's Open championship
Current world champion Mould went about the match cleverly, dropping only a couple of points to Pavel Kozlowski and two times open winner Marcin Szymanski before wrapping the match up in heat 18, beating Szymanski into second spot much to the delight of the British supporters.
Ipswich's Lewis Brinkhoff took a well-deserved second place overall with 17 points, taking four wins from four starts but rolling across the line in fourth place on heat 12, scuppering his chance of the title.
Kozłowski had to work for third spot. With the scores even with Lukasz Nowacki on 15 points the pair had to fight it out with a run-off but two hard matches for Nowacki took the edge off the Horspath rider and a delighted Kozlowski took the final step on the podium.
Ben Mould, Horspath - 18 Points
Lewis Brinkhoff, Ipswich - 17 Points
Pawel Kozlowski, Gniezno – 15 Points
Women's Open championship
Fryderyka 'Fast Freddy' Wojciechowska took the title in the women's open. Wojciechowska took the win in her two opening heats but Poole's Maddie Saunders and Zuzanna Klett were sitting on seven points apiece after the opening eight heats – a single point behind the leader.
Exeter's Lauren Hookway found her line on the track and, after a slow start, took three wins from her remaining four heats to finish the match on 16 points. Birmingham's Rebekah Humphries took three wins and was on for a guaranteed podium, but heat 18 saw Poole's Sandra Tamborska take second place behind the newly-crowned champion, resulting in Humphries having to go up against Hookway, who won the title at Poole in 2016, in a run-off. A seasoned winner, Hookway made no mistake and proved too strong for the young Birmingham rider and took the final podium place.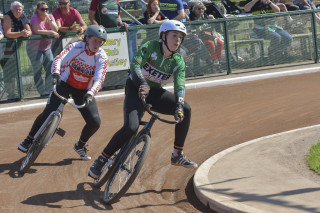 Fryderyka Wojciechowska, Toruń – 18 Points
Maddie Saunders, Poole – 17 Points (Highest placed British rider)
Lauren Hookway, Exeter – 16 Points
Junior competition
Torun's Jakub Sawinski, pre-race favourite, didn't disappoint the travelling Polish supporters, taking a maximum 20 points from five rides. Astley's John White almost upset the Pole's dominance in heat 18, taking Sawinski to the wire, but the match leader with one hand on the trophy held his line to take the heat and the European title.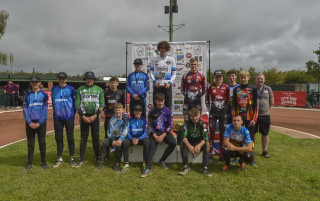 Kesgrave's Noah Woodhouse had to be content with second place. The current under-16 British champion was the main British interest and only dropped a point from his five rides. Mikolaj Menz rounded out the top three places with 17 points.
Jakub Sawinski, Torun – 20 Points
Noah Woodhouse, Kesgrave – 19 Points
Mikolaj Menz, Gniezno – 17 Points
Veterans' competition
It was a Polish podium in the veterans' match with British-based Nowacki taking the championship title with a faultless 20 point maximum.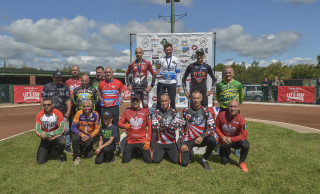 Czestochowa's Szymanski was the rider to beat on paper. In heat seven, which was the race of the match finals, Nowacki made no mistake in taking the win with Gniezno's Koziowski taking second and lining himself up for an eventual second place overall. Szymanski had to be content with third, holding off Gavin Wheeler.
Łukasz Nowacki, Horspath – 20 Points
Paweł Koziowski, Gniezno - 19 Points
Marcin Szymański, Częstochowa – 18 Points

Gavin Wheeler, Horspath – 17 Points

European Nations Cup
On Saturday, England won the European Nations Cup, beating Poland by one point, in an extremely hard fought match, with no shortage of racing incidents throughout the match. England rode to a more convincing win in the European Junior Nations Cup, beating Poland 97-82.
England - 63
Poland - 62
Wales - 45
Ireland - 24
Photos are available here.