Follow britishcycling.org.uk on
Course Launch: Level 2 Mountain Bike Coaching Award

Posted May 18 2010
British Cycling's Coaching and Education Department are proud to announce the launch of the Level 2 Mountain Bike Coaching Award. The popular Cannock Chase trail centre, located in the West Midlands will be the venue for the first public delivery of this course.
The course is the latest discipline-specific coaching to be developed by British Cycling's Coaching and Education Programme and is designed to enable coaches to deliver mountain bike techniques to groups of riders. The aim of the Level 2 Mountain Bike Coaching Award is to give coaches the skills, knowledge and confidence to go out and improve their rider's technical performance.
The course has been developed with input from experts from the UK mountain biking scene and provides coaches with an overview to the disciplines of cross country, downhill and fourcross racing as well as the techniques underpinning these disciplines. Charlie Evans, the Coaching and Education officer who was tasked with developing the award points out:
'We couldn't have wished for a better team of experts to be involved with developing the Level 2 Mountain Bike Coaching Award. It was essential from the outset to get the right expertise to produce the most effective award possible - the results are really quite exciting...'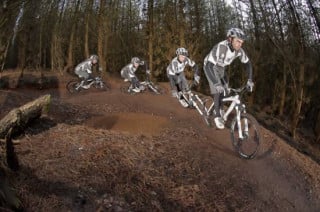 The technical syllabus was developed by a specially selected mountain bike workgroup. This included former World Cup cross country racer Nick Craig, World Cup downhill and four cross racer Will Longden and mountain bike instructor Craig Scott. Each brought a different perspective to the project, which was essential to creating a well rounded coaching course.
Speaking about his involvement with the project, Craig Scott said:
'It was really exciting to have been invited to be part of mountain bike workgroup. Mountain bike riding is a technically demanding sport, making it potentially difficult for novice riders and coaches to pick up. In our meetings we not only considered what information coaches need to tell riders to be able to perform the techniques, but also what information coaches need to be able to explain and demonstrate these points. The Level 2 Mountain Bike Award is going to be great for mountain bike coaches and mountain bike riders, providing consistent quality mountain bike coaching across the UK.'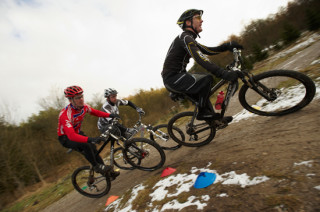 Nick Craig added:
'If only I'd have had this information at the start of my mountain bike career! Even though each of us in the workgroup has a pretty good grasp of mountain biking and mountain bike techniques, the meetings challenged us all to reflect heavily on what we knew, questioning even the smallest details. I've certainly learned from this process, not only as a coach but also as a rider. The Level 2 MTB Award is going to be an exciting and useful course for any upcoming mountain bike coaches.'
Will Longden echoed these sentiments and continued with:
'I've enjoyed being a part of the team that put this fantastic MTB coaching award together. I think it's a great step forward for our sport - Helping coaches with the resources and knowledge to encourage and inspire the potential champions of tomorrow.'
The course handbook has also received expert input, from the likes of Olympic Programme Mountain Bike Coach Phil Dixon and Martyn Salt, organiser of the British Cross Country Series and key element of the recent Dalby World Cup cross country event. Each of the techniques covered has been demonstrated in the resource by British four cross champion and World Cup four cross racer Scott Beaumont.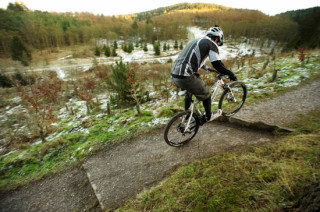 The course will provide an effective pathway for coaches interested in mountain biking to develop their skills. To be eligible to book onto the Level 2 Mountain Bike Coaching Award candidates need at least a Level 2 Certificate in Coaching Cycling qualification. However candidates who hold either the older Club Coach or Activity Coach Qualifications (offered prior to the introduction of the Level 2 CCC) are also eligible to attend.
Currently, the dates announced are:
14-15 August 2010 - Cannock Chase
9-10 October 2010 - Venue TBC
Click here for an overview of the course complete with downloadable information/application packs. For any enquires or to express interest in additional course dates please email coaching@britishcycling.org.uk.