Whether it's a spin in the back garden, splashing through puddles in the park or tearing around a local pump track: cycling is an essential part of growing up.
Embracing this approach, we created the HSBC UK Go-Ride programme - with over 350 children's cycling clubs helping thousands of young people enjoy the freedom of cycling and develop lifelong skills.
Local kids' cycling clubs are fantastic places to get out on a bike, with expert coaching, a gang of riding buddies and access to some amazing cycling facilities. Sessions are often weekly, plus we run cycling holiday camps where youngsters can spend the entire day on two wheels!
With most of the Great Britain Cycling Team starting out in Go-Ride Clubs, they are a great place to start for aspiring champions.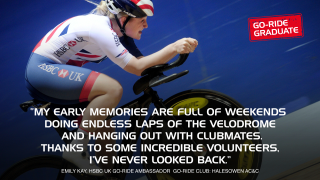 All you need to know about HSBC UK Go-Ride
Clubs for kids: Go-Ride Clubs are for riders under 18, with fun at the heart of high quality coaching sessions and a clear pathway for progression.
Gives parents peace of mind: All coaches hold a British Cycling qualification and are DBS-checked, plus Go-Ride sessions will always take place in traffic-free areas.
Easy to get involved: Just like any sports club, the emphasis is on regular, local and affordable activities to make it easy to keep coming back and create a sporting habit for life.
Creates champions: Most of the Great Britain Cycling Team's biggest stars started out at a Go-Ride Club. Just like Laura and Jason Kenny!