Getting started
If you're thinking about getting on your bike for the first time (or after a bit of a break), don't be worried by rumours or put off by perception. Cycling offers a whole host of benefits – from physical, mental and social perks, through to simply getting from A to B in the quickest and cheapest way possible.
We bust the most common cycling myths – from safety through to clothing and fitness.
Need inspiration?
Many women who now live and breathe cycling, didn't always have this love for the hobby and started out with the same thoughts and barriers that may put you off. Have a read of the stories from these women for inspiration on ways you can combat your fears.
#OneinaMillion
In launching its women's strategy in 2013, British Cycling set out its vision to 'inspire one million more women to ride, race and be part of British Cycling by 2020'. Then, according to British Cycling's market data, 550,000 women cycled on a regular basis. Since then, 1,023,271 more women have been influenced to ride a bike.
Along with the headline figure of getting one million more women on bikes, the strategy also aimed to create opportunities to ride and race, develop a pathway that keeps women engaged, get more women running the sport, get more women involved in governing the sport and increase female membership.
Traffic-free cycling
Keen to get on your bike but not quite ready to ride on the roads? There are plenty of traffic-free options to help you get out there and feel the wind in your hair. Getting off-road is great to improve your cycling skills, plus it's perfect for bringing your family and friends along.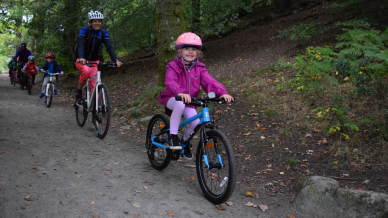 Women only rides
Every woman is welcome on our HSBC UK Breeze rides, no matter what your level. You'll discover new local routes and places, make new friends and gain the confidence to do things you never knew you could – all whilst having lots of fun. And if that wasn't enough to persuade you, our Breeze Champions organise everything for you!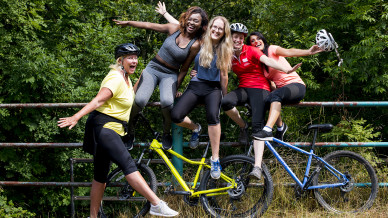 Tips and tricks
Sore hands? Sore bottom? In need of motivation? Petrified of punctures? Hear from women who have shared the tips and tricks that helped them through their first days, weeks and months of getting into cycling.
Read now