In 2013, British Cycling established an international cycle coaching exchange through a partnership with UK Sport's IDEALS programme.
Four years later, the IDEALS programme partnership continues to offer sport development practitioners the chance to broaden their experience and help developing countries progress their sport's development system and quality of delivery, bringing cycle sport to many more people. One aim of the programme is to share British Cycling's expertise in making cycling more inclusive, enriching people's lives. The exchange programme has been fully funded by UK Sport, with Namibia accommodating the professionals whilst in country.
Here we reflect on the experiences of coaches working in Africa and share news of the on-going positive change they have provided for cycle sport.
The first visit to Namibia
The fundamental aim for coaches working in-country has been to provide delivery support for community-level cycling and coach development. This has been warmly welcomed by all parties, from riders, coaches and volunteers through to representatives from the Namibian Cycling Federation.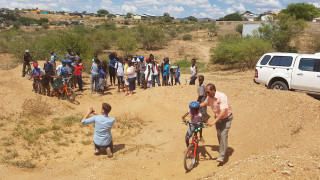 Richard Shepherd, a British Cycling coaching expert, was the first volunteer that ventured out to Windhoek, the capital of Namibia. An initial four year plan was formulated during his time there to bring together the interested cycling groups and projects, focusing on increasing participation in cycling through certain requirements. An example of this was to develop at least one purpose built facility; for which three BMX pump tracks now exist.
Looking back on his times in Namibia, Richard said: "Working with riders in Namibia has been such great fun; the pleasure and enthusiasm they show is so motivating for me as a coach.
"Equipment and facilities are always a problem for the coaches, so they enjoyed understanding how to use what they have in different ways. They really engaged with the content and discussed ways in which they could use and adapt it for their riders."
Richard's time was so impactful that he was formerly asked to accompany the Namibian Team as a coach during the Commonwealth Games in Glasgow.
Continuing support for the Namibian Cycling Federation
Another traveller to Namibia, was Paul West. Paul is an expert in event organisation and works for British Cycling. He went to Windhoek, Namibia back in 2015, providing his knowledge to enthuse more local communities to get into cycling.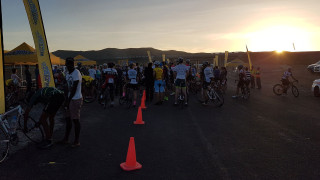 "The sport in Namibia is run by enthusiastic volunteers with big aspirations," he said.
"My role was to help focus that enthusiasm and I did this by advising on how to manage events infrastructure, resources and income streams with the aim of developing a sustainable sport using regionalised programmes to widen its reach.
"The best thing about the placement was the opportunity to meet the people of Namibia and help the sport of cycling develop there."
Joe Malik also visited Namibia in 2015 with a group of students from Liverpool John Moores University (LJMU) who he had supported through their Level 1 certificate in coaching cycling.
The eight-week support Joe and the students provided allowed cyclists and coaches to gain the fundamental skills and knowledge needed to run a club and deliver engaging coaching sessions.
Nicola's experience
Most recently, Nicola Waterworth volunteered in Namibia. Nicola is a coach professional supporting the IDEALS programme and was interested in joining the project because she believes cycling can change lives.
For her, this opportunity was a way to use her own coaching knowledge alongside change management skills to make a difference in another county.
Reflecting on her time she said: "One thing in coaching you can be sure of is the need to adapt in the face of new and different circumstances.
"I certainly had this experience when I had the privilege of supporting the Namibian Cycling Federation's (NCF) BMX Race Day Weekend in Outapi."
During the weekend event, cycle coaches developed both theory and practical skills with the help of Nicola, who then went on to help the delivery of a training session for around 100 local children.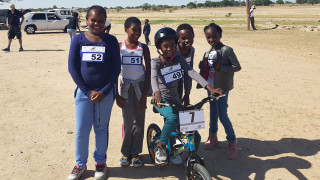 "It was great to see at least 20 girls amongst the children, a number that I was told would have been lower only a few years ago with families more wary of allowing them the freedom granted to boys.
"I had fun coaching five of the girls, only one of whom could ride before we started, but all could after an hour or so."
Female cycling is becoming more and more prevalent in Namibia and a large number of women and girls contribute to the growth of cycle sport.
"It was inspiring to be surrounded by so many strong women role models and girls all wanting to have their part in growing cycling within Africa, and not willing to be left behind when a bicycle can bring such immeasurable fun and freedom," said Nicola.
You can read Nicola's full experience on the Sports Coach UK blog.
Become a coach
British Cycling will continue to bring you updates as the IDEALS programme develops and evolves. If you are thinking about becoming a cycling coach, discover the right coaching award for you and your coaching aims.