The British Cycling Club Development Programme is an inclusive programme that all clubs have the opportunity to be part of and to access a range of benefits for your club.
The purpose of the Club Development Programme is to recognise, reward and enhance clubs that can demonstrate that they are fun, inclusive and safe.
Additionally, for clubs looking to grow and develop, this programme will support you to do so by offering tailored development opportunities from our network of both national and regional club development teams.
Any current and future members of clubs can be safe in the knowledge that they are attending a reputable club when they are part of the Club Development Programme.
Furthermore, many clubs are already practicing excellent operating standards and we are keen to recognise and reward these clubs through this new, exciting offer. All that clubs need to do, is show this to us
Go-Ride Activity
For clubs that offer activity for riders under the age of 18, meeting the criteria for the Club Development Programme automatically qualifies them as a Go-Ride club and access to the associated benefits.
For further information on Go-Ride Activity please find it here.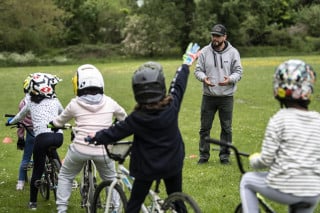 Wider Club Network
Introduced in 2022, having never previously been part of the Clubmark programme we are now keen to recognise and work closer with all clubs, not just those delivering to u18 riders. To gain access to the programme and associated benefits, completion of the Club Development Programme Accreditation form will be required, using the link below.
Accessing the Club Development Programme
To be part of the Club Development Programme your club needs to complete the requirements via our online platform. Club Development Programme Registration.
We are required to see hard copies of a handful of key documents, which you can directly upload to the registration forms. Be assured that British Cycling will store these documents in a safe, GDPR compliant manner.
You can read the full British Cycling Privacy Notice here.
Further Support
To support your club accreditation and ongoing development, please find further guidance as part of our dedicated Club Resources Area.
If at any stage during your registration you would like any further support or guidance, the British Cycling Clubs Team or your regional Development Team will be on hand to support.
You can contact the HQ Club Development Team – clubs@britishcycling.org.uk
You can find your regional contact here.
What does our club gain from the Club Development Programme?
Ongoing support from a network of Club & Coaching Officers and Go-Ride coaches.
Resources including branded kit for your club's workforce.
Coaching equipment and resources, for clubs delivering a coaching programme.
Free silver membership for up to seven nominated and qualified club officials each year.
Publicity through club details on the British Cycling website and support with event promotion.
Use of the Go-Ride logo on any material relating to the club and its activities. (clubs with u18s
The development of community links to encourage further membership of your club.
Potential access to priority booking slots, discounts at some facilities and greater chance of successful funding applications.
Access to coaching and/or leadership bursaries, supporting the cost of qualifications for your workforce.
First access to future programmes that are introduced as part of the Club Development Programme.
Next Steps
For more information about the Club Development Programme and Go-Ride activity please contact your Regional Development Team or the HQ Club Development Team.

If you are a Welsh or Scottish club, please visit the Welsh Cycling or Scottish Cycling website for further information.