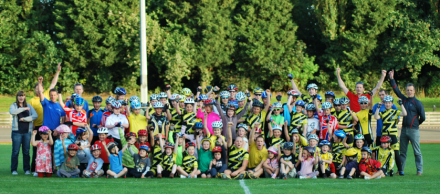 About our club
This is Wolverhampton city's foremost Cycling Club and caters for all ages and abilities, with members from 5 to 85.

Whether you've just learned to ride, a weekend leisure rider or an experienced "bikie" we offer a full range of activities in all these disciplines:

Leisure/Family Rides, Youth Events, Touring/Audax, Road Racing, Time Trials, Mountain Biking, Track Racing and Cyclo-Cross!

Plus a healthy Social calendar with many varied non-cycling related themes.

We are a true club, run by the members, for the members, with a democratically elected committee under a formal constitution. We are also a British Cycling "Go Ride" club catering specifically for younger riders.

You are assured of a warm and friendly atmosphere among fellow cyclists of all ages and interests so if you like what you see here, come and meet us.

Become part of an exciting future with a proud history behind you.

Join the Wheelers and experience "Wheel Freedom"

We are open to
What we do
When we train