Over 4% us cycle almost every day, using our bikes to commute to and from work. That's a huge group of people who will represent almost every sector and role available within our economy. But what happens when these committed riders arrive at their workplace every morning? And how supportive is their employer to make riding to work a seamless part of their day?
We put these questions to our members as part of the State of Cycling survey, with 15,000 people responding to share their experiences. The picture that has since unfolded is relatively positive, with over half (54%) of respondents saying that their employer encourages them to ride their bike to work and 64% going further to say that their workplace makes it easy for them to do so.
To better understand what makes a great cycling workplace, we reached out to our members to ask for case studies and bring the numbers to life.
Rolls Royce

For an organisation that specialises in automated power and propulsion, Rolls Royce have a keen understanding of how important it is to help their people travel actively into work. Open to all staff at their Filton site in Bristol is the Bike Users Group: a community of around 500 members (from a workforce of around 3,000). Leading this group is a small committee of volunteers who meet regularly to push for cycling projects and infrastructure, applying for funding and support from the company to implement the changes.
The chair of the Bike Users Group, Ben von Bertele, reported some of the highlights from 2018 alone. These include the opening of a secure cycle shed with space for 200 bikes, new shower and changing/drying facilities and work with South Gloucestershire City Council to raise the concerns members have shared about the roads they use to get to work.
Summarising the work of the group, Ben said:
"Our people are the most valuable assets in the business. Removing any barriers to cycling to work is key to helping them remain healthy and happy. In short, when we live well, we're able to work well."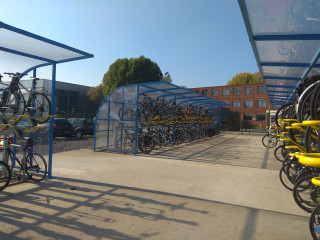 White Hall Centre
The White Hall Education Centre near Buxton, Derbyshire, already has activity at the core of its values, running mountain bike courses and boasting a cycle trail within the grounds amongst other outdoor pursuits. What's more, it sits 400m above sea level at the top of a hill and therefore requires a little extra employee motivation to cycle into work. Despite the topography, around a third of employees cycle into work three times a week.
Impressively, the 10 staff that cycle into work cover a combined 21,000 miles a year – saving 8.5 tonnes of CO2 from being emitted into the atmosphere. Investing in bikes to make the journey, three members of staff took advantage of the Cycle to Work scheme, opting for e-bikes for a little extra support on the climbs up to the centre (which are aptly on a road called Long Hill).
With great shower facilities, secure storage and a bike workshop on-site, the centre is really well set up for cycle commuting. Pat Bell, Centre Manager at White Hall, stated:
"We encourage our staff to commute by bike as it is good for the environment and they are happier, healthier and more motivated."
Sellafield Ltd
There are over 10,000 people on a single site at Sellafield Ltd in West Cumbria, and the organisation is working hard to get as many employees on bikes as possible.
There's an active cycling group on site made up of employees who meet regularly and deal with all cycling related issues, and who publish online blogs to encourage more people to start cycling and report any ongoing issues.
The site also has a large number of cycle sheds at all key areas of site with security rails, changing rooms, hot showers, towels, lockers and drying rooms, and all employees are offered the opportunity to make the most of the Cycle to Work scheme.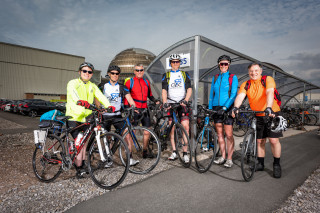 Swansea University
Beyond supporting staff and students to use their bikes to travel into and around the university, the Sustainable Travel team at Swansea University have worked with British Cycling to train 18 Ride Leaders. These are individuals who have received training to run group rides and have a good knowledge of local cycling routes.
Both staff at the university and students volunteered for the training, including the students' union president for 2019/20. They run regular rides and there is a 'Couch to Gower Bike Ride' initiative to support anyone just starting out, with training, knowledge-sharing and support to work towards longer rides in the region.
Jayne Cornelius, Sustainable Travel Officer at the university, said:
"Cycling is fun, healthy, environmentally friendly and sociable, plus travelling by bike can save you money and it's great for your physical and mental health. We run many cycling schemes and initiatives at Swansea University. There's something for everyone: staff, students and the local community."
How does your employer size up?
While your CV charts your employment history, think back and compare how the cycling facilities have differed across each of the organisations you have worked for.
Think your current employer could do more? Here are the top actions our members identified that workplaces should take:
Introduce a high standard of shower and changing facilities
Offer a flexible dress code that is more comfortable on a bike
Provide secure bike parking
Relax start times to support those with a school drop-off
Incentivise active travel e.g. through miles travelled on foot or by bike
Join the Cycle to Work scheme and publicise to employees
You could also share our Commute Smart videos with them, to include in staff newsletters or active travel workshops to help staff plan routes or buddy up.
And if you think your workplace has got it all, register to be considered for Cycling UK's Cycle Friendly Employer accreditation.