Former BMX and track cycling world champion Shanaze Reade has today been announced as the first West Midlands Cycling and Walking Ambassador.
In her new role Shanaze will promote and guide the development of cycling throughout the West Midlands, and today's announcement follows news that Transport for West Midlands (TfWM) has agreed a £17 million funding package for cycling, taking spending to £10 per head per year until 2022.
The grant, from the authority's £71 million Transforming Cities Fund (TCF) transport package, will be invested in safe cycle routes across the region.
Following today's announcement, Reade said:
"I look forward to helping people discover the amazing benefits of cycling and walking – both for pleasure and as a convenient method of transport. The benefits are endless; from saving money to a sense of freedom, mental wellbeing and keeping fit. With the infrastructure being put in place there will be no excuse not to get out those trainers or on your bike."
Reade marked a successful return to track cycling in January, earning victory in the team sprint at the HSBC UK | National Track Championships alongside Blaine Ridge-Davis, and is a passionate advocate for widening access to cycling.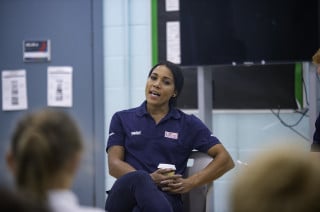 She has been heavily involved in the development of British Cycling's 'We Ride' women's strategy in recent years, and Chief Executive Julie Harrington believes she is the ideal candidate to get more people on their bike in the region.
Responding to today's announcement, she said:
"Shanaze has always been a fantastic ambassador for our sport and I am sure she will be equally brilliant in her new role in the West Midlands.
"We are proud that our riders – both past and present – make such a valuable contribution to communities across Britain, and we look forward to watching Shanaze work with Mayor Andy Street to enable more local people to get around by bike in the coming years."
Last month, TfWM – a part of the West Midlands Combined Authority (WMCA) – adopted a new Walking and Cycling policy which outlined the ambition to develop a cycle route network across the region.
The WMCA Board has now approved the award of £17 million of cycle funding. This follows the award of a £6 million TCF grant last October.
Combined with expected investment from councils and developers it means that spending on cycling in the West Midlands will reach the target of £10 per head.
Mayor of the West Midlands Andy Street said:
"Shanaze will make a brilliant ambassador for cycling and walking. She has excelled on the track, is a superb role model and will inspire many young people here to get on their bikes.
"We set out to raise investment to £10 per head and are doing just that. In the West Midlands we are serious about cycling – it is fun and great for our health and as an alternative to the car can help ease traffic congestion and improve the quality of the air we breathe."
To find out more about the Mayor's plans for the region, click here.