British Cycling will today launch its first membership package specifically geared towards cycle commuters; providing members with peace of mind liability insurance and legal cover, and a vital say in the organisation's work to improve conditions for people on bikes in towns and cities across Britain.
As part of the launch, the first 100 people to purchase the new membership will also receive a free See.Sense ACE intelligent bike light, worth £44.99. The light includes patented sensor technology to monitor your riding experience, detecting real-time information on collisions or near-miss events, road surface quality, journey flow, speed and dwell times.
This insight can then be shared with the organisation to advocate for increased funding for cycling infrastructure, based on concrete human data. The full membership package also includes:
· £15m third party liability insurance
· Assistance from British Cycling's legal support team
· Retail discounts including 10% off at Evans Cycles, Halfords and Cycle Republic
The membership has been developed to cater for the rising number of cycle commuters and by working in partnership with See.Sense, British Cycling will establish a vital bank of insights and a collective commuters' voice to encourage local and national government to improve conditions on our roads.
The launch comes as the organisation's total membership now exceeds 145,000; growing from 16,500 in 2005. There is now a 50:50 split between competitive and leisure riders – highlighting the changing face of cycling in Britain and British Cycling's credentials as the go-to organisation for all types of cyclist.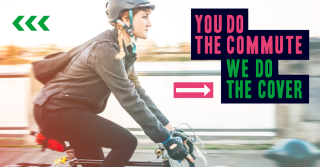 Ahead of today's launch, British Cycling Commercial Director Jonathan Rigby said:
"The growth in our membership over the past two decades has been astonishing, and we're determined to accelerate this growth even further as we work towards our ambition of transforming Britain into a great cycling nation.
"We're delighted to be able to work closely with See.Sense on this launch as the insights we will receive from their patented sensors will help us to paint a really clear picture of cycle activity in Britain, and work alongside our city and regional partners to pinpoint the areas which need to be improved the most."
Latest figures from the Department for Transport show that 4% of all commuting trips were cycled, with research from the University of Cambridge, London School of Hygiene and Tropical Medicine, and Imperial College London showing that this can cut your risk of dying from heart disease or stroke by 30%.
British Cycling Policy Manager, Nick Chamberlin, said:
"Many people are now beginning to wake up to the fact that commuting by bike is often the quickest, cheapest and most reliable transport option for their daily commute, and what's more, in doing so they are also helping to combat air pollution and lead a healthier, more active life. We hope that this new membership will encourage and support many more commuters to make the switch and discover these benefits for themselves."
To find out more about British Cycling's new commuter membership click here.