British Cycling's Turning the Corner campaign was launched to benefit all road users, making junctions simpler and safer.
The campaign proposes consolidating and strengthening existing rules in the Highway Code so that, whether you are driving or cycling, you would be clearly obliged to give way when turning to people who are going straight ahead. Here, cycling, motoring and walking groups explain the benefits of the new proposal:
Martin Key, British Cycling campaigns manager:
"We needed the proposal to have benefits for everyone who uses the road. We know that drivers want simplicity at junctions and less congestion. We know that cyclists and pedestrians want improved safety and better infrastructure. This rule can help to achieve all of these things."
Edmund King, AA president:
"It would be beneficial for all road users if the Highway Code simplified the rules at junctions where a disproportionate amount of injury crashes occur."
Tompion Platt, Living Streets head of policy:
"This simple change would give greater protection to people walking and reduce confusion for all road users."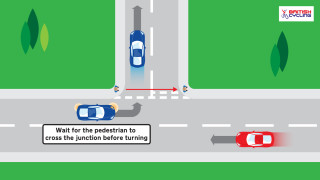 Simon Monk, London Cycling Campaign infrastructure campaigner:
"Rather than complex and time and space intensive junctions – such as the 'hold the left' we currently see in London, this proposal would pave the way for far more junctions to be designed with cycling in mind, without causing the kind of motor vehicle capacity concerns we currently face – simpler, safer, better."
Xavier Brice, CEO at Sustrans:
"This is a much-needed step to make our streets safer for people walking across them and the growing number of people choosing to cycle. Results from the UK's biggest ever survey on attitudes to cycling couldn't be clearer: there's a desire to cycle more, but concerns about safety put people off.
"With British roads the most congested in Europe and our cities recording a dire state of pollution, we must take every measure we can to make it easier and safer for people to walk and cycle."
Jonathan Fingland, chair of the Greater Manchester Cycling Campaign:
"Clarifying and strengthening the rules in the Highway Code will go a long way to improve understanding on the road so that when people are walking or cycling near junctions they are able to navigate them predictably and safely."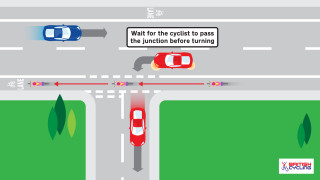 Steve Gooding, director of the RAC Foundation:
"As pedestrians, cyclists, motorcyclists and motorists we all need to recognise that the road is a shared space which works best when we all respect each other.
"The clearer we can make the rules of the road the easier it is for us all to see what's expected of us and to comply. The rules also need to be complemented with the right streetscape engineering, with markings, surfaces and road geometry all telling us the same story."
#TurningTheCorner is not JUST for cyclists - drivers and pedestrians should also benefit from clearer rules: https://t.co/LVCI55zuyb pic.twitter.com/LLdbQ6BXV5

— British Cycling (@BritishCycling) December 13, 2016
To allow people to show their support for the proposal, British Cycling has set up a petition which has already attracted almost 13,000 signatures since its launch last week.