British Cycling has joined forces with The AA and pedestrian groups in calling for a 'universal' rule to give way when turning in order create simpler, safer junctions for all road users.
The organisations propose consolidating and strengthening existing rules in the Highway Code so that, whether you are driving or cycling, you would be clearly obliged to give way when turning to people who are going straight ahead.
British Cycling launches campaign to make junctions simpler and safer for all road users.

https://t.co/hwzJuaXkHq#TurningTheCorner pic.twitter.com/ddUWJHDdLf

— British Cycling (@BritishCycling) December 8, 2016
The Highway Code, which has not been fully refreshed for nine years, currently contains at least 14 rules about junctions, often with a different emphasis, and yet fails to cover all situations and is not sufficiently clear. For example, Rule 170 requires drivers to give way to pedestrians already crossing, but there is no direct equivalent rule regarding cyclists.
The new proposal follows research conducted on behalf of British Cycling in a bid to make junctions safer, simpler and more efficient for all road users, based on successful existing models in place in countries such as Denmark, the Netherlands and Sweden. In practice, the changes would see:
Drivers turning at a junction giving way to people cycling and walking who may be on your nearside, or crossing the road you wish to turn into.
Cyclists turning at a junction giving way to people walking who are crossing the road you wish to turn into.
Pedestrians getting increased protection when crossing a side road or other junction.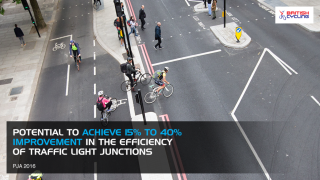 British Cycling has today launched a petition to allow members of the public to add their support to the new proposal. Among those to have already signed the petition are Chris Boardman, Olympic champions Joanna Rowsell Shand, Katie Archibald, Elinor Barker and Steven Burke and Paralympic legend Dame Sarah Storey.
The research suggests that implementing the new rule could create an estimated 15% to 40% increase in signalised junction efficiency, reduce congestion and improve air quality, while also has the potential to improve safety levels to those seen on Dutch roads, where the risk of being killed whilst walking is 34% lower and the risk when cycling is halved, compared to in the UK.
The change to the Highway Code would not require lengthy or complex legislation. The amendment would simply need to be agreed by the Department for Transport as part of an expected update of the Highway Code before being 'laid' before Parliament.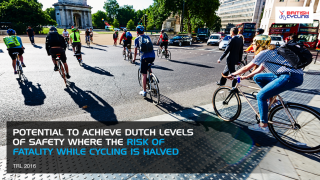 The new rule would reinforce existing infrastructure such as Advance Stop Lines and advisory cycle lanes which place people on the inside of turning traffic. A public information campaign along the lines of the pelican crossings and seatbelt campaigns is all that would be needed to communicate the new rule.
Of the new proposals, Chris Boardman, British Cycling's policy adviser, said: "Whether driving, cycling or walking, negotiating a junction is the most hazardous manoeuvre you can make on the road – this is evidenced by the fact that nearly two thirds of motor vehicle collisions take place at junctions.
"There are at least 14 different rules in the Highway Code which relate to people walking and cycling at junctions, and it can be difficult for anyone to interpret what is the correct behaviour. A change needs to be made – the rules need to be simple and unambiguous.
"The proposals put forward by British Cycling and partner organisations would eliminate confusion, improve efficiency and reduce congestion, while giving cyclists and pedestrians greater protection – therefore encouraging more people to take up greener transport options and making our streets healthier."
Edmund King, AA president, said: "It would be beneficial for all road users if the Highway Code simplified the rules at junctions where a disproportionate amount of injury crashes occur."
Steve Gooding, director of the RAC Foundation, said: "As pedestrians, cyclists, motorcyclists and motorists we all need to recognise that the road is a shared space which works best when we all respect each other.
"The clearer we can make the rules of the road the easier it is for us all to see what's expected of us and to comply. The rules also need to be complemented with the right streetscape engineering, with markings, surfaces and road geometry all telling us the same story."
To support the campaign