The Minister of State for Cycling, Robert Goodwill, admitted to being 'blown away' by the difference between Danish and British cycling infrastructure after touring Copenhagen at the invitation of British Cycling, acknowledging that Britain has 30 years of catching up to do.
Mr Goodwill joined British Cycling policy adviser, Chris Boardman, in the Danish capital, which is known as one of the world's best cycling cities thanks to sustained investment, high quality infrastructure and a culture of mutual respect between motorists, cyclists and pedestrians.
Citizens of Copenhagen own 678,000 bicycles, and 63% of Copenhageners' journeys to work or education in the city are made by bike. On an average weekday, 1.34 million kilometres are cycled in the city.
Following the tour, Mr Goodwill said: "It was rather a shock to see just how many people were cycling. When I say people, I mean just that - ordinary people in ordinary clothes; people of all ages, people with young children, and a lot of women.
"The other thing that struck me was that if all of those people on their bikes had been in cars, the place would have been completely jammed. So I think the motorists understand that having all these people on bikes actually gives them more space to get around. It's all very impressive."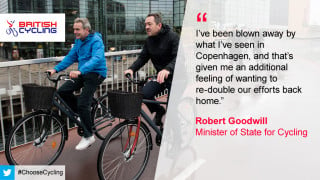 The Conservative government is now legally required to produce a Cycling and Walking Investment Strategy (CWIS), which forms part of the Infrastructure Act 2015.
The CWIS will detail the objectives and financial resources to be set aside, and British Cycling has urged the government to take the opportunity to prioritise cycling as part of an integrated, sustainable, transport strategy.
Mr Goodwill said his visit to Copenhagen had opened his eyes to "innovative" ways of working and, although he acknowledged that Britain has plenty of catching up to do, vowed to kick-start the process which would allow cyclists in Britain to benefit from increased investment and improved infrastructure.
He added: "Here, we've seen vast numbers of people on bikes, very good provisions on the roads and a lot of innovative ideas that I'm sure we'll be taking back with us.
"This has happened over a long period of time. The problem we have in Britain is that we should have started 30 years ago. That means we need to re-double our efforts to ensure we get what the Prime Minister called a 'cycling revolution' in the UK, so we can come here without having to hang our heads in shame a little bit.
"I've been blown away by what I've seen in Copenhagen, and that's given me an additional feeling of wanting to re-double our efforts back home to ensure that we can do more for cyclists."
Boardman added: "Copenhagen is a shining example of what can be achieved with committed investment, not just in infrastructure but in everything required to make cycling and walking a legitimate choice for the people living there.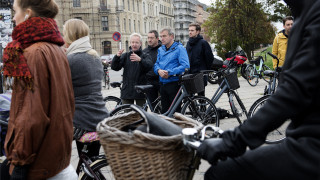 "Robert Goodwill was able to see how much work is needed to bring British cities up to speed with Copenhagen – this is a big step forward, and I thank him for taking part in the visit. I think he saw the huge benefits of proper investment in cycling and I think more of his colleagues in government should see this for themselves.
"The Minister has said some positive things, but the first real test of this government's commitment will be the Cycling and Walking Investment Strategy they have promised. This needs meaningful funding and I want to see it published before the next Budget.
"Mr Goodwill will have to fight hard in government to deliver the 'cycling revolution' promised before the election, but with the Prime Minister's backing I am confident he can persuade Treasury ministers to release the £10 per head per year that could transform cycling provision in the UK and save us from crises in obesity and pollution that the country can't afford."
The visit is the latest milestone in British Cycling's campaign to convince Ministers of the need to make the right infrastructure choices to make cycling safer. Led by Boardman, the campaign is supported by the #ChooseCycling Network of leading businesses, including Aldi, GSK, Coca-Cola, Santander and National Grid.
The group is expected to write to the Chancellor ahead of the Comprehensive Spending Review calling for cycling to be placed at the heart of a strategy to 'avoid a costly health crisis and helping to produce a happier, more focused, more skilled future generation'.