Follow britishcycling.org.uk on

Grant White: Redefining Expectations
2010 BMX World Championships Home | Preview | Track | Live Coverage | Reports
BMX: Road To 2012 | British Cycling's Performance Programmes Explained
Team GB BMX Roster | Join Team GB
Posted July 26 2010
Words And Photography By Luke Webber
For two years Grant White has built, adjusted and re-built his final selection of riders for the 2010 BMX World Championships. Days before the race British Cycling's Olympic BMX Coach talks to Luke Webber about a process that is redefining expectations for British performance on the sports biggest stage.
Beijing 2008 and the first showing of BMX at the Olympics represented an historic moment - not just for the sport, but for its development under British Cycling. However, around the time Sir Chris Hoy was betting his house on gold for Shanaze Reade, British BMX was still looking for a men's finalist.
Fast-forward two years though and as the Reade footage got played to death there's been a whole new highlights tape under construction; only this time featuring a man.
NOT JUST A NUMBER
Twentythree; it's a significant number - not only the number of months Reade's World Championship comeback from injury has spanned, but also the progression in position for Liam Phillips from Beijing to present day.
Because as Reade turned a string of injuries into her best ever shape, Britain's best male BMX rider jumped twentythree positions from his Olympic performance, to finish second at round two of the BMX World Cup which contained all of the sports greats.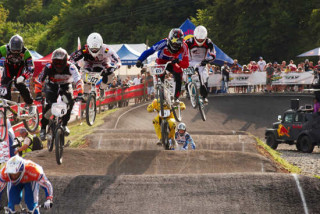 The race preceding the World Championships is Phillips' measurable and - for many unexpected - gain since his inception onto British Cycling's performance programme and according to Grant White - the man who has overseen this progression - there's more to come.
"He's in better shape now than he was in Copenhagen, so one could argue that he's in an even better place to perform now. In Copenhagen it was great to get that result but it wasn't as much of a surprise for Liam and I, because we both knew he was on track for that kind of ride - not to say that it wasn't hard work to get there."
Indeed, the last twelve months haven't been easy for White and his riders and though Copenhagen was good for Phillips, it was bad for Reade and ugly for Marcus Bloomfield who faced mid-season de-selection after failing to meet performance targets.
Reade's punishment at that race was instantaneous and psychological; knocked out in the semis and forced to watch the finals - hardly the hallmark of her 2008 World Champion status and all just months before 2010s most important competition.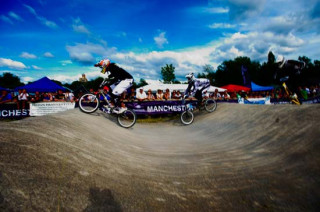 A FRESH START
However, in one World Cup weekend a reassessment of the past two years of training occurred; a leaner programme with two riders instead of three and a renewed focus for the World Championships in South Africa.
One week on the course was steered by the two F's; force and fate - the latter becoming Phillips as he crashed out of a British race exactly seven days after his career-best result in Copenhagen, enforcing a fourteen-day rest period, wisely used to reassess the training approach for Pietermaritzburg.
Unsurprisingly Reade preferred force and through a heavy schedule of racing and training proved herself impossible to ignore, dominating two European Series races and setting training records along the way, the latest of which came in Aigle.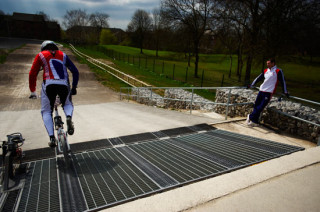 CENTRE OF EXCELLENCE
Set in Switzerland, the UCI's BMX Training Facility attracts the Worlds best riders and with three weeks until the World Championships it was the obvious venue to train at, as White explains.
"In Aigle there were personal bests for both Shanaze and Liam in a few different areas. It's a good marker to show that they are both on track, but by no means does it mean they will win in South Africa. All it says is that you're in the ballpark and ready to race and turn up on the day.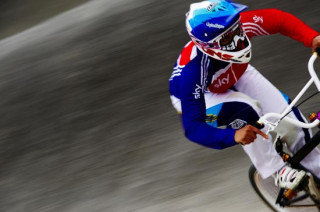 "Shanaze is pretty sharp now - realistically the best she's ever been - and goes to South Africa fairly complete in all the different areas, so we'll see how she performs come race day. It's easy to forget she had a long time out, but I think physically she came back faster than you might expect and it's all come together pretty well. Early season she was race rusty in a couple of areas, technically and tactically Shanaze has learned quite a lot through the season - but it wasn't alarm bells, just minor corrections that took hard work and time to sort."
LONDON 2012
When it comes to specific preparation for the World Championships, White insists that the hardest thing is to control the emotion around the event, despite the massive prize at the end - he calls it taking care of the process.
"At the end of the day it's the biggest prize of the year, but just because following the race there is a different presentation, that shouldn't change the process of the weekend. And besides, this is all part of the bigger build-up to the Olympics."
Speaking of which, is one area which may have confused the process itself. A new selection criteria for the home nation gifted Britain two Olympic spots, but also raised a conundrum when it comes to chasing further places and the personnel required to do so. According to White the two year Olympic plan had to be revisited, especially for the men.
"We had to make a decision; go after two positions or focus on the one rider - as to how that changes things that's still to be decided really. At the moment we only have one rider who has shown a good chance of performing well in the Olympics. But that may change in the future; we have the Worlds coming up, Marcus is competing there and he knows that the door is always open should he reach some targets."
With that in mind and White scrabbling to get to the final pre-Worlds sprint session with Reade and Phillips, it's time to get a final thought on what White's aspirations are for his riders when they reach South Africa.
"Liam and Shanaze both know that they're in great shape and know they have everything available to them to perform and if they can do they best they are capable of that's my goal."
Let's hope they attain it.
You can watch Liam Phillips and Shanaze Reade race for the rainbow at the BMX World Championships this weekend LIVE on British Cycling. Just go to the livecast pages now for all the information you need.