Introduction to BMX
BMX cycling offers a wide range of challenges across the sport but, from supercross racing to freestyle tricks, the skills required are developed from a passion for cycling creativity and adrenaline.
With its origins in southern Californian dirt track racing, BMX exploded in popularity in the early 1980s. The first BMX world championships were held in 1982 but it wasn't until 1993 that the UCI integrated the discipline.
BMX became a staple of the X-Games but in 2008 the sport made its debut at the Beijing Olympic Games, which catapulted it onto a global stage.
London 2012 promised a lasting legacy for the sport of BMX and it has not disappointed. New clubs, tracks and competitions have sprung up over the country, as children and adults alike have been inspired to take to the dirt tracks.
Not necessarily a cycle sport that requires membership of a club, BMX is often learnt in gardens, local parks and pavements before the riders feel confident to start competing.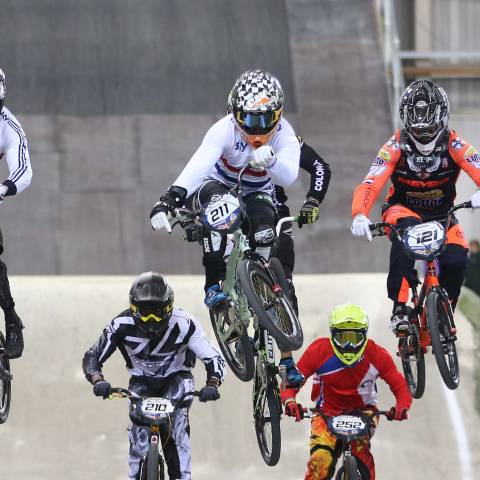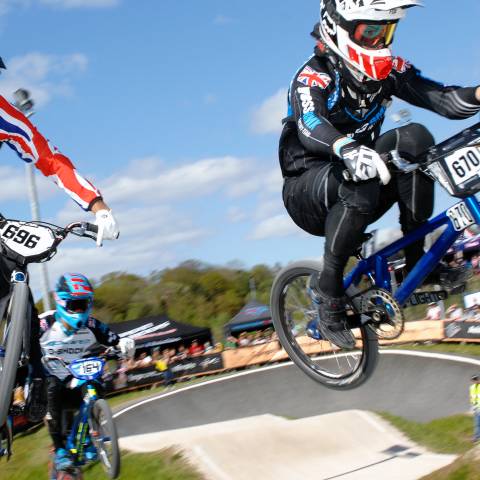 The venue
BMX racing take place on a growing number of purpose-built outdoor and indoor tracks throughout the country. Made from compacted dirt and tarmac, tracks are around 400-metres long and feature a large starting ramp, banked (bermed) corners and a variety of jumps including tabletops, gap jumps and rhythm sections.
The Olympic standard track at Manchester's National BMX Centre is unique in the UK, an indoor track with an eight-metre high start ramp.
The BMX rider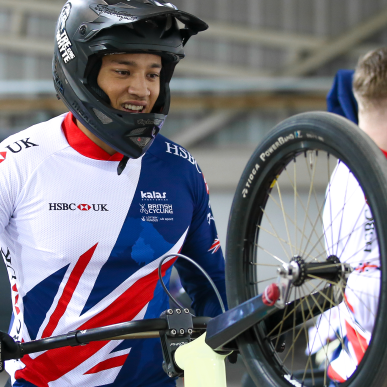 Top BMX racers are highly-trained sprint athletes with superb bike control, quick reactions and nerves of steel. But do not let that put you off!
BMX is more accessible that you might think, with clubs and tracks throughout the country offering taster and coaching sessions for riders of all ages and abilities. Bikes with as small as 12 inch frames are available for tiny tots, while the masters' age group is more popular than ever.
BMX riders can be tall or short, stocky or skinny but what they all have in common is a passion for their sport.
What is BMX racing?
BMX race meetings are relentless, all-day action, which begin with qualifying heats, called 'motos'. Up to eight riders contest each moto, before moving on through further knockout rounds until the final, which decides the overall winner. Races usually last well under a minute and are run off in quick succession, meaning that it's an exciting non-stop day for riders and spectators alike.
In Britain, there are regional racing leagues, HSBC UK BMX National Series and HSBC UK National BMX Championships. Racing takes place throughout the year.
Supercross
The Olympic discipline of supercross is raced over a 350-400m dirt track. The eight riders launch off the start ramp and a race over the varied terrain, which sometimes requires sprinter-style flat speed or metres of height reached off the range of jumps.
The fastest qualifiers get the best spots on the starting gate and often the fastest rider to reach the first bend will cross the finishing line in front.
What is BMX time trial?
In a BMX time trial, riders complete one lap of a track against the clock. Time trials are used in different ways in the sport. They can be used to rank riders ahead of racing but also as a competition in its own right. For instance, each year a time trial world champion is crowned at the UCI BMX World Championships.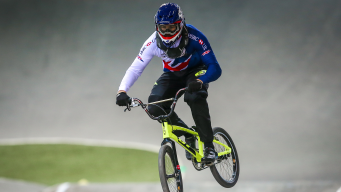 BMX
BMX racing bikes are simple and strong, with a single gear and usually just a rear brake.They are much smaller than a mountain, road or track bike and might feel strange if you are used to any of these already.
Standard BMXs have 20-inch wheels and there are micro and mini and junior sized bikes for younger riders.
There are also a larger 24-inch wheel cruiser class, which is popular with larger or older riders. Although top-class bikes are high tech and expensive, entry level racing machines are more affordable than many other bike types.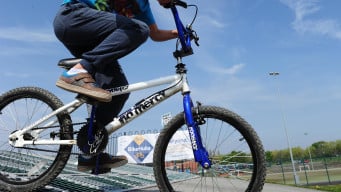 Jersey
Jerseys in BMX riding are vibrant and colourful, harking back to the fashions of the sport's 80's heyday. Long sleeves and covered legs are also a necessity, to reduce the damage a tumble can cause to exposed skin.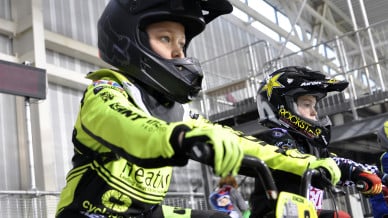 Helmet
Full face helmets are compulsory wear in BMX racing, as crashes can occur in both competition and training.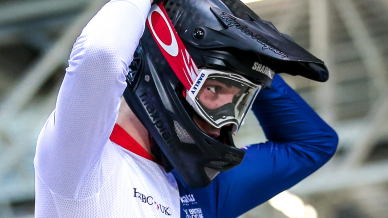 Pads and gloves
Gloves are non-optional; the full-fingered gloves increase the safety measures put in place for BMX riders.Knee and elbow pads are recommended to provide additional protection.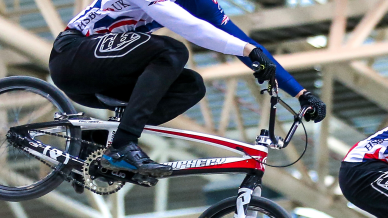 BMX clubs
Most active BMX clubs offer taster and skills sessions at their local track, allowing you to have a go at improve your skills. Many clubs offer bike, helmet and protective gear hire, allowing you to get a taste for the sport before making a financial commitment.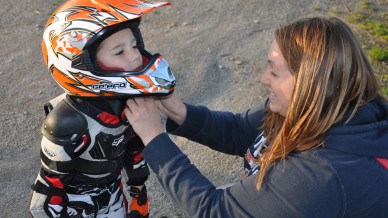 BMX events
BMX racing is mainly a spring and summer sport, although a number of regions run winter leagues. Races are accessible, friendly and family oriented, often with a number of generations taking part in the same meeting.