Golden brothers Ethan and Leo Hayter retained their national time-trial titles on the first day of the British National Road Championships, while Pfeiffer Georgi and Joss Lowden took the under-23 and elite women's crowns in the glorious Dumfries sunshine.
The Elite Men's category saw a complete repeat of last year's podium in Lincolnshire, with Hayter putting on a masterclass to take the national champion's jersey in a time of 50:38.525 over two laps of the 22.1km course.
Time-trial specialist Dan Bigham finished just behind Hayter to claim the second spot on the podium, clocking a time of 51:52.629, while James Shaw took bronze in 52:09.869. John Archibald and Charlie Quarterman finished just off the podium in fourth and fifth.
Afterwards, Hayter said:
"It's really nice to defend my national title and I'm looking forward to wearing these stripes in Europe. We've been pretty lucky with the weather today – perfect weather for a time-trial. Hopefully I'll win the road race on Sunday, but I've got both Bens with me [Tulett and Turner] and they're both really strong, so we'll see."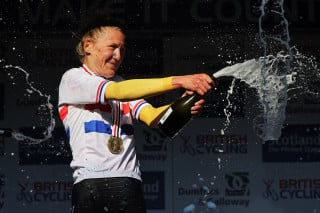 Former UCI Hour Record holder Lowden was the only rider to break 29 minutes in the elite women's category, clocking a blistering time of 28:44.912 to get into the hot seat.
Welsh rider Leah Dixon moved up from third on the 2021 podium to second in Dumfries to gain the silver medal with a time of 29:07.340, while Lizzie Holden came in third, crossing the line in 29:13.523. Emily Meakin and Anna Shackley both performed strongly to take fourth and fifth.
Lowden said:
"I'm very, very pleased. Obviously I was eyeing it up last year so this year to come out and do a ride I'm really pleased with – there was nothing left on the road today. I really enjoyed it, it was a beautiful course."
Georgi was the last rider away in the Under-23 Women's category but clocked the fastest time of 29:42.618 over one lap of the course. Elynor Backstedt claimed second – the only other rider to clock under 30 minutes with 29:54.085.
Under-23 National Road Series leader Lucy Gadd took third in 31:02.642 to make her first under-23 national championships podium, followed by Kate Richardson and Abi Smith.
Georgi said:
"Pretty special to be back on the podium – I definitely didn't expect it coming in and I had Covid last month so I'm just getting back into fitness. I had no one in my ear so it was just me and my thoughts, so I went really hard on the way out. I thought I'd maybe gone a bit too deep but, in the end, it worked out to go hard and try and hold on."
In the Under-23 Men's category, Hayter matched his brother with a dominant ride in a time of 26:00.649 – just over 16 seconds quicker than his nearest competitor – this despite a mechanical with 6km to go which meant he had to change bikes for the final section of the course.
Second place went to 18-year-old Callum Thornley in a time of 26:17.366 – a very impressive ride for the young Scotsman – while the third spot went to Charlie Bailey, who clocked 26:28.373. He was followed by Oliver Rees and Josh Giddings.
The championships continue tomorrow with the circuit races in Kirkcudbright, starting at 17:00 on GCN+, discovery+ and the British Cycling YouTube channel. Find out more in our event preview here.
Full results: