British Cycling is pleased to today announce that the 2023 British National Road Championships will take place in Redcar and Cleveland, with the time-trial, circuit and road race championships taking place across three days of scintillating racing from 21-25 June.
In addition to the championships, Redcar and Cleveland will also play host to an additional round of this year's men's and women's National Road Series on Sunday 1 October. The East Cleveland Classic will become the final round of each series, further adding to what will be a memorable year of cycling in the region, following the announcement that it will also host a stage of this year's Women's Tour earlier this week.
Having previously hosted rounds of the National Road Series, Tour of Britain and Tour Series, Redcar and Cleveland has a proud track record of hosting major road cycling events.
The championships will begin one day earlier than usual with the time-trials on Wednesday 21 June, due to local restrictions and venue availability, and further details of the route will be released in due course. Ethan Hayter will be looking for his third consecutive title in the elite men's category, while the absence of Joss Lowden, who is expecting her first child, will mean a new champion will be crowned in the elite women's.
The circuit races will then take place on Friday in Redcar town centre, which successfully hosted the start of the fourth stage of the Tour of Britain last year. Josie Nelson and Matt Bostock will be hoping to retain their national circuit race titles, having picked up their first elite national titles in Kirkcudbright last summer.
The championships will then conclude with the road races, which will start and finish in Saltburn on Sunday 25 June. The route will take in the picturesque seafront town before heading out to tackle the challenging local terrain. Alice Towers won her debut national champions' jersey in Castle Douglas last year after a solo breakaway, while Mark Cavendish delighted the local crowd by sprinting to victory in the men's race.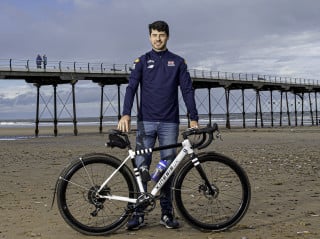 Ahead of today's announcement, local rider and former under-23 time-trial national champion Charlie Tanfield, from nearby Great Ayton, said:
"It's really special to race on home roads, and I cannot wait to go to Redcar in June. Having raced at the Tour of Britain last year, the crowds were amazing and I'm really hoping to claim another national podium this year."
Reigning women's national road race champion Towers added:
"I can't wait to race the nationals again. Winning the title in Dumfries last year meant so much to me and it's been a dream to wear the national jersey while racing in the Women's World Tour this year. The level of British talent at the moment will make for a really tough race so I can't wait to be back and part of the fight again. I'm sure the race in June will be another one to remember."
The 2023 championships will bring together the time-trial, circuit and road events for a third consecutive year, following successful events in Lincoln and Dumfries and Galloway, as British Cycling works to deliver another spectacular event for riders and fans alike. The national championships is the pinnacle of the domestic road calendar, which begins this month with the 7th ANEXO/CAMS Women's CiCLE Classic on Sunday 26 March.
British Cycling's Acting Cycling Delivery Director, Jonathan Day, said:
"We'd like to thank our partners at Redcar and Cleveland Borough Council for their support in bringing the championships and additional national series event to the region, and enabling us to deliver what I know will be exciting and challenging courses for our riders and supporters on the roadside. These events simply cannot happen without dedicated local support, and we're looking forward to working with the council team and other local agencies to bring the event to life over the coming months.
"While the landscape for elite road racing remains incredibly challenging, British Cycling is fully committed to supporting our road riders through high-quality events, aiming to deliver exposure for teams and sponsors and giving our members and fans across Britain the opportunity to watch the country's best riders do battle."
Cabinet Member for Climate Change, Environment and Culture, Cllr Louise Westbury, said:
"Redcar and Cleveland has a proud track record of hosting major road cycling events and I am thrilled that the British National Road Championships will be taking place in our beautiful borough.
"The three days of elite races will be a fantastic spectacle for local people and visitors and will provide us with the perfect opportunity to showcase what the area has to offer, from our vibrant towns and villages to our stunning coastline and breath-taking countryside."
Leader of Redcar & Cleveland Borough Council, Cllr Mary Lanigan, added:
"The Council is committed to supporting high profile cycling events in the area and we are delighted that British Cycling have chosen to come to Redcar and Cleveland for these championships.
"The announcement comes hot on the heels of the news that Women's Tour will be hosted in Guisborough in June. Both events will not only help raise the profile of the area but provide a boost to visitor numbers and the local economy.
"It is going to be a bumper summer season of cycling in Redcar and Cleveland this year."
Route details and further information on the event will be published in due course.