British Cycling has confirmed the route on which national road race champions will be crowned this year.
The 2018 HSBC UK | National Road Race Championships will take place in Northumberland as part of the Cyclone Festival of Cycling, with the men's and women's road races taking place on Sunday 1 July.
British Cycling has today released the routes, which will both start and finish in the picturesque village of Stamfordham, situated around 20km west of Newcastle-upon-Tyne.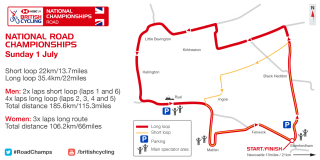 The men's race will take place over a total distance of 185km, while the women will compete over 106km. Highlights of the route include challenging, narrow sections of road through Counden Hill and Hallingdon, which is immediately followed by the Ryals climb – the most significant hill on the course.
The last time that the championships were held in the area, in 2011, the titles were eventually taken with late attacks on the run in to Stamfordham by Sir Bradley Wiggins and Lizzie Deignan.
Event organiser Peter Harrison said: "The road race route is extremely picturesque, but the riders won't have time to enjoy it. The narrow roads that typify the run in to the famous Ryals climb force the riders to race hard for position: the climb of the Ryals then gives stronger riders the chance to pressurise an already strung-out field.
"The eventual winners and national champions will have to be tactically sharp and prepared to go with the inevitable attacks up the Ryals. Then, we anticipate a game of cat and mouse between smaller groups of riders down to the finish."
The route also affords spectators plenty of opportunity to watch Britain's finest cyclists do battle for the national champions' jerseys while taking advantage of stunning local scenery, particularly Stamfordham and the climb of the Ryals.
Won by Deignan and Steve Cummings in 2017, the road races at the HSBC UK | National Road Championships are the showpiece of the domestic road cycling calendar. This year, the races will be the climax to the Cyclone Festival of Cycling, which will also host the time trial events (Thursday June 28) and two events for the general public: a family leisure ride and a sportive, to take place on June 29 and 30.
The time trial route map will be released in due course.