Grant Ferguson had the podium in his sights at round two of the UCI Mountain Bike World Cup Cross-country at Albstadt in Germany – but Annie Last was thwarted as a mechanical dumped her out of top-ten contention.
Ferguson was again gridded on the front row of the under-23 men's race, following seventh at the opening round in Nove Mesto one week earlier.
From the gun the fast-starting British champion held the lead in the early stages, before being joined by Spaniard Pablo Rodriguez, Frenchman Romain Seigle and Switzerland's Lars Forster.
The four traded places, before Rodriguez and Seigle established a slender lead at the head of the race.
Ferguson was fourth as he entered the final lap – albeit just 42 seconds down on Rodriguez the leader and 14 seconds adrift of the podium.
The British Cycling Olympic Podium Programme athlete found three seconds on the final lap, but it wasn't enough and he had to settle for a cruel fourth, 31 seconds down on the win.
British Cycling Olympic Academy Programme athletes Iain Paton and Mike Thompson finished 71st and 90th respectively.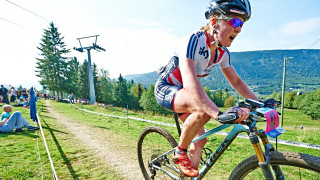 It was frustration for Annie Last in the elite women's race as she could only manage 21st.
After a strong start, Last established herself in a large chase group in contention for the top ten and was riding high in fifth place after one lap.
A seemingly innocuous crash on lap two cost her track position, but by lap five the event came back to haunt her.
Riding in 11th place and setting lap times well inside the top ten, Last had a mechanical problem with the back wheel, leaving her with no drive.
A stop in the tech zone for a new wheel cost valuable time – her interrupted lap a lowly 47th fastest.
Now in traffic, Last was resigned to no further progress – however must be encouraged by showing a high level of performance at only the second round of the season.
After the race, British Cycling Olympic Mountain Bike Coach Julian Winn was philosophical about the mixed results.
"If Annie had got the top ten finish I believe was possible, then we would have just had a weekend with Grant, Annie and Alice all with top ten results – but that is mountain biking.
"Annie was riding well and it is a shame what happened – but the good news is that she is in a good place and races again in Switzerland next week, so there is a chance for her to get a result for herself there.
"Grant rode really well today and he is part of six riders who are in a class of their own in the under-23 category. The racing is so close between this group that it only takes one mistake – a slipped pedal, or a bad corner – and that can stop you getting a great result.
"It is that much of a fine line."
With one month until the third round of the world cup series, the mountain bike squad now go into a block of training which Winn hopes will show the true potential of the riders.
"So far we have not done any high end training, so this next month is a chance to address this. There is still a lot of hard work to be done to close the gap to the top riders – especially for the academy group – but envisage that the next world cup will be a chance for me to show the physical results of what we have been doing."
Result:
Elite women
Under-23 men