Evie Richards stormed to an incredible gold medal after a dominant performance in the women's mountain bike race at the Birmingham Commonwealth Games.
Richards ripped up the course at Cannock Chase to add to Team England's medal tally, going one better than her 2018 silver medal in Australia, while Isla Short took a hard-fought fourth for Team Scotland.
Earlier in the day Northern Ireland's Cameron Orr and England's Joe Blackmore just missed out on medals with fourth and fifth place respectively in the men's race, and Scotland's Charlie Aldridge suffered a devastating mechanical while sitting in third position to put him out of contention.
Women's race
World champion Richards and Scotland's Isla Short set the pace early on, opening a gap on the first lap, with Candice Lill of South Africa and Australia's Zoe Cuthbert chasing. Richards rode away comfortably, before Short had a wobble on a rocky section to enable Richards to grow her advantage.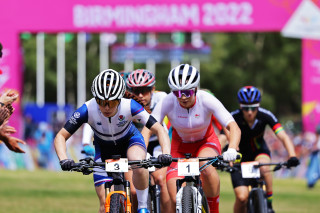 Crossing the line on the first lap, Richards had a margin of 13 seconds, while Short led the chase with Lill and Cuthbert. Richards looked strong, opening the gap to 34 seconds, but having recently suffered with a back injury and Covid-19, the race was by no means over.
Short and Lill continued to chase, with Cuthbert just staying in contact before being distanced on the fourth lap.
At the halfway point, Richards had a lead of 43 seconds over Short and Lill, with the 25-year-old showing lightning speed on the berms and impressive technique on the rocky sections.
Cuthbert fought back to the chasing group on the fifth lap, before putting in a surprise attack, with Lill following but dropping Short in the process.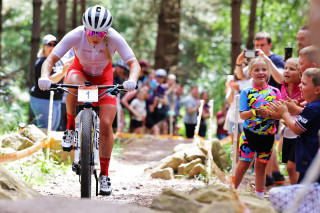 Richards began to lap the field as her dominance continued but slid in the grass section, and while she recovered quickly, her advantage was dented to 26 seconds.
Cuthbert and Lill chased hard as Richards refocused with two laps to go, growing her advantage back out, coming into the final lap with 41 seconds over Cuthbert, while Lill dropped 49 seconds back in third. Short battled on in fourth place.
A powerful last lap from Richards saw her soar to gold with a roaring crowd bringing her home. The 21-year-old Cuthbert dug deep to take silver 47 seconds behind, while Lill won the bronze. Short took fourth with an impressive ride for Team Scotland.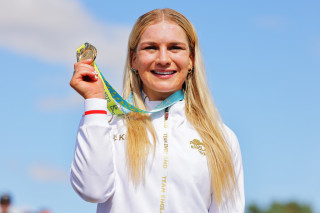 Afterwards Richards said:
"I just really wanted to put on a bit of a show today and try and inspire some younger girls to see what they can do in the future. I wanted to put on a show and if that meant leading from the front and dying off, I was willing to take that risk.
"It's been quite a lot of pressure this year, especially as I've got a few injuries and a lot of illness. I've got amazing coaches, an amazing psychologist, and a great family, so they do the best job of managing the pressure for me.
"It's so special to be here at the Commonwealth Games. I was supposed to be out in the World Cup with my team but I just really wanted to be here. It's been a long time since my family have watched me race and to be a world champion on home soil, it doesn't happen very much."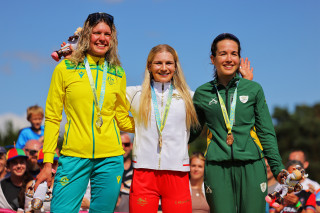 Men's race
It was a New Zealand one-two in the men's race, with a surprise bronze for Namibia after Scotland's Charlie Aldridge suffered a mechanical.
The 2018 Commonwealth Games winner Sam Gaze of New Zealand put in a big attack off the line to lead into the first single track section, followed by Aldridge and Cameron Orr of Northern Ireland.
At the steep twin peaks section, Gaze and compatriot Ben Oliver led the 11-rider group, with Aldridge and Orr comfortably on their wheels.
Gaze, Oliver, Aldridge, and Orr managed to gain a gap, easing through the rocky section and dropping the pace slightly, before the New Zealand duo pressed on and established a lead.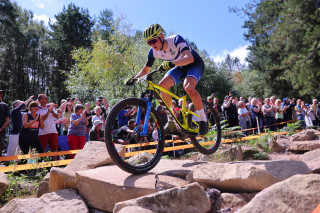 Team England's Joe Blackmore and Harry Birchill led the chasing group, while Aldridge managed to close the gap to the New Zealand pair with Orr on his tail.
Gaze and Oliver crossed the line on the first lap just six seconds ahead of Aldridge and Orr, with the chasing contingent 25 seconds back.
With an intense first lap completed, Gaze and Oliver were already well ahead, while Aldridge and Orr chased, with England's Blackmore then joined them on the third lap.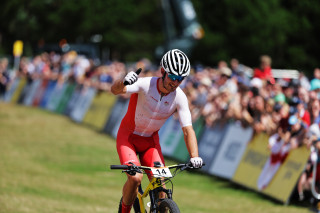 Gaze and Oliver were a minute up from the trio at the halfway point, before Aldridge showed his strength and stormed ahead to form a gap. Blackmore chased, dropping Orr in the process, but it wasn't meant to be for the Scotsman, as he slipped on the grass section, breaking his derailleur and putting him out of contention for a medal.
The sixth lap saw Gaze ride away from Oliver, establishing himself as the strongest rider on the day. Blackmore and Orr were again locked in to compete for the bronze, but coming into the final lap they were joined by Namibian Alex Miller. Orr put on the pressure, but Miller attacked on the hilly section and gained an instant 10 second advantage.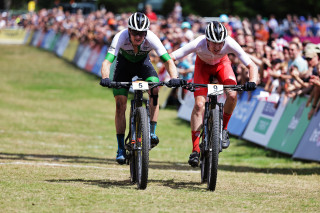 Gaze claimed his second consecutive Commonwealth title, with Oliver taking silver, and Miller took the bronze for Namibia. The battle for fourth ended in a photo finish, with Orr just edging ahead of Blackmore after brilliant rides from the pair of young riders.
Birchill finished eighth, while Northern Ireland's Chris McGlinchey took ninth. Aldridge showed commendable resilience to finish the race a lap behind.
The Commonwealth Games cycling programme continues tomorrow with the road time-trials in Wolverhampton.