Knowledge Level: Intermediate
With modern technical clothing, staying warm and dry on the bike, no matter how bad the weather, has never been easier. In this article we give you advice on choosing the correct clothes, getting your layering right and other practical tips for staying warm through the worst of the British winter.
Route Choice
On a hilly route in cold or wet conditions, as well as making descending potentially hazardous, you're likely to overheat and sweat on the climbs and then get chilled on downhills. By choosing a flatter route you can keep your effort level more constant, meaning a more even temperature and less need to stop to remove or add layers.

Riding off-road can often feel warmer as you tend to be working a bit harder and, as speeds are typically lower, you won't generate so much windchill. Also, in icy or snowy conditions, you're probably safer off the roads.
Before heading out
Make sure you've had a decent breakfast or, if riding later in the day, have had a suitable snack or meal to fuel your ride. If your blood sugar drops, you'll feel the cold more and won't have the energy to up your pace to warm-up. This is why good fuelling is also very important when riding in the winter.

Put your shoes, socks and gloves near a radiator to warm them up. The warming boost will only last a few minutes but can really help getting you out of the door.

Consider using insulated bottles with a hot drink in them. Green tea with honey works really well.

Don't overdress or you'll sweat, get chilled and probably have to stop to take off layers. Start off feeling slightly chilled and, once you get going, you'll feel just right.
Head, face and neck
Non-vented aero style road helmets can keep your head warmer, especially when paired with a windproof skullcap or traditional Belgian style winter hat.

Glasses with clear or light enhancing lenses protect your eyes from spray and drying cold winds.

A snood style neck tube keep your neck warm and can be pulled over your mouth and nose if it gets really cold.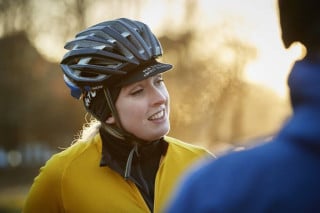 Hands
Cold hands can ruin a ride and affect your ability to brake and change gear. Look for gloves which aren't too bulky but have some insulation and are wind and waterproof.

Make sure they're not too tight as this can limit circulation and cause your hands to become chilled. Some riders prefer lobster style gloves or mittens but make sure you can still operate your brake/gear levers.

Seal the cuffs of your jacket go over the cuffs of your gloves as this will keep rain and cold air out and trap warm air.
Top 10 tips for keeping your hands warm
Body
Always start with a close fitting wicking base layer. If it's really cold you might want to get one with a windproof front for added protection.

Next, go for an insulating mid-layer, such as a winter weight cycling jersey. Another option are modern weatherproof jerseys. Although not fully waterproof they provide good protection from the wind and, being highly breathable, are excellent for faster paced riding.

Finally, you need a wind/waterproof shell layer. For cold but dry days, a lightweight windproof or gilet might be enough or you could opt for a softshell if you want a bit more breathability. If rain is forecast a packable waterproof can be a ride-saver but, if it's cold and wet right from the start of your ride, a heavier duty breathable waterproof, ideally with taped seams, that you'll wear throughout, is the way to go.
Legs
Bib tights provide extra protection against the elements for your lower torso and, most importantly, keep your lower back covered when low on your drops. Look for ones that have wind/waterproof front panels but more breathable and articulated rears. Ankle zips make it easier to fit your tight's cuffs over your overshoes/booties.
Feet
Choose knee length socks that offer good insulation without excessive bulk as tight shoes are one of the main causes of cold or numb feet. Waterproof merino lined socks are expensive but provide a great final line of defence against water. If you choose overshoes, make sure you tape up any vents on the bottom of your cycling shoes and loosen off the straps to accommodate bigger socks. Dedicated winter booties are great but ensure you buy a slightly bigger size than your summer shoes so you can wear warmer socks. Make sure that the bottoms of your tights or leg warmers come over the top of your overshoes or booties. Finally, probably the best way to prevent cold and wet feet, is to fit full length mudguards to your bike.