Knowledge Level: Beginner

With the mixed conditions you are likely to encounter during a year of cycling in Britain, or even during one ride sometimes, there simply isn't one type of jacket to cover all eventualities. Think about the type and duration of rides you typically do and use these buying tips to decide which types of jacket will suit you best.
Don't forget layering
A jacket should be the outer layer of a three layer system. Make sure you wear a quality wicking base-layer next to your skin, Merino wool or quality synthetics are best, a wicking cycling jersey, maybe fleece lined if cold, next and then your jacket on top.
Budget
Genuinely waterproof jackets with taped seams, that breathe well and pack down small don't come cheap. You are probably looking at spending £150-£300. You can get much cheaper waterproofs but their breathability is likely to be extremely limited and they can be bulky. Windproofs and softshells tend to be cheaper but you will still be looking at £100 plus for a quality product.
Limitations
Shell and laminate technology has leapt forwards in recent years but you still can't realistically expect to be able to ride hard wearing one and for it to keep you dry from the rain and dry from your own sweat. You will need to back off the intensity a little bit when wearing a jacket if you want to stay completely dry or just accept that you will get damp.
Fit
If you have trained hard to improve your bike fitness, don't negate your gains by wearing a poorly fitting jacket that billows like a sail. Look for a close fit that allows room for your layers underneath but not so tight as to restrict your movement. Make sure that the arms are long enough when you are riding down on the drops and that your lower back, and ideally your backside, are covered. The collar should come high, seal closely round your neck but have a soft lining to avoid rubbing and cuffs should be adjustable.
Packing size
If you are looking for a windproof or waterproof to carry in case of poor weather or to pop on for long descents, make sure that it packs down small. It should be able to fit in a jersey pocket but, especially for a waterproof, you will have to pay for packability.
Windproof
Even on a relatively still day, when riding a bike you generate a significant breeze. This can easily become chilling and, especially on dry winter days, taking the edge off this chill is essential. Windproof fabrics do exactly this and are incredibly important for year round riding comfort. Many will have a degree of water resistance, will keep out a brief shower and they tend to breathe well.
One of the most useful garments to own is a lightweight windproof gilet. You can wear it on cool morning starts, easily stow it in your jersey pockets and slip it back on for long cold descents. Wind-proofing is not just limited to jackets and gilets, gloves, under helmet hats, tights, face-masks and overshoes all benefit from the use of windproof fabrics.

Waterproof
Also known as hard shells, a high quality waterproof cycling jacket is a vital piece of kit if you want to ride no matter what the weather. Water on your skin combined with the wind chill of riding can quickly cause you to become cold and easily ruin a ride. If you can stay dry you will stay warmer, more comfortable and, with today's technical breathable waterproof laminates, this is possible.
The term hydrostatic head is used to describe how waterproof a fabric is and denotes the amount of pressure of water that is required to penetrate it. To be considered waterproof a fabric needs a hydrostatic head of 1.3m (or 1300mm). In reality look for a minimum of 10m but you can get fabrics that go up to about 30m. Most waterproof garments are also windproof.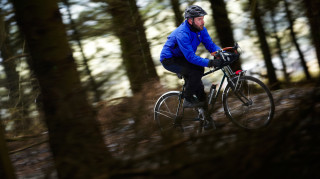 Softshell
Softshells are an excellent and versatile alternative to a fully waterproof hard shell. Although they won't stand up to a prolonged deluge, they are brilliant in showers. Often featuring windproof properties they are at their best on cold and dry days. Many are also fleece lined for added warmth. They are generally more breathable than a hard shell waterproof and many riders find them more comfortable to wear. Softshells are available in various guises, jackets and gilets being most common but tights can also feature this type of fabric.
Other features
Zipped vents under the arms, known as 'pit-zips', are useful for improving ventilation through the jacket. The main zip should be baffled to prevent wind and water entering. Rear pockets, similar to a cycling jersey, are handy on jackets that you will wear for an entire ride as they allow you to easily access food and spares.
Caring for your jacket
It is essential in order for technical fabrics to function optimally that they are kept clean. A build up of sweat and dirt can adversely affect levels of both waterproofing and breathability. However you can't just throw technical clothing in with your regular wash and there are various waterproof treatments and detergents you should use. Always make sure you follow the manufactures care instructions on the inside of the garment and many will recommend a specific laundry product.