Hey everyone, me again! With the second round in Berlin complete, it's time for part 2 of my Track Champions League Performance Diaries - a four-part series documenting my journey through the 2023 UCI Track Champions League. This week it's all about balancing the preparation of the mind, body and bike!
Berlin: Implementing lessons learnt
My thoughts and reflections on round two of the TCL in Berlin were a bit different to Mallorca. I went into the weekend feeling pretty tired but tried to ignore how I felt and focus on cracking on with the racing. I was really happy with the sprint races, and I felt like I put into practice things I'd learnt from Mallorca. My coach and I had discussed using the height of the track better and to my advantage, which was something I was able to do.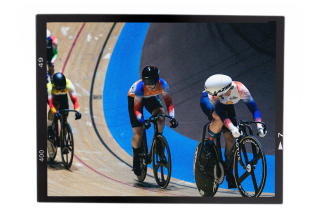 For the keirin round, I felt I needed to have more confidence so that's something I'm going to keep pushing for next week in Paris. Overall, I'm currently sitting in third in the standings so next week I'm hoping to add more points to that and to keep learning.

Berlin as a city was stunning - it's always a popular stop on the TCL circuit. We had a great time, enjoying the autumnal weather, and of course, finding the best coffee spots!
Preparation: finding the correct balance
In my journey as an elite athlete, I've learned that preparation isn't just about the physical aspects of training - it's a delicate balance between mental and physical readiness. In the lead-up to a major event, dialling into the right balance is crucial. While physical conditioning is essential, a clear mind is almost as important.

Nerves, in moderation, can be an excellent motivator. They keep me on my toes and ensure I'm at my sharpest. I've also been enjoying the extra media responsibilities that come with my world champion title and it adds another exciting dimension to the overall experience!
As well as ensuring my body and mind are in the right place and experimenting with that balance, making sure that my equipment is at peak performance is essential too. For example, working with Shell UK to innovate their new chain lubricant has been a unique experience that's added a new layer to my preparation. Properly caring for my chain with the right lubricant has made a significant difference in performance. When you're in the fast-paced world of sprint cycling, every bit of efficiency counts!

But what's even more exciting is the collaboration with Shell UK. They've welcomed and encouraged feedback from myself and my teammates at the Great Britain Cycling Team on our experiences with the lubricant. The prospect of influencing the development of such key technology is exciting. As we set our sights on the Paris 2024 Olympic Games, knowing that my insights can shape the future of these products is really quite cool!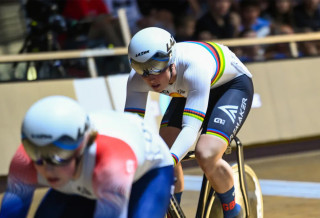 Coming up: returning to Paris
Preparations this week were similar to Mallorca, however we are accumulating a lot of fatigue and as we delve into Paris, the basics are really important. Nutrition is key, especially when we want to fuel correctly for each session, and after each race, recovery is also as important with protein. I'll continue to do these important steps throughout the weeks surrounding TCL.

I'm really looking forward to riding the track again in Paris - it's been over a year since I've ridden it so it will be nice to get a feel for it and understand the track bit more, especially ahead of the Olympics next year! I'm excited to keep pushing myself in the racing and learning. I feel like I've got a little bit of a plan going into Paris which is quite nice because from the past two rounds, I've learnt quite a bit about myself.

See you there!