Knowledge level: Advanced
Mountain Bike
Article posted: 02/09/2013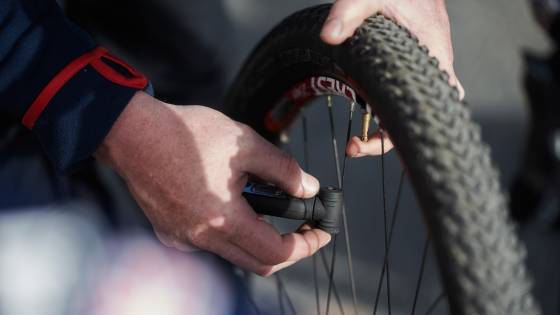 French manufacturer Mavic introduced their Universal Tubeless System (UST) in 2000 and revolutionised mountain bike tyre technology overnight – or at least for serious racers. It took until 2006 for road cyclists to be offered a realistic version of their own, despite some well-meaning, but less well-marketed attempts along the way.
Tubeless is a simple technology, with relatively few variants and some clear benefits but despite this, there is plenty of confusion amongst bike riders about 'going tubeless'.
Tubeless tyres are just that; a tyre without a tube and it's not such a crazy idea. After all, it's been the choice of motorists since the early 20th Century. To hold air, bicycle tubeless systems have some essential elements in common: an airtight rim, an airtight bead and an airtight carcass. How each system achieves this is somewhat different. There is usually some kind of liquid sealant involved too, held within the tyre to seal the bead, the carcass and quickly seal small holes should a puncture occur.
So why bother going tubeless? Weight saving is often cited and although savings are possible, none of the systems can claim huge weight savings, all things considered, particularly when you consider the lightweight tubes that are available. The real reasons to go tubeless are the significant performance gains that come from running tyres at much lower pressures than is usually possible with a tyre and a tube.
Without the concern of pinch-flatting a tube, you can choose to run much lower tyre pressures as there is nothing to trap between the tyre and rim. That means a greatly improved ride quality, particularly noticeable on the road, and a tyre that not only has a greater contact patch with the ground - creating much greater 'straight line' traction - but one that deforms over rough terrain providing masses more grip that a conventional tyre and tube system. If you're a mountain bike trail rider, that's means greater control and increased traction on technical climbs.
Of course, there is rolling resistance to consider. Rolling resistance is exactly what it sounds like and is made up of a number of factors, the most significant of which is friction between the tyre's contact patch and the ground. When riding off-road, having the lowest rolling resistance won't necessarily make you the fastest as you'll some need grip too. For mountain bike and cyclo-cross racers, going tubeless allows a more performance-oriented balance to be found between traction and rolling resistance. The most light- weight options can also reduce weight and inertia - the time it takes to get the wheel rolling.
For road riders and racers, the arguments for increased grip haven't gained the same traction as reduced rolling resistance is the priority. However, recent reviews of tubeless road tyres have focussed on the puncture resistance and also the improved ride quality, with some comparing the ride to that of tubular tyres – but at a fraction of the cost.
UST
The original, proprietary tubeless tyre system for bicycles, UST is widely regarded as bomb proof. A UST-specific rim has an airtight rim strip running through its centre and a special, hook-like rim profile which engages with an equally special bead on the tyre. Getting the tyre to seat itself and retain air is simplicity itself and air loss is rarely an issue as the carcass has a thick, non-porous membrane, often making the addition of sealant optional (but desirable in the event of punctures). Of course, a solid system like UST comes at a premium; tyres are relatively expensive and you'll need UST-specific rims. Most significantly, the non-porous carcass that makes the UST system so reliable adds significant amount of weight and once you've added a liberal dose of liquid grams in the form of sealant, the weight of a cross-country designed carcass can be creeping in to performance DH territory.
Tubeless-Ready (TLR)
TLR tyres have a specially designed bead which creates a much tighter seal against the rim than a conventional tyre, but a porous carcass like a conventional tyre. A TLR tyre will mount on a conventional rim however, which means that the choice of rims available to you is much greater than that of UST, including some very lightweight racing options. A rim strip must be fitted to create an airtight seal over the spoke-holes and a special valve is fitted, much like the UST system.
Fitting is somewhat harder than for UST; by design, the bead is very tight and some TLR tyre and rim combinations can reduce grown adults to tears. Sealant must be added to seal the non-porous carcass. TLR offer lower weight than UST and a fairly reliable seal on a greater choice of rims. However, you may still find that your favourite tyre isn't available in TLR format and you may find your choice of rim makes fitting a bit of a challenge. This is particularly an issue for racers who may wish to change tyres frequently to match conditions.
Common-or-garden tyres, without a tube
Running your favourite tyres without a tube is a very realistic proposition and something that riders have been doing for years. You will need a rim strip and valve, like the TLR system and lots of sealant as the carcass will be very porous. Choosing the right tyre and rim combination is a matter of guesswork and you may find yourself relying on tarot cards, or that equally reliable source of information, the internet forum. However, this method of running tyres tubeless has developed considerably over the last few years, driven in no small part by the development of rims and rim strips specifically for this purpose by the company Stans.
The benefits are clear: choose any tyre you like and mount it to a huge choice of rims. For the weight-conscious racer, this includes the most fly-weight tyres and rims available. Of course, lashings of sealant will see the weight quickly increase. Reliability ranges from 'very' to 'horrendous', depending on the combination you choose. The experience of mounting the tyre can be measured in similar terms, with riders having to resort to the use of compressors to mount tyres in the worst cases, whilst others get away with a track- or hand-pump.
In my experience, the most frequently asked question about tubeless is "But what do I do if I do puncture?" This is asked out of a genuine fear of being stuck by the trail or roadside covered in latex sealant and a tyre that just will not re-seat using a pocket- sized pump. Quite simply, you just removed the tubeless valve and fit a bog-standard tube.
features

latest content

Missing training sessions

Posted: 15/04/2015
What happens if you miss the odd training session or...
Knowledge level: Intermediate

most popular

How to lube your chain

Posted: 17/05/2013
How to lube your chain and keep you bike running...
Knowledge level: Beginner

meet the experts