British Cycling and Sport England have today jointly launched a cycling-specific This Girl Can campaign, designed to highlight the recreational, women-only bike ride programme, HSBC UK Breeze, which has hundreds of free rides up and down the country.
This follows on from a new survey released by This Girl Can which showed that six in 10 mums (i) feel guilty about taking time to exercise, and that mothers have a greater impact on their children's future activity levels (ii) – partly through setting an example by prioritising exercise in their own lives.
The campaign brings together the expertise of both organisations as they attempt to build on the continuing work being done to narrow cycling's historic gender participation gap and to highlight this fantastic activity option for women.
Mirroring the bold and eye-catching style of previous This Girl Can campaigns, the short films and photography highlight the many avenues through which women – regardless of their age, background, fitness or experience on a bike – can take up cycling, with the main focus being on British Cycling's highly successful HSBC UK Breeze programme.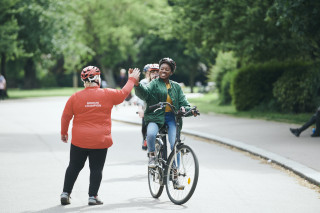 It was revealed during this month's OVO Energy Women's Tour that HSBC UK Breeze rides – free-to-attend and led by women, for women – have attracted 250,000 participants since the programme's inception in 2011.
It is this success that the collaboration is designed to build upon, says Kate Dale, Sport England's Campaign Lead for This Girl Can:
"This Girl Can is delighted to partner with British Cycling on this project. HSBC UK Breeze is one of the best widely available activities designed for women, as proven by the huge number of women that attend their casual rides each week. This Girl Can is designed to break down the emotional barriers women face when considering exercise. One of these emotional barriers is fear of judgement around capability, and HSBC UK Breeze is brilliant at addressing these barriers with friendly and knowledgeable female ride leaders who help attendees to build their confidence and skills."
Faye Downey, British Cycling's Women's Cycling Project Manager, added:
"The HSBC UK Breeze programme has enjoyed tremendous success in getting women more active, as have Sport England's previous This Girl Can campaigns. Therefore, it's hugely exciting to be joining together on this project, which will hopefully encourage more women to take up cycling and pursue a more active lifestyle.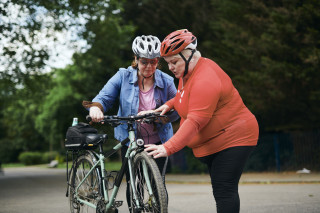 "We have made fantastic progress since the launch of our women's strategy in narrowing the gender participation gap, however we have always acknowledged that there is still a way to go. Therefore, we are constantly looking at innovative ideas and projects to get more women on bikes, and we are excited about this campaign's potential to introduce HSBC UK Breeze to a new audience and put cycling on the radar of more women."
The six-week campaign will be visible through a series of targeted social media films and image adverts, featuring real women who have all been involved with HSBC UK Breeze. The themes communicated have been informed by barriers to female participation identified by both organisations: fear of judgement, not feeling good enough, having other priorities and fitting exercise into a busy lifestyle, as identified by Sport England, and a lack of confidence and not feeling safe, informed by British Cycling research.
For more information, visit www.letsride.co.uk/thisgirlcan.