The British Cycling Talent Development team is made up of 14 staff members, the coaching team deliver activity across the British Cycling England regions. The Talent Pathway disciplines supported as part of the pathway are:
Track/Road - Endurance and Sprint
MTB Cross Country (XC)
BMX Super Cross (SX)
BMX Freestyle park (FSP)
Para-Cycling
Cyclo-Cross
MTB Gravity (Downhill)
The Talent Development Team
Joe Malik – Head of Talent Development Pathways

Joe is the Head of Talent Development Pathways for British Cycling. As the strategic lead for all talent activity across British Cycling, Joe heads up the talent development coaching team across the recognised Olympic, Paralympic and current non-Olympic talent disciplines.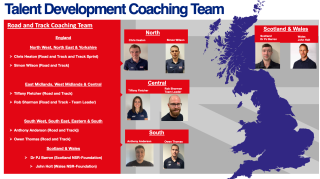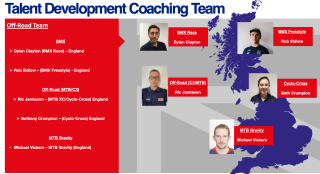 Track and Road Coaching Team
Simon Wilson - Talent Development Coach
Contact Simon
07534281258
Regional area - North (England)
Chris Heaton – Talent Development Coach (Sprint)
Contact Chris
07718570342
Regional area - North (England) and Sprint National
Rob Sharman – Talent Development Coach
Contact Rob
07515 606655
Regional area - Central
Tiffany Fletcher – Talent Development Coach
Contact Tiffany
07384214096
Regional area - Central
Anthony Anderson – Talent Development Coach
Contact Anthony
07841918627
Regional area - South
Owen Thomas – Talent Development Coach
Contact Owen
07881414366
Regional area -South




Off-Road Coaching Team
BMX

Dylan Clayton: Talent Development Coach – BMX SX
Contact Dylan
07534 281260
Regions Supporting - National (England)
Rob Sidlow: Talent Development Coach - BMX Freestyle Park
Contact Rob
07435944165
Regions Supporting - National (England)
MTB XC & Cyclo-Cross
Ric Jamieson: Talent Development Coach – MTB XC & Cyclo-Cross
Contact Ric
07384214083
Regions Supporting - National (England)
Cyclo-C

ross

Coach

Bethany Crumpton
Contact Beth
07534281270
Regions Supporting - National (England)
MTB Gravity

Michael Vickers - Talent Development Coach
Contact Michael
07515606701
Regions Supporting - National (England)
Para-Pathway Team
Joel Enoch - Lead Paralympic Coach (England)
Contact Joel
07739322357
Emma Pitt - Paralympic Coach (England)
Contact Emma
07833725103