Women-only clubs and groups throughout the country are thriving, with ladies of all ages discovering or rediscovering a love of life on two wheels.
In Newcastle, British Cycling's Breeze Champions have been organising This Girl Can rides as part of the Cycling in the City programme since May 2015. The rides have grown in popularity as word has spread, and the initiative recently welcomed its 300th participant.
The rides – which start and end at the city's Cycle Hub – offer women of all abilities the chance to start cycling, meet like-minded people and see their city and the surrounding areas in a new light.
Liz Jackson, from Newcastle City Council, which co-ordinates the programme, says:
"All the rides take place on Tuesday evenings from The Cycle Hub, and we usually get 20-25 women taking part. There's a good mix of women who already cycle and those who are new to it, and the free bike hire from The Cycle Hub helps us to attract new people too.
"I think the success of the rides is down to a combination of the venue, the bike hire and the social aspect – most of the ladies stay for a brew and a slice of cake after the ride."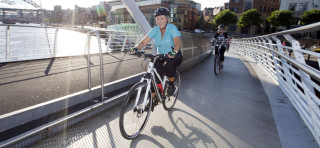 British Cycling's women's cycling project manager, Becki Morris, adds:
"The great success of this initiative in Newcastle is being replicated all over the country as more and more women are getting involved in cycling. Our Breeze champions are vital to this success, and the relaxed, friendly and supportive atmosphere they create provide the perfect environment for beginners and more experienced riders to enjoy cycling on a regular basis."
Find a women-only Breeze ride near you at breezebikerides.com