2009 BT Paralympic World Cup Day 3

Day Three, 22nd May 2009, Manchester Velodrome
Photos: Larry Hickmott


Day 3: Gold Medals & World Records
Britain's superior dominance in Paralympic cycling was put on show once again after another superb medal winning team performance on the final day of cycling in front of an energetic crowd at the BT Paralympic World Cup in Manchester. The British team picked up an impressive four gold medals to end their campaign as the nation to beat in cycling in what was a record breaking finale at the Manchester Velodrome.

Man of the moment, Jody Cundy, increased his reputation as one of the greatest Paralympic cyclists of all-time by setting a new world record in the flying 200m sprint with an unforgettable lap of just 10.998 seconds and he also picked up gold in the Team Sprint with fellow Brits, Darren Kenny and Mark Bristow.

Male B/Vi Sprint (Tandem)


This event opened with a qualification round where the two GB teams were fastest (Barney Storey/Simon Jackson) and second fastest (Neil Fachie and David Readle). This meant they were seeded 1 & 2 and avoided meeting each other in the semi finals where both teams went through easily. Even a slow speed slide down the velodrome banking for both the Irish and the British tandem in the first heat failed to slow the new GB pairing of Readle and Fachie and it was an all GB final.

Having two GB teams in the final made the noise from the crowd whipped up by commentator Carl Lawrenson all the louder as Storey/Jackson went head-to-head with Readle and Fachie. Over two rounds, the experienced pairing of Storey and Jackson were far too strong for the new kids on the block in team GB and the Gold went to Storey and Jackson which was announced over the arena's PA as being dedicated to Jackson's fiancée in celebration of their wedding next week.

In the other final, the Irish shut the Dutch out by being far too strong and even when the Dutch changed their tactics and pushed the Irish a bitter harder early on, there was nothing the men in orange could do to prevent the men in green from taking the bronze medal.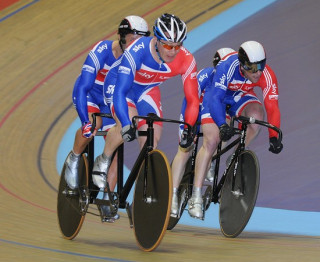 Above: Barney Storey and Simon Jackson pass David Readle and Neil Fachie into the home straight to win the first of two rides in the final.



Gold medal winner Simon Jackson (GB) said afterwards "We competed last year after just three weeks together and we took two silvers so this time we have gone one better and took two gold's and it was fantastic. We got pushed really hard by Neil and Dave and it was a fantastic sprint series in the end, good for the crowd and we had good, healthy competition, which is what it's all about. Healthy, hard, good competition is fantastic and we can now push on and hopefully go on to the World Championships in November."



Left: Coming out of the final bend in the second ride of the final, Simon Jackson raises his arm in victory before they have even reached the line -- confident! Right: Neil Fachie/David Readle (Gbr) winning their semi final.

Silver medal winner Neil Fachie (GB) said: "This is my first ever cycle race so it was an amazing experience. It felt as though there was a hell of a lot of noise in the stadium, which gave me that little bit of extra that I may not have had. It's quite hard to come up with tactics when you're working against each other and supporting each other but when you get out on the track, it's every man for himself. It was different, but I certainly enjoyed it which was the main thing."

"This year I need to continue to get used to the bike and if things go really well, there's the World Championships in November which I'd like to be a part of and come to Manchester again. Long term, I am definitely wanting to go to London. It's where every athlete wants to be. I really hope I can come back here next year. It's a really good event and this year, with it being my first, was a great experience and I'd love to sample it again next year and maybe pick up a Gold or two."

Gold/Silver
1. Simon Jackson/Barney Storey (GBr) 10.926 11.006
2. Neil Fachie/David Readle (Gbr)

Bronze
1. Michael Delaney/Con Collis (Ireland) 12.097 13.001
2. Arnold Polderman/Jonh Burger (Holland)

Semi Final

Match A
1. Simon Jackson/Barney Storey (GBr) 12.093 12.901
2. Arnold Polderman/Jonh Burger (Holland)

Match B
1. Neil Fachie/David Readle (Gbr) 11.618 11.624
2. Michael Delaney/Con Collis (Ireland)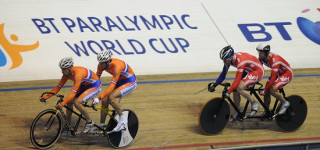 Above: GB versus Holland in the semi finals with Storey and Jackson far too fast for their rivals in orange.

Qualifying
Heat1
Richard Bonhof, Lute Jeroen (Hol) 11.304

Heat 2
Michael Delaney , Con Collis (Ireland) 11.367

Heat 3
Neil Fachie/David Readle (GB) 11.038

Heat 4
Cyrille Santerre/Yann Vergeylen (France) 12.425

Heat 5
John Burger/Arnold Polderman NED11.791

Heat 6
Simon Jackson/Barney Storey (GB) 10.686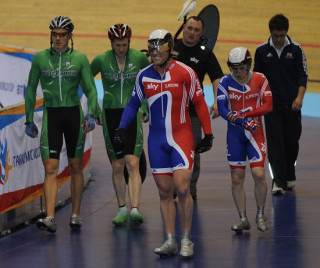 Above: David Readle is all smiles after both he (and his tandem partner Neil Fachie) and the riders on the Irish tandem fell due to going too slow on the banking.

Female LC1/LC2/CP4 3km Pursuit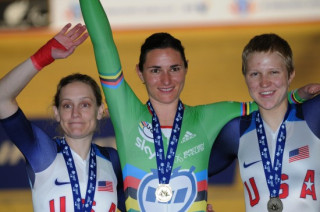 Gold for Sarah flanked by two riders from the USA

Paralympic champion from Beijing, Sarah Storey, was far too strong for the opposition in this event posting for her, quite a slow time in the final but still having far too much speed for her rivals and the former swimmer turned cycling superstar won Gold comfortably.

After her ride, Sarah had this to say: "It's always good to win although I can't say I'm pleased with the time. I set the quickest ever time I've done for the kilo but that's the only way to get faster. However, I think I paid for it a little bit. I missed a lot of training in November, in fact all my training, because I was following the media circus and enjoying myself following Beijing. The BT Paralympic World Cup is the first Disability event I've taken part in since Beijing. The people are great and the enthusiasm of the crowd is always brilliant with lots of noise and support, so it's been good overall."

Gold: Storey Sarah LC1 3:46.403
Silver Medal: Greta Neimanas LC1 3:56.700
Bronze Medal: Jennifer Schuble CP4 4:06.533

Others
Barbara Buchan CP3 4:06.533
Ann Mcfarland LC1 4:13.883

Female - LC3/LC4/CP3 3km Pursuit
Gold Medal: Paula Tesoriero (NZ) LC3 4:25.349
Silver Medal: Raquel Acinas LC3 ESP 4:33.307
Bronze Medal: Allison Jones LC3 USA 4:33.891

Team Sprint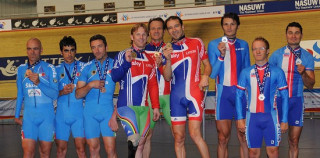 Podium of Italy (3rd), Great Britain (1st) and Czech Republic (2nd).

With two World Champions in the line up including Jody Cundy who had just gone under 11 seconds for 200 metres, the Brits were the favourites but the Czech Republic were fast as well even if they were not pretty technically with their man 1 going off like a rocket and gapping his teammates in both rides. Both teams did a '50' in the qualifying but the GB team made no mistake in the final, winning by almost three seconds.

Mark Bristow (GB): "It wasn't particularly fast day today, but we are still doing times in the team sprint that would still win us Paralympic gold medals so we are still ahead of the competition on a slow day so it's a nice position to be in. The atmosphere was great. The event is brilliant because they get so many kids in and the kids get to cheer and make some noise. Its great to ride any cycling event and have that amount of noise cheering you on, its beautiful, its wonderful. I now go back into the same cycle I had with Beijing. First I go back to California for three weeks and then I start the paralympic cycle again. I am looking forward to a bit of sunshine!"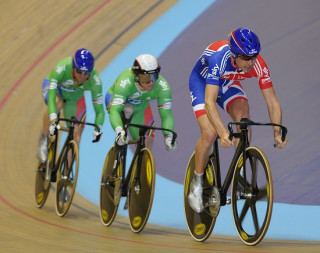 Above: Darren Kenny leads the British duo Jody Cundy and Mark Bristow on the way to a Gold medal.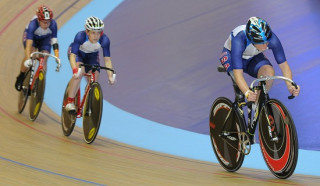 The USA team was an all girl line up.

Gold/Silver
1. Great Britain 50.218 beat
2. Czech Republic 53.181

Bronze
3. Italy 57.749 beat
4. Canada 58.165

Qualification
Great Britain 50.035
(Mark Bristow, Jody Cundy, Darren Kenny)

Czech Republic 50:523
Italy 58.267
Canada 59.969
USA 1.00.789

British Record Attempt Standing Start, 1km Tandem Kappes/Quealley 1.01.626
The Olympic Champion from Sydney in the Kilometre, Jason Queally, made his debut in a Paralympic competition with this record attempt and he and Anthony Kappes successfully broke the record with their first attempt. Kappes said after the ride "That was great. You endure it first then enjoy it afterwards. "




"The partnership is going well. Jason has taken hold of the training that we do. Training is quite experimental at the minute to see how best to train a tandem stoker. Because of the disability, you can't just go out on the road and ride your bike so what we're trying to do is emulate an able bodied solo track riders training but in a laboratory environment."

"I find Jason very likeable. He's very honest and straightforward even if you don't want to hear what he has to say but I appreciate that and it makes us go faster. Originally I would've said it may be difficult to get someone with Olympic experience to work as one with a Paralympic tandem rider but on reflection, if you can ride a bike, you can ride a bike and guys like Jason can ride bikes! So actually, on the front of a tandem I don't think it's as big a wrench as some of us though it might be."

"At the minute we're concentrating on the Kilo -- let's kill the kilo is what we're thinking. Obviously it's frustrating not being able to defend the two jerseys I've got with Barney because I don't want anyone else to have them. As far as I'm concerned their mine and I want to keep them. But we've got to look at the bigger picture and today has certainly given us the opportunity to see what that bigger picture could be, so that's great."

Meanwhile, the Olympic champion from Sydney, Jason Queally, told BBC Sport "That was the first time I had done a competitive tandem kilo and it was just as hard as a solo kilo ride. I just love riding my bike and at 39, I'm not good enough to be on the able-bodied elite team but getting involved with the Paralympic set-up has enabled me to continue riding. I've been involved with the sport for 12 or 13 years but riding the tandem is a new experience for me and Anthony has been a huge help because it is different to riding solo on the track."

Record Attempt Flying 200m Jody Cundy -- 10.998
It was special. Very special seeing a likeable guy like Jody who has lost part of his leg go out and go under 11 seconds for the flying 200 metres. I've seen many an able bodied athlete at a World Track Cup not do that and watching him scorch that track, was a great spectacle.




Watching an athlete really shift around a board track is electrifying and that was what Jody was today with his record attempt. Afterwards he said of the ride and his ride in the Team Sprint where he won Gold, "In the Team Sprint we knew we'd be there or there abouts with the time."

"We were a bit slower in the final but between us we've had a few races over the last couple of days so it was a good result. It was also great to have the chance to blow away the cobwebs and get up some speed and the record attempt finished it off. I'd set myself a tough target of breaking eleven seconds which is a pretty good bench mark for most able body guys to break so to go in there and take it is always a good way to do it."

"It's great to have had the opportunity to break the record here in Manchester at the BT Paralympic World Cup on a home track in front of a home crowd with friends and family is great. We can't complain about the way today's gone I've got two gold medals out of two days and broke the world record so a perfect end to the weekend."

Female B/Vi 3km Pursuit Final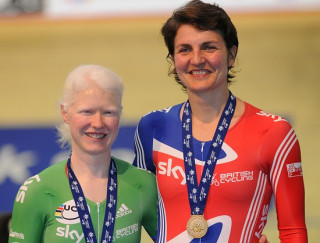 Aileen and Vicky all smiles with their Gold medals.

What a race this was! A look at the times shows just how close it was and credit to both teams for making it a special race. So many of these events are time trials but this typical 'team against team' on the track at the same time, made it a memorable race and a great test for Aileen and her new pilot at the World Cup Vicky Begg. In the end, the British duo had to dig really deep, urged on by coach Chris Furber to just hold off the Irish. The only downside to the race was that the Irish didn't get medals because their ride certainly deserved it!

1. Great Britain (Aileen Mcglynn/ Vicky Begg) 3:44.355
2. Ireland (Catherine Walsh/Caroline Ryan) 3:44.429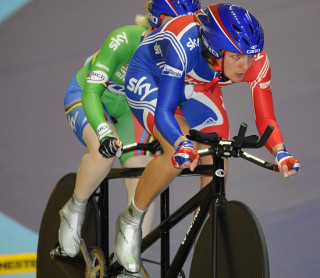 Vicky Begg (GB) (pilot) "That's the first 3k effort that I have done, certainly in this format. I could hear the crowd and coach giving it 'come on' so yes I am glad we managed to beat them in the end. It's been so different to the environment I am used to being in and everything about cycling is a completely different language. It's exciting though and we may go together at the Worlds. We have got six months until then which is plenty of time to get ready. My aims were similar to Aileen's in that she was telling me what the times we were aiming for are and it gave me a sense of what we had to do."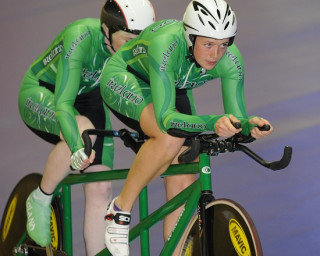 In an all or nothing final, Catherine Walsh/Caroline Ryan put up a great fight in their race against the GB riders but failed to win the race and get the Gold medals.

Record Attemp LC3 200m Flying Paula Tesoriero 14.720
New Zealander Paula Tesoriero took on the challenge of setting a World record for this category and distance. No record existed but she was going to have break 15 seconds for the record to stand. The Kiwi did just that and said afterwards:

"It's been a great event, well worth over six hours of travelling. It's good to come here and see how everyone else is doing and benchmark against them going into the World Championships this year."



Paula Tesoriero in full flight during her record attempt.

"Out of the two races today, I by far preferred the record attempt. I came here to have a crack at the world record and we did it so that was great. The atmosphere was really good, especially for the world record attempt. It was so loud, I couldn't hear what was going on"

"How the commentator (Carl Lawrenson) revved it up was good, really good. Competition pushes you and makes you perform well and pushes you to your limits so I think this year BT Paralympic World Cup was great."

Male B/Vi 4km Pursuit Final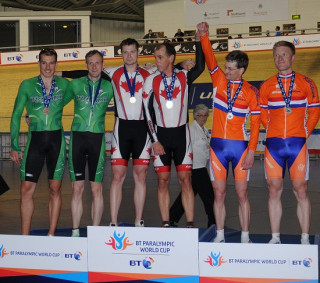 Podium with Gold for Canada (centre), Bronze for Ireland (left) and Silver for Holland (right)

Gold: Canada 4:34.805
Silver: Holland (Richard Bonhof Jeroen Lute) 4:36.571
Bronze: Ireland 4:40.414
4th. Holland 4:49.834