BT Paralympic World Cup Day 2

Day Two, 21st May 2009, Manchester Velodrome
Report: Eddie Allen
Images: Action Images/Michael Regan

Day two and the fight for medals started in earnest. With a heavy GB presence in most race categories, hopes were high for some great results and the GB riders didn't disappoint.


Above: The all-GB Kilo podium, undoubtedly the highlight of Day Two. Left to right: Simon Richardson, Darren Kenny, Rik Waddon (Image: Action Images - www.actionimages.com)


Kilo TT (Male - LC1/LC2/CP4)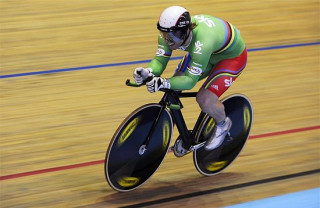 Above: Cundy wringing out a 1:06 kilo to grab Gold

Jody Cundy grabbed Gold in the Kilo for LC1/LC2/CP4 riders with GB's Mark Bristow taking bronze, in a session which saw two new world records, one for Bristow and one for Japan's Masashi Ishii. Cundy came mighty close to beating his own world record set in Beijing on his way to victory.

Speaking to BBC Sport, Cundy said: ""This is my first event since Beijing and it is a good one to help me blow the cobwebs away. I've won every cycling race I've competed in at the Paralympic World Cup so it has been a good event for me."

Gold Medal: CUNDY Jody LC2 1:06.030
Silver Medal: ISHII Masashi CP4 NWR 1:08.575
Bronze Medal: BRISTOW Mark LC1 NWR 1:08.757

Kilo TT (Male - LC3/LC4/CP3)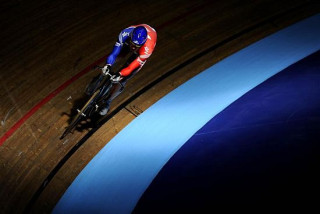 Above: Simon Richardson hugging the black line on his way to bronze in the kilo

It was a GB medal whitewash in the Kilo for LC3/LC4 and CP3 riders with the irrepressible Darren Kenny taking Gold ahead of teammates Rik Waddon and Simon Richardson.

Gold Medal: KENNY Darren CP3 1:10.534
Silver Medal: WADDON Rik CP3 1:12.212
Bronze Medal: RICHARDSON Simon LC3 1:16.481

Kilo TT (Male - B/Vi)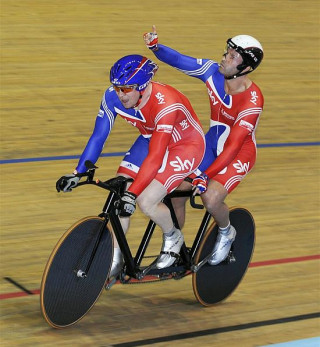 Above: A victory salute from Simon Jackson as he and pilot Barney Storey take Gold in the Kilo for Blind and Visually Impaired riders

It was more precious metal for the GB team when the tandems rolled onto the track for the Kilo TT for Blind or Visually Impaired athletes. The pairing of Barney Storey and former judo champion Simon Jackson romped home with Gold with a stunning 1:04 ride and were joined on the podium by GB's Neil Fachie and David Readle who claimed silver ahead of the Dutch pair of Bonhof and Lute.

Jackson retired from judo competition in 2005 following an injury but track cycling has opened up a whole new pathway which Jackson hopes will lead all the way to London 2012. Speaking after claiming Gold, Simon said: "I left my job in January to go full time and commit myself to another sport having retired from judo in 2005, and the rewards are now there to see. I train here every day in Manchester and all the other Paralympians that I train with have got gold medals. I've always felt a bit left out so it feels good now to have that gold medal draped around my neck. What I've done today and hopefully what I'm going to do tomorrow (in the men's sprint) is going to put me on the road to 2012."

Fachie, who like Jackson, has only recently switched to cycling, was partnered by Rochdale's Readle, who spoke to BBC Sport after their silver medal ride: ""Last year I won two silvers at this event after only training for three weeks but I've been training full-time since January and I've improved my personal best by a second here and there is more to come."

Gold Medal: JACKSON Simon B/VI 1:04.029 - STOREY Barney B/VI
Silver Medal: FACHIE Neil B/VI 1:05.704 - READLE David B/VI
Bronze Medal: BONHOF Richard B/VI 1:06.676 - LUTE Jeroen B/VI

500M TT (Female - LC1/LC2/CP4)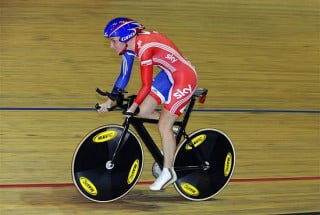 Above: Sarah Storey makes it his and hers gold medals, grabbing gold on the same day as husband Barnie takes gold on the tandem

Sarah Storey added to the GB medal tally with a gold in the 500m TT, pushed hard by Jennifer Schuble of the USA, who set a world record in the CP4 category on her way to the silver medal.

Gold Medal: STOREY Sarah LC1 38.785
Silver Medal: SCHUBLE Jennifer CP4 NWR 38.957
Bronze Medal: NEIMANAS Greta LC1 40.248

Kilo TT (Womens B/VI)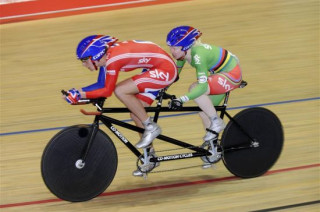 Above: Aileen McGlynn and Vicky Begg at full speed on the tandem. Another gold for GB

Aileen McGlynn with new pilot Vicky Begg added to the GB gold medal tally with a win in the Kilo, in a time of 1:12.921.

3km Pursuit Final (LC3/LC4/CP3/CP4 Male)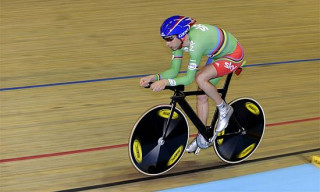 Above: Action from Kenny's gold medal ride

Darren Kenny made it two Gold medals in one day with an emphatic win in the 3km Pursuit. Kenny was nearly four seconds of his nearest rival, Masashi Ishii of Japan, with Jiri Bouska of the Czech Republic a further 3 seconds adrift.

"I was unsure about what to expect coming into the competition," Kenny told BBC Sport. "I had trained during the winter to break the world hour record and had not done much specific track work. I knew I had the form coming in here but I didn't know whether I had the finishing touches."

Gold Medal: KENNY Darren CP3 3:41.576
Silver Medal: ISHII Masashi CP4 3:45.332
Bronze Medal: BOUSKA Jiri CP4 3:48.354

Podiums

Above: Delight as Cundy and Storey take the applause of the home crowd

Other Results

500M TT (Female - LC3/LC4/CP3)

Gold Medal
TESORIERO Paula LC3 43.417

Silver Medal
JONES Allison LC3 46.196

Bronze Medal
ACINAS Raquel LC3 47.142

4KM Pursuit Final (LC1/LC2 Male)

Gold Medal
JEZEK Jiri LC2 4:47.753

Silver Medal
GOHR Soelito LC1 4:52.628

Bronze Medal
SACHER Wolfgang LC1 4:50.137