Road To 2012
Grant Ferguson: From The Back To The Front
Homepage: Road To 2012 | British Cycling's Performance Programs Explained
Team GB Mountain Bike Roster | Join Team GB
Mountain Biking: Olympic Qualification Explained | UCI National Rankings
---
April 2010 and Grant Ferguson's first junior Mountain Bike World Cup at Dalby Forest. Within moments he's the last rider on course, fifty meters off the pace. Fast-forward to 2011 however, and Ferguson leads the World Championships. So what led to the transformation of a rider British Cycling's Olympic Mountain Bike Coach, Phil Dixon, described as an "exceptional talent?"
From under-16 British Champion, to leading the junior World Championships Grant Ferguson's past three years have been an unmitigated success to the uninitiated. But somewhere behind the domestic and international successes have been hours of hard work completing Ferguson's transformation from promising youth, to future Olympic prospect.
Recording the best British junior result since Dave Fletcher's bronze medal at the 2007 World Championships, Ferguson completed his apprenticeship with five top ten junior World Cup performances and a silver medal at the European Championships; three years as an Olympic Development Programme a key influence.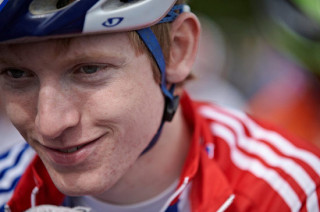 TALENT DEVELOPMENT
British Champion as a youth Ferguson was quickly spotted and developed by Dixon, joining the Olympic Development Programme a year early, before getting its full support in his first junior year, which included the opportunity to ride with Olympic Academy riders Kenta Gallagher, Dave Fletcher and Annie Last on training camps and in international competition.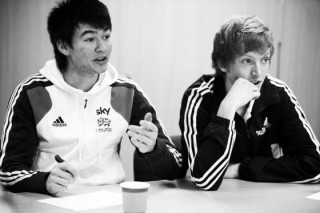 It's an element British Cycling's Olympic Mountain Bike Coach is fanatical about – surrounding the young talent with older, more experienced athletes – and one which he is sure was instrumental in Ferguson's best performance to date.
"We want to provide riders not only with coaching, equipment and expert knowledge, but also create an environment. It's not something you can measure, but surrounding the youth with the experienced serves as a constant education for the young riders and the culmination of that is what you saw from Grant at the World Championships."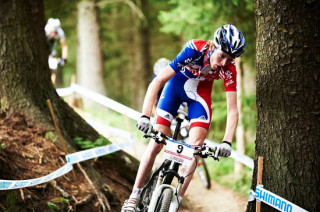 WORLD CHAMPIONSHIPS – A RIDER'S VIEW
Remembering the World Championships, Ferguson is exacting about the moment he went from third position into the lead, following a frenetic start-loop.
"The start loop was nuts, there were folk everywhere, then on the climb there was a group who went to the front. I followed and got into the singletrack in third, before the first two crashed on the descent. I rode straight through their bikes and there I was, in the lead."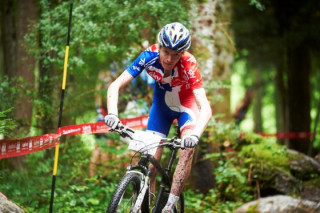 But heading an international race for the first time in his last appearance as a junior, the European silver-medallist highlighted prodigious talent and inexperience in equal measure – something telling as Ferguson summarised his race.
"It was exciting, but I didn't know exactly what to do. I thought I was on free time and wanted to see what I could make of it. I knew it was my last ever race as a junior and I felt pressure. I prefer it in the first years of a category where the pressure is off and you can focus on learning, so I'm looking forward to that when I move into the under-23 ranks and hopefully the Olympic Academy."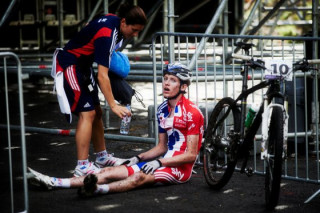 YEARS IN REVIEW
Despite a race Ferguson describes as "close, but no cigar", the Scotsman was not disappointed with his career best result and remembers three years as a part of the Olympic Development Programme as a series of lessons and unbeatable experience.
"I really enjoyed my first experiences at World Cup level because it is something I'd aspired to. A lot of people I watched and looked up to are competing so you know you are in the right place and competing against the best which is a very nice feeling.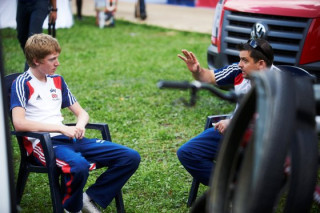 "I remember my first World Cup at Dalby; I did finish last there; I suppose I was disappointed after it as I had aimed high but I learned a lot from that race and a lot through the early part of my first season.
"It was a case of looking at all the areas I could improve and setting about doing that. My main help came from British Cycling and Phil Dixon whose team which provided me with very good bikes, coaching, training camps, support and all the other things that I needed through the Olympic Development Programme so I was able to compete at my highest level. Of course, my family are the main people who have helped me as a cyclist, driving me around the country and spending a lot of their time and money to make sure I can keep improving – I wouldn't be where I am today without their help."