Report: European Downhill Championships
Bernard Kerr storms Slovenia for title
Posted June 15 2009
Words: Luke Webber Photography: Will Longden
Results
Brit Bernard Kerr is crowned Junior European Downhill Champion in Krankjska Gora, Slovenia
In a stunning ride Britain's Bernard Kerr claimed the Junior European Downhill title by three seconds in Krankjska Gora this weekend. Seeding first on Saturday in a Brit one-two with Harry Malloy, Kerr followed up with the real thing with a race run of 3.50.09 - a full five seconds faster than qualifying and enough to place him fifth in the senior race.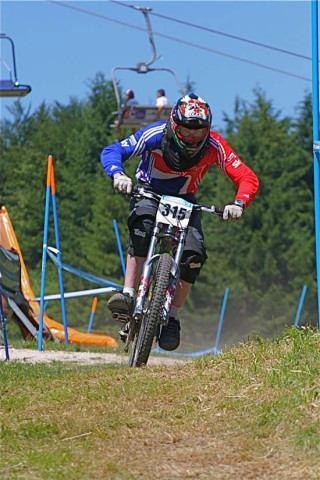 Kerr in action on his way to the European title
Teammate Malloy missed out on the podium by under one second but still secured fifth - giving team GB two riders in the top five.
SENIORS
In a race that was typified by a loose, dusty course all British riders faced a tough task riding on the limit without making mistakes and unfortunately it was those mistakes which wrote the story of the afternoon.
Despite qualifying first Dan Stanbridge was one of many riders who went down on course, taking a do or die attitude to the race as he told us.
"I knew it would be a tough race, lots of pedalling at the bottom of the course and technical sections where it was vital to carry your speed but very easy to make mistakes in the loose dusty corners. I decided it was all or nothing time going into the final, so often a safe or conservative run is not enough, with other riders taking chances one will always put a full run together and snatch it away from you. Sadly most of us fell foul to the unpredictable nature of the tight corners in the woods but realised it was ride like that and end up on the top of the podium or back in the car park."
A risky strategy didn't pay dividends this time with the best result coming from Joe Smith in fifteenth and in the women's race it was a similar story; Ffion Griffiths describing her run into sixth place as one with "so many mistakes."
Despite the disappointment in the seniors race, the Juniors results ensured that manager Will Longden remained in positive mood running into the World Championships to be held in Australia.
"Coming away from this Championship we can take pride in the fact that the current crop of Junior riders are at the top of their game when thrown onto the international stage. Hopefully they can continue this form through to the World Championships in Australia later in the year."
Add to that the return of current World Cup leader Steve Peat and World Champion Gee Atherton, the hopeful return of women's World Champion Rachel Atherton and Tracy Moseley - all absent this weekend due to previous commitments - and there is a very strong lineup heading down under in September.