|
---
British Cycling Olympic Development Programme athlete Danni Khan emulated Becky James, winning her second rainbow jersey at the junior track world championships in the sprint.
James – who also won two junior world titles in 2009 and went on to win two senior titles in 2013 – was the first to congratulate cycling's latest world champion as she left the track to rapturous applauds.
Celebrations were both an outpouring of joy and relief as Khan lost the first race of her final where she met the Belgian rider Nicky Degrendele.
But Khan fought back strongly in the second race and attacked with a lap to go, holding off her opponent to cross the finish line first and take the competition to the decider. With the crowd on the edge of their seats, Khan led out her opponent in race three, and although Degrendele was able to get alongside in the final corner, Khan's acceleration power secured victory and a second rainbow jersey.
Speaking after the race, Khan revealed winning races was never an expectation.
"I can't really believe it, I think it will take a while to sink in" double world champion Khan said.
" I came to these championships knowing my form was good and that my training had gone well but I never expected to win one world title let alone two! I made a mistake in my first race against Nicky and I felt a bit gutted but you can't always have it your way and I knew that I really, really wanted the second world title so I put everything into those last two rides. I chatted through some scenarios with Jon (Norfolk – ODP sprint coach) and just gave it my everything and luckily it paid off."
Khan's gold wasn't the only British medal won on the penultimate evening of racing.
Fresh from Thursday's winning team pursuit lineup, Hayley Jones started the points race with some early scores, before taking a lap with six riders and 30 laps to go.
The performance added a bronze medal to add to her collection and after the podium, Jones reflected on her world championships.
"It feels amazing, the gold medal I won on Thursday was with the team but today it was all me for myself and I'm just as happy to win an individual medal. I had a terrible individual pursuit yesterday, so I had to get up this morning and forget yesterday and just get on with my normal race day routine and get back in the zone. The race was really tough but I saw the group go and I saw some strong riders in there so I thought 'I'm going to get on the back of that' and it felt so good when we got the lap so I was thinking 'I've got 20 points now, I just need to get a couple of sprints and I'll be up there on the podium.' I'm really pleased with my result today."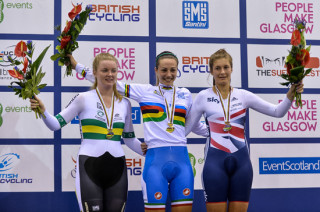 The morning session of the fourth day of the UCI Junior Track Cycling World Championships saw Ollie Wood and Emily Kay in action in their respective omnium events.
Ollie Wood finished his first day of the omnium lying in ninth position, but the first event on day two soon changed that. Ollie did his fastest individual pursuit time to date, finishing in 3:27.759 and ultimately finishing in second place, moving him up the overall rankings into fifth position with two events still remaining. The evening session's scratch race was relentless, but Ollie held his own and crossed the line in a photo finish with Frenchman Jordan Levassuer – the crowd were deafening when the big screen slow-motion shot showed Ollie's wheel crossing the line fractioncally ahead, thus taking the win. It turned out the French rider was relegated anyway, but it was a crowd pleasing finish nonetheless! And it moved Ollie up to fourth position in the overall ranking.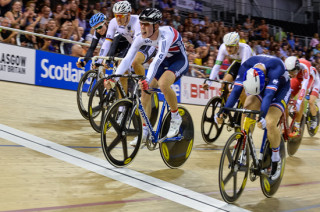 From the scratch race and onto the kilo, where Ollie posted another PB time of 1:06.125 to finish sixth in the event which meant he kept the fourth place spot at the end of the omnium. Although outside the podium places, Ollie was pleased with his result:
"I've done omnium's before at training camps but only with GB riders, I did have an opportunity at Ghent but unfortunately I didn't do very well in that. I managed to get two PBs this time which was good and to do that in front of a home crowd was a bonus for me."
Emily Kay opened up her Omnium account in the morning session with a 15.431 second flying lap which was the fifth fastest from a field of 12. From there, Emily rode a safe points race, scoring three points to finish in seventh position which moved her down a position into sixth in the overall ranking. In the evening session, Emily looked good in the elimination race until there were four riders left and unfortunately she crossed the line last having got boxed in. Halfway through the event, Emily lays in sixth place overnight with the competition resuming tomorrow (Sunday) with the IP, Scratch and 500m TT races still to come.