---
Cycling fundraisers for the Help for Heroes charity received a special track coaching experience on Wednesday 10 July thanks to growing relationship between British Cycling and the wounded service personnel charity.
A group of cyclists, comprising Hero Ride fundraisers and winners of a charity auction were treated to a full afternoon of track coaching from Great Britain Paracycling team members Helen Scott and Jon-Allan Butterworth.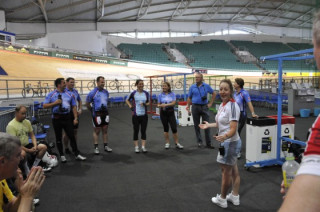 Above: Helen Scott (right) with the Help for Heroes fundraisers.
Helen Scott piloted Aileen McGlynn to kilo silver and pursuit bronze in the London 2012 Paralympic Games in the blind and visually impaired tandem category, while Jon-Allan Butterworth is a world record holder and triple London 2012 silver medallist.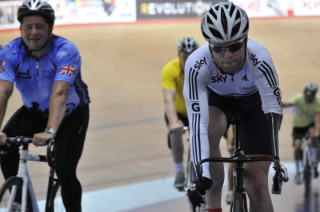 Above: Jon-Allan Butterworth on track with the Help for Heroes fundraisers.
Butterworth has close links with the Help for Heroes charity, himself a product of the charity's Battle Back programme. In 2007, Butterworth lost his left arm in during a rocket attack on Basra Air Station in Iraq whilst serving as technician in the Royal Air Force.
Later in that year, he was spotted in a Paralympic talent ID programme at Loughborough before leaving the RAF in 2009 to join the Great Britain Cycling Team full time.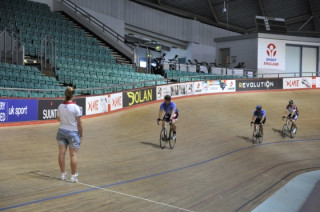 Above: Helen takes riders through a coaching session.
The Help for Heroes fundraisers were complete velodrome novices but thanks to guidance of Scott, Butterworth and new Paracycling coach John Hewitt they were quickly up and running, taken through a series of drills culminating in a mini race at the end of the session.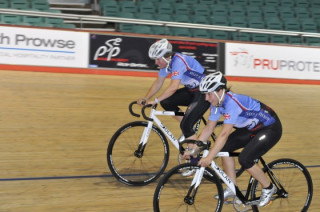 Above: Jane from Hereford (top) on gets her first taste of track cycling.
"It's nice to be part of it and it's nice for the guys to give their time. Helen is fantastic."

Jane, Help for Heroes fundraiser
Jane from Hereford served in the Army for 27 years before leaving the service nine years ago. Jane was persuaded to take part in the Help for Heroes Dawn Raid sportive by her former colleague and friend Donna, an experience she will never forget.
"We did the Dawn Raid sportive from Tedworth House into Central London. It was a fantastic event. You don't think that you're going to be up to it, you think that everybody else is an expert bike rider but there was just a tremendous atmosphere."
As well as taking part in the sportive, Jane raised over £6500 through various events including bag-packing in a well known supermarket, which led her to take part in the track coaching experience, her first time on the track: "It is a steep learning curve," admitted Jane.
"It's nice to be part of it and it's nice for the guys to give their time. Helen is fantastic."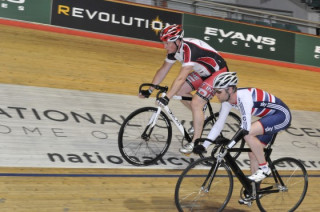 Above: Jason from Solihull on track with Jon-Allan Butterworth.
Jason from Solihull got involved with Help for Heroes after his friend Richard's cousin was killed while serving in Afghanistan, culminating in them both taking part in a number of the charity's cycle rides. Jason and Richard, both track novices, were thrilled to be selected for the track coaching experience.
"It's fantastic, really good fun. I'm really enjoying it. I'm getting more and more confident and I can feel the speed picking up. The highlight so far has been not falling off!" said Jason.
The track coaching experience is just one part of the relationship between British Cycling and Help for Heroes, which spans from grass roots participation through to elite sport. The Great Britain Cycling Team is now working closely with coaching staff at the charity's recovery centres to develop and identify cycling talent, with six riders currently on the Olympic Development Programme via the Battle Back programme.
British Cycling is also working with Help for Heroes Tedworth House recovery facility to equip their adaptive coaches with cycling specific coaching knowledge and skills, as well as supporting Help for Heroes in delivering its charity cycling events.
Related:
British Cycling Helps Heroes to Battle Back
Thousands descend on streets of London as Hero Ride raises crucial funds for Help for Heroes