---
The British Olympic Association (BOA) announced today the athletes selected to represent Team GB at the 12th European Youth Olympic Festival (EYOF) in Utrecht, Netherlands, from 14 to 19 July and six cyclists have been selected to represent Team GB.
Above: Abby-Mae Parkinson, seen here competing in the 2013 British Cycling National Cyclo-Cross Championships, is one of the riders selected for Utrecht.

British Cycling Olympic Talent Programme riders Charlotte Broughton, Joe Fry, Grace Garner and Joe Holt will be joined by Abby Mae Parkinson and Ellis Kirkbride.
The full Team GB squad for Utrecht consists of 44 athletes aged 13-17 years old who will compete in cycling, gymnastics, judo, swimming and tennis. They will test themselves against more than 2300 of the finest young sportspeople from 48 other countries across the continent.
For most of the team this represents their first experience of an international multi-sport environment and they will all be hoping to emulate the likes of Rebecca Adlington and Sam Oldham, who went from the EYOF podium to medal success at the Olympic Games.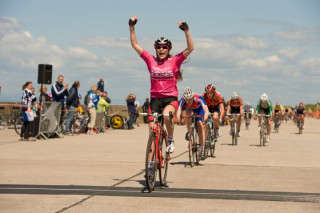 Above: Charlotte Broughton, one of the six riders selected for Utrecht, celebrates a stage win at the 2012 North West Youth Tour.
The cycling programme runs from 16 to 18 July and features road and time trial events for boys and girls, the girls road race running for the first time in the event's history. Both cycling events will take place on the 8km closed circuit 'Het Lint' in Maximapark, Leidsche Rijn.
"It feels great to be selected for Team GB for the European Youth Olympic Festival. My mum is an Olympian so now to be able to say I will have competed at an Olympic event is amazing."

Abby-Mae Parkinson
Team GB's Chef de Mission in the Netherlands will be double Olympic sailing champion Sarah Gosling, who will be supported by deputy Chefs de Mission Mahdi Choudhury and Louise Whitehead. Gosling and her team aim to create the ideal environment for success as Team GB look to maintain the high standards set at previous Festivals – in the 22-year history of EYOF, Team GB has never finished lower than sixth in the medal table, and no lower than third in the last four Festivals.
Sarah Gosling, Team GB Chef de Mission, said:
"There has never been a better time to be a young athlete in Britain. Utrecht is the third Youth Olympic event Team GB will have been to in 2013, demonstrating the BOA's dedication to developing and nurturing British Olympic talent for the Rio 2016 Games and beyond.
"Multi-sport events like EYOF play a crucial role in young athletes' development, not only as a sportsperson but also as a person in general. They give athletes the opportunity to experience life in an Olympic Village, to mix with athletes from different nations and to learn about the pressures of competing in a multi-sport environment.
"The success British Cycling has had at elite level is down to events like this, the experience our riders gain when they are young is so valuable."

British Cycling National Talent Coach Stuart Blunt
"The EYOF has proved a valuable stepping stone for the careers of many young British athletes in the past and our goal is to continue that process in Utrecht."
British Cycling National Talent Coach Stuart Blunt, cycling, said:
"The EYOF is a fantastic opportunity for young athletes to learn about Olympic competition and the multi-sport environment. The success British Cycling has had at elite level is down to events like this, the experience our riders gain when they are young is so valuable. Last year we saw Peter Kennaugh win team pursuit gold at the London Olympic Games after racing at the 2005 edition in Lignano, and now he's making his Tour de France debut."
Abby-Mae Parkinson said:
"It feels great to be selected for Team GB for the European Youth Olympic Festival. My mum is an Olympian so now to be able to say I will have competed at an Olympic event is amazing. I made my debut in the Netherlands so it'll be nice to go back there, and the Dutch love their cycling so the atmosphere should be great. And I'd love to meet the Dutch Olympic Champion Marianne Vos, hopefully she'll be there!"