---
Doug Dailey MBE retired from British Cycling today, ending an illustrious career as a national, international and Olympic road cyclist, national coach, Great Britain Cycling Team logistics manager and Sports Engagement Manager; an involvement with the sport that spans almost half a century.
Following a long and successful career as a rider, Dailey became an integral part of the GB Cycling Team, head coach during the lean years of the 1980s and into the 1990s, before playing a key role in GB Cycling Team's phenomenal development into the world's leading cycling nation, providing critical back line support to GB success in Sydney, Athens, Beijing and London, as well as countless World Cup and World Championship events across the disciplines.
Dailey, born in Orrell Park, Liverpool in 1944, began his cycling career with the Melling Wheelers, under the guidance of legendary cycling coach Eddie Soens, gaining his first major race wins at age 19, winning the Mersey Roads Two Day and the fledgling Eddie Soens race in 1963. Dailey joined Kirkby Cycling Club (of which he is a life member) and went on to win the Mersey Roads again in 1967 and 1973 and the Soens a further three times in 1964, 1970 and 1977.
Above: Doug Dailey recalls his first win at the Eddie Soens RR and his memories of the great cycling coach himself.
The peak of Dailey's cycling career came in 1972, when he won the first of two British National Road Race titles and represented Great Britain in the Munich Olympics. A year later Dailey took overall victory in the Tour of Ireland and the Girvan Three-Day, taking two stage victories in the latter. Dailey added a second national road title to his palmares in 1976, thirteen years after his first major win.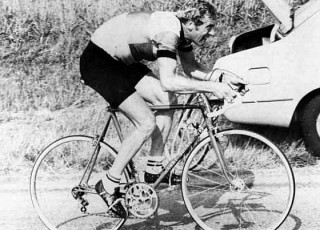 Above: Prior to his engagement with the Great Britain Cycling Team, Dailey had an exceptional 26 year long road racing career. (Image: Piet Kessels)
Doug Dailey's phenomenal 26 year long cycling career finally came to an end in 1986, (a career which, in cycling terms spanned from the Anquetil to the Lemond era) but it was in many ways just the start of another career which eventually yielded success on a whole new level, Dailey turning his years of experience to the task of nurturing the new wave of British riders that emerged in the late 1980s.
Following his retirement from racing, Dailey become national coach for the GB team, in an era when the squad was run with minimal staff and on a shoestring budget; Dailey fulfilling roles which are now distributed across an expansive team of logisticians, coaches, masseurs, soigneurs, drivers and other support personnel. Dailey continued in this role until 1996 and after a short break, returned as logistics manager. Doug was tasked with ensuring that riders, bikes, kit and support personnel were in the right places at the right times, a job which, following the advent of lottery funding, increased in complexity as the team, its attendant kit and backroom staff increased exponentially. In the build up to the London 2012 Games Doug became cycling's Sports Engagement Manager, under secondment to the BOA. His vast experience and knowledge of the Olympic Games made him perfect for the job and ensured that the GB Cycling Team had nothing to worry about within the Olympic environment.
Dailey's appointments at the heart of the GB Cycling Team setup, first as national coach, then as logistics manager and finally as Sports Engagement Manager, have neatly bracketed what will be remembered as the golden age of the Great Britain Cycling Team. Dailey was national coach when Boardman struck gold in the Individual Pursuit in Barcelona in 1992; the event which started the ball rolling on British Cycling's success story.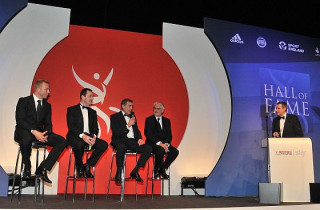 Above: One of the greats: Doug Dailey (holding the mic) is joined by Sir Chris Hoy, Chris Boardman and Brian Cookson OBE for a Q and A session at the 2009 50th Anniversary Gala Dinner.
Dailey had been in post as logistics manager for three years when Jason Queally won gold in the kilometre at Sydney in 2000; the beginning of the medal landslide, which continued in 2004 in Athens and then reached a crescendo in Beijing and London. For his part in this unprecedented success, Dailey was awarded an MBE for services to cycling in the 2008 Queen's New Years Honours List. Dailey's contribution was further recognised by British Cycling in 2009, when he was inducted into British Cycling's Hall of Fame, one of 50 illustrious figures representing 50 years of British Cycling.
Doug has been involved in the development of dozens of talented British cyclists throughout his career, including Chris Boardman, who summed up Dailey's contribution to his stellar career and the sport as a whole: "Doug Dailey has been in my cycling career since I was in single figures and he is the most inspirational figure to me in cycling," said Boardman."I've never seen anyone so positive for the sport of cycling for what must be over 30 years and he's going to be irreplaceable."
Above: Dailey (left) is congratulated by British Cycling President Brian Cookson OBE, upon his induction into the British Cycling Hall of Fame in 2009.
British Cycling President Brian Cookson also steeped praise on Dailey's unique contribution to cycling: "Doug has been a superb member of British Cycling's professional staff in several different roles over many years. As National Coach in the difficult pre-Lottery funding years, Doug nevertheless achieved some great successes, and helped to set the foundations for today's successful elite programmes. More recently he has been the epitome of our "backroom staff" providing totally reliable logistical and management support for major Games and Championships throughout the world."

Above: Doug's sense of humour is legendary in the GB office. Here Dailey is pictured in usual mercurial mode at the 2009 Gala Dinner.
On the eve of Dailey's departure we spoke to Great Britain Cycling Team Performance Director Dave Brailsford who gave this glowing tribute to the man and his contribution to the sport:
"Doug Dailey is one of the greatest unsung heroes in British sport and one of the most experienced people in the British Olympic environment. It sounds a bit of a cliché, but the reality is we could not have achieved this level of success without him. Nobody within the GB Cycling Team or Team Sky would have a bad word to say about Doug and his honesty, trust and integrity has never been in question in the time that I've known him.
"Doug is a hard-worker, always the last person to bed at night and then the first person to be up in the morning when we were away at competitions, and nothing is ever too much of a problem for him. I've lost count of the number of times he has tapped me on the shoulder and pointed out the huge hole I was about to fall into.
"I'm going to miss Doug's sense of humour and talking about our shared passion for Liverpool Football Club. On behalf of everyone in the GB Cycling Team and Team Sky, I would like to wish Doug a very happy and well-deserved retirement. The office won't be the same without the sound of his voice booming around!"
If you've got any memories of Doug that you'd like to share, please leave them on the Facebook comments panel at the foot of this page.