---
Hours before Jason Kenny is crowned World Champion at a sellout London Track World Cup, the Olympic medallist has defined finding form and training with rival Sir Chris Hoy as a daily challenge.
After a slow start to the year, Kenny now believes his speed is returning but at a pre-race press conference struggled to explain why form eluded him in the early stages of 2012.
"I was just going rubbish - I don't know why. I really don't know why. Everyone has phases, I guess, down bits, where everything slips away from you and there's not a lot you can do about it."
Kenny's solution was to survive until the British sprint squad went to their annual Australian training camp before returning home and confronting the fact that performances had to be lifted day in, day out.
"After the training camp I just tried to keep that momentum going, you have to lift your performance when you're going rubbish every day. I'm hoping for a miracle, as opposed to someone like Chris, who always seems to be going quite well every day of the week. He's very consistent, but it's good to have someone like that in the team, because you're always comparing yourself to someone that is probably top five in the world any day of the week."
Right now though, Kenny is focussed on one day in particular and his World Championship defence in March; an event he describes as the team's main focus.
"We're deep in our preparations. I think every race is important. There are two major ones, aren't there. There's this one and then the World Championships, so it's obviously very important. I'm starting to get a bit more pure speed back after a pretty slow start to the year, I'm pretty happy with where I am now and hopefully I'll be at the sharp end in the sprint."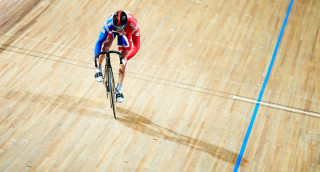 TEAM SPRINT
Somewhere in the undercurrent of the individual sprint comes a rivalry between one of Britain's most celebrated Olympians and the conundrum of the team sprint – an event Britain dominated in Beijing, but have struggled with in the run-up to 2012.
Kenny has floated between positions throughout – taking on the man one position for a period – but now passes that mantle to Ross Edgar and acknowledges the unique challenges of the responsibility.
"Man One's quite a hard place to be when you're kind of suffering a bit because everyone can see the time on the board. But Ross has shown some really good times there, to be fair, and I think he's coming back from a little bit of an injury now and showing a bit more potential again to step up and put a good time in."
Despite this Kenny is still painfully aware of the challenges associated with the event.
"We need to find a lot of time. Obviously, the German guys have stepped up and smashed it recently, but there's not an awful lot we can do about that except working away and trying to get quicker, which is what we need to do. We have been there in the past, so there's no reason we can't get there again."