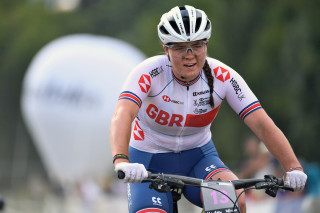 Images: SWPix
Day Three
The Great Britain Cycling Team continued their strong run at the world championships on day three, with Harriet Harnden just missing out on a podium place in the elite women's E-MTB race, and Tracey Moseley and Karen Pepper finishing in eighth and thirteenth place respectively.
In the women's four-cross, the rapid racing saw sole British representative Josie McFall win the Small Final to claim fifth place overall, ahead of German pair Kristina Stober and Maxi Kuchling, and Agnes Delest of France.
Will Evans, Daniel Wagstaff, Zac Hudson, Elliott Heap, Scott Beaumont and Connor Hudson all eased through four-cross qualification on Thursday night, but didn't progress to the finals.
Day Two
A sensational performance saw Richards lead from the front for the majority of the race, before being narrowly edged out on the finish line by Switzerland's Sina Frei. Pauline Ferrand Prevot (France) finished in third. Fellow Great Britain rider Annie Last finished in 14th place.
Speaking after the race, Evie said: "I felt like I was on the front for the whole race, which wasn't the plan, but I'm really pleased. I feel like it's been a while without racing so I'm super happy with a medal.
"I'm just really pleased to be up there and to have a rainbow jersey in the field is a really exciting step forward for the sport."
Great Britain Cycling Team's Ella Maclean-Howell narrowly missed out on a top ten finish in the junior women's cross-country race, crossing the line in 11th, while Elena McGorum finished in 35th place.
In the junior men' cross-country race, Corran Carrick-Anderson was Great Britain's highest placed finisher in an impressive sixth place, just 3.06 seconds behind the victor Adrien Boichis from France, while Joe Blackmore finished 28th and Nathan Smith finished in 60th place overall.
Day One
A young Great Britain Cycling Team battled to a sixth-place finish in the Cross-country Team Relay on day one of this year's UCI Mountain Bike World Championships in Val di Sole, Italy.
The British sextet of Harry Birchill, Charlie Aldridge, Isla Short, Ella Maclean-Howell, Anna Kay and Corran Carrick-Anderson ended the race 2:27 down on eventual winners France, and despite riding consistently throughout the race the team was unable to reel in the fifth-place Swiss team.
The championships continue tomorrow with Maclean-Howell and Carrick-Anderson riding once more in the junior men's and women's cross-country races, the men's and women's 4X qualification and the elite men's and women's cross-country short track finals, where Evie Richards and Annie Last will lead the charge for Great Britain.
You can find the full schedule here.