Evie Richards made history on the slopes in Val di Sole, Italy as she became the first ever British women to win the elite women's cross-country race at the UCI Mountain Bike World Championships.
Richards paced herself brilliantly, and once in the lead halfway through the second lap, Richards wasted no time in ensuring there was enough time between her and the rest of the field, slowly increasing her lead throughout the next three and half laps to the finish line.
"I didn't think I'd ever be good enough to win a race like this – I'm so shocked, I cannot believe it!" said Richard after the race.
"With Covid it's been really hard, and I've tried to stay positive – the last three weeks at home (after the Tokyo 2020 Olympic games) have been amazing. I've trained so hard.
"I say when I'm happy I race well, and I truly have been happy the last three weeks at home and I think that shows today."
Elite Women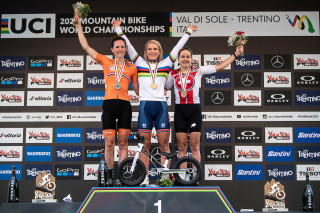 The elite women's race showed great promise from the start with a host of strong athletes in contention for the win. Great Britain held high hopes with Evie Richards, who narrowly missed out on a Short Track gold medal to Sina Frei (Switzerland) on Thursday in Val di Sole.
Starting on the second row, Richards made light work of the start loop finding gaps to the front of the bunch ensuring she entered the start of lap one in third place. Lap one would see Pauline Ferrand Prevot (France) and Jolanda Neff (Switzerland) create some distance to the rest of the bunch as Evie worked hard alongside Frei to pull them back. Only one lap later, Neff had dropped back to fifth and Richards was up to second on her own chasing down Ferrand Prevot, 31 seconds ahead.
Richards fought hard through the second lap, catching Ferrand Prevot and lead the French rider over the line as they started lap three together. Not content on giving Ferrand Prevot an easy ride to the finish, Richards piled on the pressure across the course in both the uphill and downhill sections. At the first intermediate split of lap one, Richards had put in a 13 second gap back to France's medal hope.
From then on in Richards never looked back, using every ounce of energy she had to ride away from a chasing group, gaining a handful of seconds every lap. On the finish line she would finish over one minute ahead of Anne Terpstra (Netherlands).
Richards spoke to RedBull TV after the race, saying; "I can't believe it I'm really shocked. I didn't have confidence going into this race, but the race plan was to have confidence. I said to you (Red Bull TV) I will have a time to shine – but obviously today was my time to shine. I'm just so shocked, I didn't think I'd be able to do that today."
Fellow British riders, Isla Short and Annie Last rode fantastic races, Short in particularly chasing down the front group from the off during the start loop, and showed consistency throughout the race to gain places and keep her lap times smooth, finishing in 14th. Last would follow home in 31st respectively.
Men U23 Race

A good start for the British trio saw them all occupying places at the front of the race, with both Cameron Orr and Charlie Aldridge getting a good start from row two on the grid.
An early split in the men's race at the start of lap one meant an uphill battle for Orr, with six riders ahead of the British rider and Luca Schaetti (Switzerland) going clear. Orr and Schaetti would cross the line starting lap two in seventh and eighth and 20 seconds down, however by the first intermediate split on lap two, Orr was down in 16th after an unfortunate crash.
This threw Orr, at the same split, into a group of nine riders all separated by just nine seconds; the group also included Aldridge who was placed 19th and Harry Birchill 20th, meaning all British riders occupied a top-20 position for the first time during the race.
By the start of lap three, Orr was down to 29th having lost a further minute as he battled to regain composure after his crash. Not one to be let the race get away from him, two laps later he was back up in 18th with teammate Aldridge ahead of him in 15th to chase as they raced into the final lap. Birchill maintained his 20th place into the final lap just seven seconds behind Orr.
A late charge in the final lap saw Charlie Aldridge gain three places and finish the highest placed British rider in 12th, followed home by Cameron Orr in 16th narrowly missing out on a top-15 finish, sprinting for the line against Riley Amos (USA). Harry Birchill also showed fantastic form in the final lap to finish 19th and make sure it was a top-20 finish for all.
Women U23 Race
A blistering start to the day saw Hattie Harnden and Anna Kay take on four laps of the four-kilometre course in Val di Sole, Italy.
A bunched start by the British duo saw them placed 19th and 21st coming out of the start loop as they jostled for position. By the intermediate split on lap one, Harnden was up to 16th and began her charge up through the field starting lap two in 11th place.
Kay wasn't as lucky dropping back to 26th position at the first intermediate lap split, however worked hard to get back into contention in the opening lap.
Once the race reached the start of the second lap, Anna Kay raced through nearly every lap split in 22nd, chasing Matylda Szcecinska (Poland). Kay's gap to Szcecinska was just three seconds by the start of the last lap, however, she could not reel in the Polish rider and maintained her 22nd place all the way to the finish line.
Harden started lap three in the company of Raquel Queiros (Portugal), Rebekka Estermann (Switzerland) and Emeline Detilleux (Belgium) as they jostled over the 11th place position and tried to chase down a top-10 finish.
By the start of lap four they had done just that reeling back in Jacqueline Schneebeli (Switzerland), meaning the group of five riders entered the final lap within eight seconds of each other. Harnden would give it her all in the final lap and held on for 14th place.
Race-favourite Mona Mitterwalner (Austria) - winner of every under-23 women's race at the UCI Mountain Bike World Cup series this year - would finish the eventual winner in Italy, over two minutes ahead of her compatriot Laura Stigger in second.