Dame Sarah Storey's amazing Paralympic career continued at the Tokyo Games as she set Great Britain's medal chase underway with an individual pursuit gold on day one.
The 43-year-old won an all-British final against Crystal Lane-Wright at the Izu Velodrome in the C5 3000m individual pursuit, leaving her GB team-mate with the silver.
There was also a silver for Steve Bate piloted by Adam Duggleby in the men's B 4000m individual pursuit as the Great Britain team started the cycling competition successfully.
In a repeat of the final from the Rio 2016 Paralympics, Storey guaranteed victory in the pursuit final with a strong start out of the gate and caught Lane-Wright before she had completed eight of the 12 laps, winning yet another title.
It was the 15th gold medal and the 26th Paralympic medal overall of Storey's astonishing haul, which dates back to her "first" career as a swimmer and a debut appearance in the 1992 Barcelona Paralympics, when she was just 14 years old.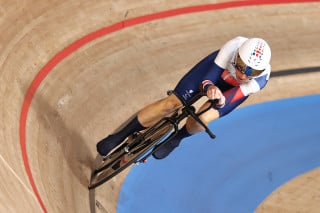 "It's hard to put into words," said Storey. "For me, as an individual, I've won a medal at every single Games I've been to and this is my fourth time winning the individual pursuit in a row.
"So, for me, it's been quite overwhelming to try and keep backing that up, and keep pushing on the pedals to go faster and faster. I never expected to go as quick as I did this morning but I'm so glad I did."
Storey, a mother of two, switched to cycling for 2008 in Beijing and now has a career record of five golds, eight silvers and three bronze medals in the pool and 10 cycling golds.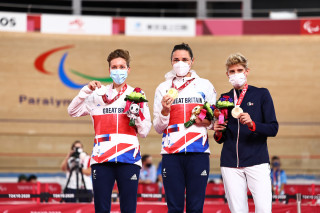 The British pair had given a hint of things to come in the morning qualifying session - Storey, turning in a stunning time of 3:27.057, more than four seconds faster than her own world record (3:31.394) at the event, set at the 2016 Paralympics in Rio.
Lane-Wright was just as impressive, as she finished second in the list of qualifying times, with a personal best time of 3:35.061, more than three seconds faster than the next rider, Marie Patouillet of France.
"Much as I'm up against Sarah, it's me against me so to get such a big personal best, that's my gold medal; I'm so pleased today," said Lane-Wright.
In the men's tandem version of the event, Bate and Duggleby qualified second fastest, behind Dutchman Tristan Bangma, and his pilot Patrick Bos, with a time of 4:02.497, three seconds behind their rivals but still faster than their own old world record.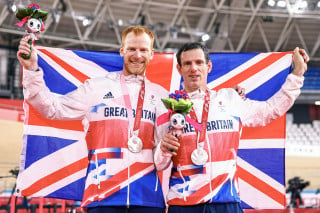 The two teams advanced to the final where defending champions Bate and Duggleby were on course for a well-paced ride but could not hold off the Dutch duo who had become the first ever to dip under four minutes in qualifying.
"I'm not going to say it's great but we're not going to say we're disappointed with a silver medal," said Bate.
"We couldn't do any more. We gave it our best shot and rode a massive PB in the qualifier but when a bike goes as quick as the Dutch did, you've just got to take your hat off and stand in awe of them.
"But we will take that one on the chin and go again in the time trial."
Neil Fachie, and pilot Matt Rotherham, finished in 11th and James Ball, piloted by Lewis Stewart, did not finish. The riders have come to Tokyo to focus on the kilo time trial event which takes place on Saturday.