There was joy in the mountains on the penultimate day of the 2023 UCI Cycling World Championships as Tom Pidcock rode to glory in the elite men's cross-country Olympic event. Elsewhere, the para-road squad continued to add to their medal tally, with rainbow stripes for Will Bjergfelt, Fran Brown and Dame Sarah Storey.
Cross country mountain bike
Tom Pidcock blazed to an historic victory to be crowned Britain's first elite men's cross-country Olympic world champion.
Pidcock moved up through the group with ease, showing his trademark speed and power to ride his way into third place alongside South African Alan Hatherly, before making his move and attacking on lap six.
Coming into the final lap Pidcock was flying, but tensions were rising as New Zealander and short track world champion Samuel Gaze began to close in, working through the pack to just 20 seconds behind the leader.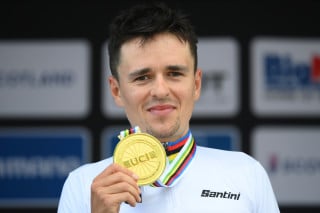 Pidcock remained calm and the crowds drove him home, crossing the line with the white rose of Yorkshire aloft.
On his momentous win, Pidcock said: "It feels good, I mean it's a big relief. It's been a long week building up to this and in front of the home crowd, it's pretty special.
"[Riding in the home straight,] I could finally soak it all in. Before that, the last few laps were so stressful. My gears were not working well in the last lap - they were jumping up every climb - and I couldn't get the rhythm. Gaze was coming and I thought it could all go in the bin at any moment.
"I came here many years ago mountain biking and it's a lovely place. It reminds me of Yorkshire and it's a beautiful place."
Cameron Orr battled well to finish 23rd, while an unfortunate dropped chain at the start for Cameron Mason saw the Scot finish in 65th place.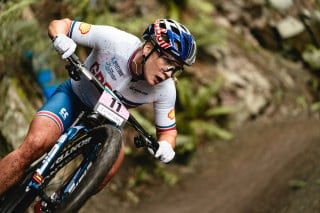 In the elite women's cross-country Olympic race, Evie Richards came in confident after her short track bronze medal earlier in the week, starting strongly off the line. The 26-year-old joined a group of five to lead the race from the off. The brutal course saw the riders begin to tire as the laps wore on, and Richards fell backwards with the Swiss rider Alessandra Keller. The two continued to ride together in fifth and sixth position, with Richards coming into the final lap solo as the rain began to fall. Into the final straight, Richards was brought home by an enormous home crowd, finishing in sixth place.
Peebles local Isla Short finished in 25th place, having made up five places in the final lap, while Annie Last finished 37th.
Para-road
Dame Sarah Storey sprinted away from the opposition to claim her 18th road world title. Storey, who claimed the time-trial victory on Thursday, forced it from the front in order to whittle down the field until the final laps of the 76km C5 road race, when just three riders remained in the front group.
Afterwards, she said: "I feel amazing - I can't ever take it for granted that's how a race will go. I knew from the first lap, I had to try and whittle the group down - we did want to shell a few riders. I think we managed to do that and halfway round the door opened on the first time up the little narrow lane sort of climb and I thought I've got to give it a full gas attack bottom to top and see what happens.
"I just stayed on the gas as long as I could and the four of us worked pretty well, they gave me some rest during the race and I just went for it on the final race to the finish."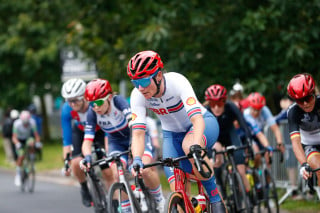 Morgan Newberry took a sixth place finish.
Will Bjergfelt also secured the men's C5 road race gold in a fantastic sprint finish. Bjergfelt rode confidently, staying in a front group of three throughout the race, before unleashing an almighty sprint to take the victory.
Speaking on his world championship title, Bjergfelt said:"It's not really sunk in yet, this is something that I've dreamed of since I was 15 year's old really so yeah, world champion, getting the stripes on the jersey - it's just a massive tick in the box for me on the route to Paris. I knew I was capable of this, I've trained really really hard this year, we've turned my old training upside down on it's head, so hopefully this is just the start of things to come."
Fin Graham defended his world championship title in the men's C3 road race in brilliant style after leading a group of three in the race. The Scot jumped across to the leading duo which included teammate Ben Watson, with Jaco Van Gass chasing behind. Attacks from Graham and Watson were constant, in an attempt to tire their French breakaway compatriot, and in the final it made the difference. With 2km to go, Watson attacked, but was bettered by a brilliant sprint from Graham to see him claim the title, as Watson took third, and Van Gass sprinted for fourth.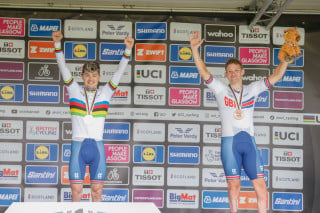 In the men's C4 road race, a front group of six early on saw Archie Atkinson pushing the pace in a bid for a medal. Having won a world championship title in a breakthrough C4 scratch race on the track, Atkinson looked confident to make another podium. In the closing stages, Atkinson worked hard to sprint at the finish and win a fantastic bronze medal to round off a brilliant world championships.
The afternoon saw a brace of very exciting tandem races, with Sophie Unwin and pilot Jenny Holl claiming a fabulous fifth medal of these championships with a bronze in the women's B road race.After an early attack by the Polish tandem and a resurgent Irish tandem that bounced back from a puncture, Unwin and Holl won the sprint for bronze, to top off a fantastic week in Scotland. Lizzi Jordan and Corrine Hall came home in ninth place.
Matt Robertson and Ryan Taylor put in a great shift in the men's C2 road race, with Robertson finishing in fourth and Ryan Taylor in seventh place, while Sam Ruddock came home in ninth place in the MC1 road race.
In the men's B road race, Steve Bate and Chris Latham came home in 13th place after a strong effort throughout, with Chris McDonald and Adam Duggleby finishing in 17th.
World championship debutant Amelia Cass claimed an impressive fifth place in the C2 race while Hannah Moore unfortunately had to withdraw mid-way through her first C4 road race.
Rounding off a fantastic day in Scotland's south-west, Fran Brown won out in the Women's C1 road race. It was a dominant ride from Brown, who adds the road race to Thursday's time trial triumph as she was able to remain with the C2 fields throughout the entire race, something no other rider in the C1 category was able to do.
Katie Toft just missed out on a second para-road podium, finishing in fourth place.
Road
Jack Rootkin-Gray finished just off the podium in fourth place after a brilliant ride on the streets of Glasgow for the under-23 men's road race.
Just after the neutralised zone the peloton showed its nerves, resulting in a crash which involved Great Britain's Oliver Rees which later saw him forced to abandon the race.
The race began to explode early on with a breakaway including Rootkin-Gray. As the race hit Crow Road, Rootkin-Gray was still looking comfortable in the front group which included the likes of Axel Laurance, Lorenzo Milesi, and Moritz Kretschy. As the rain started to come down, the rest of the Great Britain Cycling Team were policing moves and being assertive to danger, before heading into Glasgow's circuit.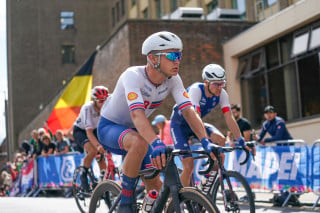 The lead group with Rootkin-Gray remained together, with a 36 second lead with 105km to go.
With 86km to go, Max Walker looked to jump across to the front group to add yet more British firepower, but was snuffed out, and the gap grew to 1:23.
Inside the last 69km, there were yet more crashes with Bob Donaldson coming down, but as the race ticked down to the final laps, the race again exploded with multiple attacks. Walker got himself into a group with Belgian Alec Segaert and Spanish rider Ivan Abad Romeo.
In the final two laps, Laurance attacked, and although Rootkin-Gray tried to follow, the Frenchman was too strong.
In the sprint for the podium, the Briton was agonisingly close to a bronze medal after a mammoth day in the saddle.
On his fourth place finish, Rootkin-Gray said: "It was brutal to be fair, I wouldn't change anything I did really. I just didn't have the best legs today, I think I managed it quite well but I just didn't have quite enough to do what I'd hoped to do.
"Last Saturday when I watched the juniors, I decided if I could go in the break, I would. It was kind of like everybody do what they want to do or need to do, because on this circuit there's only so much sacrificial teamwork you can do."
Walker finished in ninth place, with Donaldson in 18th, and Lukas Nerurkar in 51st.
BMX Racing
The competition kicked off with a bang for the BMX racers as 11 out of 13 riders qualified for tomorrow's racing.
In the women's races, current Olympic champion Beth Shriever put in a seamless round one ride, leading from the front with qualification never in doubt. Crossing the finish line in the second fastest women's time of 36.565 seconds, she heads straight into tomorrow's quarter-final.
Under-23 rider Emily Hutt breezed through to her semi-final, crossing the finish line in third place with a time of 32.005 seconds.
World championship debutants Sienna Harvey and Betsy Bax qualified comfortably in second and third place respectively in the junior women's first round, moving onto tomorrow's quarter final. After finding herself in a last chance qualifier race, Ava Brown finished in third place, ending her competition.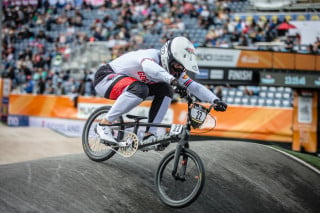 In the men's races, Kye Whyte proved he means business at this event, delivering a controlled ride, gradually moving up from third place position to finish in 33.226 seconds in round one. His 1/8 ride was equally as impressive, gaining on the field on to take another win. Ross Cullen and Paddy Sharrock went head-to-head in their heat, both delivering blistering rides to qualify for 1/8 in second and third, respectively. Quillan Isidore had an incredibly unlucky crash on the home straight, before qualifying through to the 1/8 finals due to DNFs and a relegation behind him.
All four elite men backed up their round one rides in the 1/8 finals and will progress to tomorrow's final day of racing.
Under-23 rider Callum Russell led his heat out with confidence, with teammate Matthew Gilston hot on his heels to finish first and third respectively and move into their 1/8 final. Gilston delivered in the 1/8 final to head into tomorrow's racing, however Russell found himself relegated after riding over the white line early in the race and will not continue.
In the junior men's racing, Mark Fletcher delivered two strong rides, going through to the 1/8 and quarter finals comfortably. Alex Talbott found himself taking the last chance qualifier route in round one, but qualified second and after a fourth place 1/8 final will also compete again tomorrow.
Trials and Cycle-Ball
On the final day of the trials events at the championships, Jack Carthy claimed his 11th elite men's 26" world title after a close-fought battle with Germany's Oliver Widmann.
Earlier in the day Oliver Weightman was crowned men's junior 20" world champion after a commanding performance.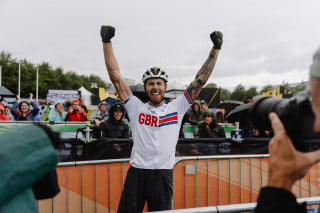 And completing the medal rush, Charlie Rolls fought hard to take bronze in the elite men's 20" by a slender margin, completing a great week of competition for the trials squad.
Great Britain's cycle-ball pairing of Jenson Harris and Mark Percival battled valiantly across their two days of competition, gaining valuable experience from competing in front of a buoyant home crowd.
Tomorrow's final day of the 2023 UCI Cycling World Championships will see the last rainbow jerseys up for grabs in the elite women's road race, the para-road mixed H team relay, and the junior, under-23 and elite BMX racing. You can keep up to date with all the action across the British Cycling social media accounts @BritishCycling and #GlasgowScotland2023.