Charlie Aldridge charged to the under-23 cross-country Olympic world title in front of a home crowd on day nine in Scotland, as Josh Tarling and Ben Wiggins were crowned time-trialling royalty in Stirling.
Cross-country mountain bike
Charlie Aldridge was crowned the under-23 cross-country Olympic mountain bike champion as he stormed to the rainbow jersey after an incredible ride.
Aldridge started his race strongly, sprinting off the start line to lead the group over the first lap, and stuck to his guns to keep the pressure on and pull away from the group with three others.
Aldridge - previously a junior world champion - stayed in contention in the group of four, with tough competition from the French rider Adrien Boichis.
With three laps to go, Aldridge took it to another level, whipping round the berms with ease to increase the pace and test his rivals, dropping the American rider in the process.
In the final lap, Aldridge showed his full potential, attacking hard up the climbs. Boichis went with him, but was unable to hold his wheel as the Scot took full command to be crowned the men's champion in front of a home crowd.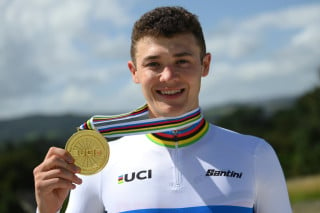 Speaking after his win, Aldridge said: "World champion sounds pretty good! To win at home with everyone I know, with friends and family, is a completely different ball game. I'm super, super, super excited and I couldn't stop smiling on the podium!
"It's a long race so you have to save energy a bit and watch the other boys and see how they're getting on. That last lap was just all out, whoever was the strongest really. I didn't believe it until the finish line I think! I was just all out until I was at the home straight. All I could hear was 'Go on Charlie' up the climbs! It was super, super cool."
Joe Blackmore finished in 13th, while Corran Carrick-Anderson took 18th place after brilliant performances on home trails. Rory McGuire finished in 58th place after suffering a mechanical and a crash as Huw Buck Jones came in 60th and Sam Chisholm finished 71st.
Peebles local Anna McGorum rode an incredible race in the under-23 women's cross country, finishing in 35th place and being cheered on by her friends and family.
Road
It was a strong day for Great Britain's time-triallists as Josh Tarling secured an incredible bronze medal in his first year as an elite, while Ben Wiggins rode to a sensational junior silver medal at the foot of Stirling Castle.
Tarling stormed to the time-trial bronze in a fantastic ride that saw him on the podium alongside Filippo Ganna and Remco Evenepoel. The 19-year-old started with gusto on the 47.8km course, showing his strength as the national champion on the hilly terrain. Tarling finished in style to clock the fastest time of 56:07.43, before Ganna and Evenepoel knocked him off to take the third spot.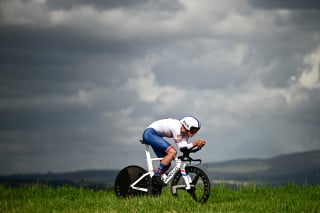 Speaking on his medal, Tarling said: "It was super cool to do it in Glasgow and it looks cool now. I felt super good today. It was one of them courses where it wasn't very forgiving so I had to stay focused and stay calm and not panic because it's a long TT, so if you end up stressing about your numbers and the corners early on it's easy to get tired, so it went super good.
On the support from family, he said: "It's so nice that they could be here - I just can't wait to go back and chill with them and celebrate for a bit."
Sporting legend Geraint Thomas finished in 10th place.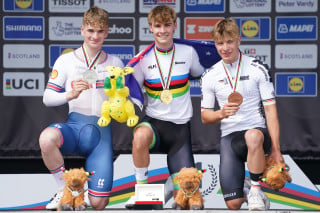 Wiggins rode a cool, calm and collected race, setting the third fastest time at the first checkpoint. The fairly flat course seemed to suit him and he slowly gained time, with just two riders starting after him. Wiggins worked hard to push the pace and rode across the finish line with the support of the home crowds in a time of 28:54.40 to take the silver medal at his first world championships.
Fellow debutant Jacob Bush delivered another strong ride, spending a large portion of the event in the second hot seat position with his time of 29:20.20, only being knocked down the ranks with five riders to go, taking an impressive fifth place finish overall.
On winning his first world championship medal, Wiggins said: "It's been the goal all year to get a world championship medal and especially in the time-trial it's pretty cool. It's been a long couple of weeks that I've been here, after the road race I was a bit disappointed but I focussed on this and obviously really happy it's done and I've got something to show for it."
Para-road
Felix Barrow just missed out after his brilliant bronze in the time-trial, with a fourth place finish in the men's T2 road race. Barrow led from the front and made the racing tough for his competitors, but was just passed as he came into the final dash for the line to top off a very impressive week for this young rider.
Claire Danson recovered from her crash in Wednesday's time-trial to take to the start of the women's H3 road race in Dumfries, and came home in 13th place.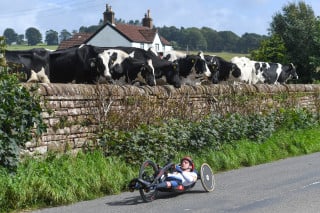 The afternoon's racing saw the men's handcycles in action. Alex Brooke-Turner was in the front group throughout the early stages of the men's H4 road race, and rode to a strong 13th place finish. Nick Beighton came home in 16th in the men's H5 as teammate Luke Jones rounded off the British contingent racing, finished in 29th place.
Tomorrow rounds off the action in Dumfries, and brings the tandem and C1-5 road races, with over 20 British riders set to be fighting for medals.
Jack Carthy and Charlie Rolls both topped their qualification heats in the BMX Trials, and progress to the finals tomorrow.
In addition, the Great Britain Cycling Team will be looking to continue to add medals tomorrow in the cross-country Olympic mountain bike elite finals, the under-23 men's road race, and the BMX racing qualification kicks off. You can keep up to date with all the action across the British Cycling social media accounts and #GlasgowScotland2023.