Kieran Reilly made history to become the first ever British male BMX freestyle park world champion, while the Sir Chris Hoy Velodrome was the backdrop to some sensational racing for the Great Britain Cycling Team as four world champions were crowned on day five of the 2023 UCI Cycling World Championships in Glasgow and across Scotland.
BMX freestyle
Kieran Reilly was crowned the first British BMX freestyle park champion after a phenomenal run in front of entranced crowds in the elite men's final. The 22-year-old scored a momentous 95.80 points, having landed a combination of 720 tail whip, 720 bar spin, double flair, front flip tuck no hander, triple whip air and a 360 double whip to bar spin to round off an incredible run. With rain falling with just two riders to go, Reilly had an agonising wait to see if he would be crowned the world champion before the title was finally locked in to rapturous applause from a home crowd.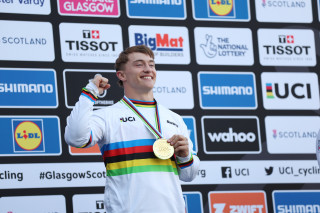 Speaking on his momentous win, Reilly said: "This is amazing to say the least, I don't think it's quite sunk in yet. Being up on that podium, it felt more in depth that I've achieved one of my dreams. Winning the biggest event before the Olympics is amazing and this rainbow jersey is something I've dreamt of hanging up for a long time, so seeing this one in a frame up at home will be amazing.
"Near the end of my second run, I knew at that point I'd stepped up the run a lot and I could have played it safe and finished the run off quite easily, but it wasn't going to be a first place run. I wanted to go for glory and I went in 100%, ending on that double flair and it paid off and it's an amazing feeling!"
Jude Jones also had a brilliant second run after bursting his tyre in his first run on the course. On his world championship debut, Jones pulled out a 720 down whip, 1080, front flair, 360 bar down whip and front flip whip to score a huge 90.10 points to finish in sixth position.
There was heartbreak for Olympic bronze medallist Declan Brooks, who fell in his second run to finish in 20th place, and also for Shaun Gornall, who suffered a fall and damage to his finger in his first run. Gornall battled on for his second run, but could only manage 23rd place. Welshman James Jones came home in 18th position.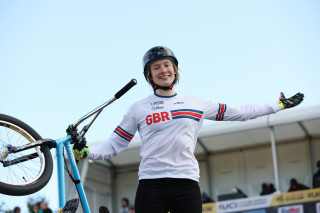 In the women's elite finals, Olympic champion Charlotte Worthington pulled some incredible tricks out the bag in her international comeback after taking a break from competition. Worthington finished in seventh place on 76.70 points, while youngster Sasha Pardoe came in 11th, just five weeks after surgery on her shoulder.
Track
In the women's Madison, the pairing of Elinor Barker and Neah Evans saw Great Britain control much of the racing, making some big moves to drive on the pace and charge in the sprint laps. The duo led from early on, stretching out in front on 21 points with France behind with four sprints out of 12 remaining. A proper bunch formed in the final 20 laps, with the pace slowing before Japan launched an attack, with Barker bringing the heat to gain more points. The peloton got very active in the last 10 laps, with Great Britain retaining the lead on 26 points with the Australians chasing on 19. Riders crashed with three laps to go as Barker put in a massive effort to be steaming out in front, and the race was neutralised with just two laps remaining. Getting back under way with nine laps after neutralisation, the British pair continued to show their class, securing two points in the final sprint to be crowned the world champions.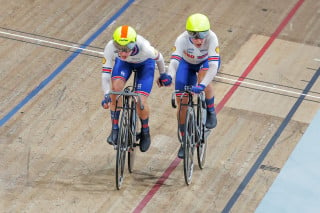 Reflecting on the win, Evans said: "It's a bit surreal. You come into it, and you know you're in a good place and if we get the luck on the day we can do this. So it's really nice that it came together and we came away world champions.
"Racing the world championships in itself is special, so to do it in front of a home crowd, in the velodrome I learnt to ride on and so many people up in the stands cheering you on, it's incredible."
In the men's elimination race, Ethan Vernon managed to beat the odds to claim another world championship title for the Great Britain Cycling Team. Italian Elia Viviani was clearly looking to win the event for the third time, setting the pace early on. Vernon came down with seven riders remaining after a crash in front of him but managed to re-enter the race with ease. As the race ticked down to the final three, Vernon's track acumen showed as well as his sprinting legs as, having raced across the line to eliminate Viviani, subsequently powered past Canadian Dylan Bibic in a show-stopping sprint to take a stunning victory.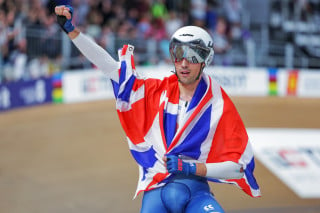 Jack Carlin faced fierce competition in the semi-finals against power-house Harrie Lavreysen and while he put up a good fight, it wasn't quite enough to overpower the dominant defending champ and after a 2-0 defeat, found himself in the bronze medal ride off.
In the bronze medal ride-off, the Scot was up against Polish rider Mateusz Rudyk. In front of a home crowd, Carlin was determined to secure some silverware and across the two races he proved his class with some expert track sprinting which led to a 2-0 win and bronze medal.
Carlin reflected on his bronze medal, saying: "Am I disappointed – yes – I still want to win in front of my home crowd, but I've still got that opportunity in the Keirin now and I'm really confident after that.
"I'm proud of what I did tonight – I think if it wasn't here [at the Sir Chris Hoy Velodrome] I'd be a bit disappointed, but because it's Glasgow, they were all celebrating and jumping with joy. I've loved every second of racing here so far and it's been one of the best experiences of my cycling career and I hope I can replicate it in the next couple of days."
Emma Finucane and Sophie Capewell flew through the women's sprint qualifiers with a British 1-2 respectively, and Finucane breaking the flying 200m national record in the process, in a time of 10.234. They auto-qualify for tomorrow's 1/8 finals where Finucane will race Japan's Mina Sato and Capewell races French rider Devine Kouame.
Para-track
The indominable pairing of Neil Fachie and Matt Rotherham continued to control the track in the men's B sprint, beating the Australians 2-0 in the semi-finals, before taking on the German pairing of Thomas Ulbricht and Robert Forstemann for the gold. While the Germans pushed, the British duo were too strong and retained their world championship title.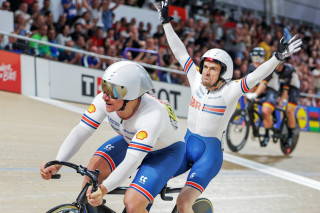 Sam Ruddock stayed out of trouble in the men's C1 scratch race to finish sixth overall, and with two wins and a third place finish in the other three omnium events, ended his time at the track with a bronze medal to add to his haul.
Blaine Hunt headed into the final of the men's C5 omnium at the top of the leader board. The current world record holder showed he meant business with the fastest flying 200m time, keeping him at the top with 102 points and one event to go. A ninth place finish in the individual pursuit unfortunately dropped him down to fifth place overall.
Will Bjergfelt put down a time of 12.017 seconds in the flying 200m and finished a strong sixth in the individual pursuit, finishing 11th in the omnium overall.
Matt Robertson was sitting in third in the men's C2 omnium after three fifth place finishes in the flying 200m, individual pursuit and scratch race, with 98 points. His qualifying time for the 1km time-trial of 1:14.407 meant he just missed out on a final place in the individual event, but it was enough to secure him seventh place.
Teammate Ryan Taylor started the day in eighth in the same event with 82 points and a 10th place finish in the kilo TT saw him complete his omnium in ninth place with 104 points.
Morgan Newberry had a brilliant race in the women C5 scratch race, staying competitive throughout but had to settle for seventh in a strongly contested field.
Tomorrow will see the best riders in the world compete for medals in the mixed B and C team sprints, women's C3, C2 and C1 scratch races, men's 1km time-trial, women's points race, men's Madison, and road team time-trial mixed relay, while the qualifying rounds for the cross-country short track kick off in Glentress. You can keep up to date with all the action across the British Cycling social media accounts @BritishCycling and #GlasgowScotland2023.