Five world champions were crowned on the track on day four of the 2023 UCI Cycling World Championships, while a rainy Scotland caused tough racing in the elite men's road and mountain bike marathon races, and interruptions to the BMX freestyle park qualifications.
Para-track
Kadeena Cox started her competition with a bang in the women's C4 500m time-trial with a rapid qualifying ride, 2.055 seconds faster than her closest competitor, before taking the world championship title with a dominant 35.961 ride. Hannah Moore finished in 14th place.
In the women's B sprint, Sophie Unwin and pilot Jenny Holl won their third world championship title in an incredible finish against Australia. The Aussies won the first sprint, but Unwin and Holl took the second sprint in a photo finish to go to a decider. An incredible display of power saw Unwin and Holl go full gas in the final straight and steal the win - a massive shock as pure endurance riders. Lizzi Jordan and pilot Amy Cole finished in seventh place.
Fran Brown continued to assert herself on the world stage with a world record in the women's C1 individual pursuit, leaving her opponent China's Qian Wangwei for dust to finish in a world record time of 4:10.074 and gain another world championship title.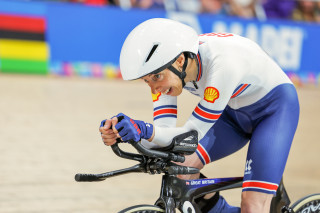 Brown made history yet again in today's competition with a sensational world record of 14.657 seconds in the women's C1 omnium 200m time-trial, but was unfortunately subsequently beaten by Wangwei. Katie Toft took the fourth fastest time, taking 34 points.
In an animated men's C4 scratch race, newbie Archie Atkinson and New Zealand's Benjamin Westenberg gained a lap on the bunch, before a crash neutralised the race with nine laps to go. Atkinson made a ferocious attack with two laps to go, and crossed the line first to take the rainbow jersey in his debut world championships. Jody Cundy took a commendable eighth place.
In the men's C3 individual pursuit, Fin Graham and Jaco Van Gass faced each other once again, with Graham managing to retain his world championships title, beating Van Gass by five seconds in a time of 3:19.946. Martin Hailstone finished in 13th, while Jacob Smith took 15th.
In the men's C3 omnium, Van Gass and Graham placed second and third place respectively, with times of 11.298 and 11.1519. Debutant Jacob Smith delivered a strong ride which put him in sixth place with a time of 12.411.
In the men's B sprint, Neil Fachie and Matt Rotherham continued to assert their dominance by qualifying fastest with a blistering time of 9.773, before easing through the quarter-finals against Japan. The British pair will face Australia in the semi-finals tomorrow.
In the women's C2 500m time-trial, debutant Amelia Cass finished in 12th place, while Daphne Schrager qualified fifth in 43.092, but suffered an unfortunate fall in the final.
Track
Dan Bigham had an incredible battle with Italian Filippo Ganna in the men's individual pursuit final, missing out on the gold medal a fraction of a second. Having qualified second behind Ganna, the two pursuiting legends went head-to-head once again, with Bigham leading every single lap, and even had a two second gap going into the final km. As Bigham clung on, Ganna showed his talent to close the gap, only gaining an advantage in the final 200m, when Ganna pinched the win by just 0.054 seconds. Bigham clocked a new British record in a time of 4:02.030 and took a sensational silver medal.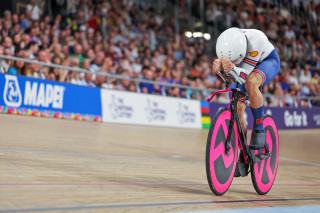 Bigham said: "I rode a PB, I road a national record, and I backed up better than I rode in qualifying so it's the first time I've ever done that. I nearly beat Filippo Ganna for goodness' sake! I've got to be proud, but at the same time right now it's just frustrating because it was so close - it's nothing in the grand scheme of things. It is very cool, I've worked very closely with Filippo to make him go fast on the road, and last year to make him go fast on the track as well to take my hour record! It's a special relationship."
In the men's sprint quarter-finals, Jack Carlin put on a show for his home fans in a game of cat and mouse which saw him use the track to perfection to power ahead of Australian Thomas Cornish. With a spectacular two nil victory, he goes straight through to tomorrow's semi-final where he will face stiff competition in current world champion Harrie Lavreysen.
Joe Truman put in strong performances in his rides, but unfortunately couldn't match his competitor Nicolas Paul's acceleration and was pipped to the line in a two nil defeat, putting him out of the event.
Elinor Barker rode the women's elimination race very tactically, using her strength to stay within contention. Belgium rider and eventual winner Lotte Kopecky continued to drive the pace, seeing Barker caught out to be eliminated in the closing stages of the race, taking fifth position.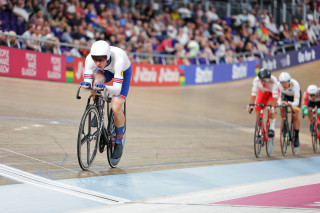 In the men's omnium, Ollie Wood finished second in the opening scratch race, keeping calm throughout the race and going over the top in the last lap to finish behind Portugeuse rider Iuri Leitao, giving him 38 points. An active tempo race saw Wood take 20 points to finish in 11th place with the bunch, and in the elimination race, a risky position on the black line saw Wood eliminated in eighth position. In the final points race, Wood rode well within himself, taking a lap, but Leitao continued to drive the pace on, leaving the Brit to finish in eighth place overall on 144 points.
It was disappointment for the British keirin riders as Emma Finucane crashed out of round one after the Japanese rider moved out of the sprinting lane once the sprint had started. This forced Finucane up the banking, crashing just before the finish line and was unable to continue. After flying through yesterday's qualifier, Katy Marchant drew first position in her race and found herself boxed in and unable to move to the front, resulting in her also leaving the competition.
Marathon mountain bike
With the mountain biking world moving from Fort William to Glentress overnight, it was the first chance for the Tweed Valley to show it's colours with a monster day of Marathon racing.
With an incredible course, which the late Rab Wardell played a major role in developing, the racing was a tough as you'd expect.
British marathon champion Cameron Mason started the elite men's race in 60th place but was up to 21st by the top of the first climb. Leading down one of the main descents of the day, 'Angry Sheep', showed the level Mason is able to operate at, and at the halfway stage, he was in fourth place.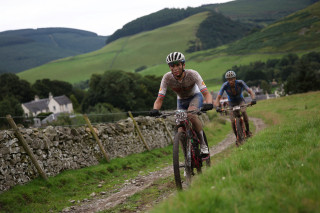 Unfortunately. he didn't quite have the strength to battle with the leaders over the last two hours of the four and a half hour race, but can take so many positives from his efforts as he finished 36th.. Stronger over the second half of the race, Jason Bouttell rode a great race to place 33rd, with Jacob Scott and Tom Martin 41st and 42nd, respectively.
Afterwards an emotional Mason said: "That was really tough! I'm pretty emotional, as at quite a lot of points I was just thinking about Rab, so it was just really, really tough. But I'm so proud – I'm the lucky one as I get to be out there suffering and that's the best bit. I was suffering but it's not real suffering, as it's just what he would want to be doing and I'm just so proud I could do it, and just do a good job.
"The crowd was amazing and every time people were shouting for me I was just so happy and so proud that I was doing what I was doing – it made such a big difference. I don't think I realised before how insane it would feel, riding these trails with my friends and family cheering me on."
In the elite women's race, Isla Short led the charge on home trails, with the GB team packing well throughout. Short rode a measured race, starting in the sun and finishing in the torrential rain, and came home in 27th position, with Amy Henchoz 28th, Joanne Thom 31st and Anna Kay 32nd.
Road
The elite men's road race saw Luke Rowe, Connor Swift, Fred Wright, Sam Watson, Jake Stewart, Owain Doull, Ben Turner and Ben Swift set off for the Great Britain Cycling Team on the 271km route from Edinburgh to Glasgow.
With an undulating course in the Glasgow circuit, which took in Crow Hill and few other snappy climbs, the race was animated by a group of nine riders which included Welshman Doull.
At its highest point, the gap was around five minutes until the race was stopped for around an hour due to protestors on the course. As the raced headed into Glasgow, the action started to heat up on the tough circuit, with the peloton eating away at the breakaway's lead.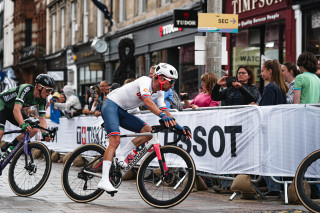 As attacks came thick and fast, it was too much for Great Britain's Watson as he retired from the race, as did Wright. Rowe, Turner and Connor Swift continued to battle to try and provide support for Doull up the road.
With just under 100km to go, big hitters such as Mathieu Van Der Poel, Wout Van Aert and Tadej Pogacar joined Doull's group and increased the pace, with Doull slotting back into the chasing group.
With four laps to go, the front group split again as Doull struggled to keep in contact. The Welshman crossed the line in 18th place in what was a valiant performance, while Connor Swift came in 26th as the rest of the road riders were unable to finish.
After the race, Doull said: "I'm happy with that, I would have like to have someone in the group behind, that's why I went ahead of the race to try and get ahead of the chaos so that when Van Der Poel and others came across we would have more options.
"But, it was a special day though. The crowds, the home worlds and hitting that circuit at the front was pretty amazing."
BMX freestyle park
Olympic champion Charlotte Worthington finished in fifth place on 74.18 points in the BMX freestyle park women's qualifiers, while 16-year-old Sasha Pardoe qualified for tomorrow's final in eighth, just five weeks after surgery on her shoulder. In her first ever world championships, 19-year-old Holly Pipe finished 20th.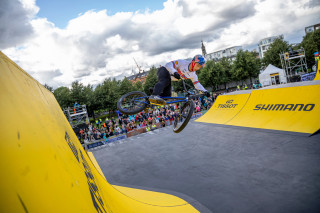 Continuing on from yesterday's rain-stopped men's qualifications, which saw James Jones and Jude Jones both qualify, Declan Brooks scored 81.57 points to qualify ninth, while Shaun Gornall qualified in 15th place. Kieran Reilly set the ramps on fire, landing a 360 triple flair tail whip to score 83.27 points after a long wait due to weather conditions and qualifying in seventh position.
Medals will be up for grabs tomorrow in the BMX freestyle park finals, with more on the track with men's sprint, women's Madison, men's elimination race, men's B sprint, men's C2 1km time-trial, men's C5 and women's C4 individual pursuit, and men's C1 and women's C4 scratch race. You can keep up to date with all the action across the British Cycling social media accounts @BritishCycling and #GlasgowScotland2023.