The Great Britain Cycling Team enjoyed a medal-filled third day of the 2023 UCI Cycling World Championships, with stand-out performances across the downhill, road, track and para-track events.
The mountains of Fort William were the setting for two historic medals in the elite men's downhill, while Cat Ferguson successfully negotiated the famous Montrose Street climb to claim a silver medal in the junior women's road race. A perfect day was then completed in the Sir Chris Hoy velodrome, where Jaco Van Gass, Sam Ruddock, Blaine Hunt and the women's team pursuit squad all blazed to world titles.
Downhill mountain bike
It was double delight for the elite men in Fort William, with Charlie Hatton blazing to a historic world title in challenging conditions, sparking jubilant scenes at the finish line. That moment was made extra special by teammate Laurie Greenland joining him on the podium, who took bronze for Great Britain to cap off a good week in Fort Bill.
Hatton judged the course to perfection, taking the twists and turns in his stride to deliver a classy ride and a time of 4:26.747. Greenland backed up Great Britain's dominance by finishing just 1.229 seconds slower to step on the podium beside his teammate.
Celebrating his win, Hatton said: "I'm absolutely speechless, it's absolutely insane. I love this track and when the rain comes down, I had a little smile on my face, and I was just like 'this could be it.'
"We did some good things at the start, we had longer mudguards so my vision was better, we had an extension on the peak for the roll-offs, everything just came together."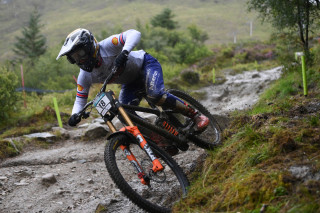 Other results saw Greg Williamson finish eighth, Danny Hart 11th and Bernard Kerr 43rd, despite falling off. Matt Walker finished 69th after a nasty crash in the final, while Jordan Williams took 72nd place in his first elite world championships after also coming off in the wet conditions.
Local favourite Louise-Anna Ferguson was agonisingly close to the podium in the elite women's downhill final, after battling with illness all week. In what was a nail-biting women's final, there were some gutsy rides from the British women, with Ferguson, Phoebe Gale and Tahnée Seagrave sitting in 1-2-3 for a considerable period. Unfortunately they were slowly knocked out of medal contention, with Ferguson holding her position until the final rider. Gale and Seagrave finished fifth and sixth respectively.
Ferguson said: "I'm so pumped to be fourth! I know people say it's the worst position, and the first step off the podium, but I feel like I won today.
"I came from Crankworks, Whistler, and got a bit sick there and it's been getting worse throughout the week, so I've been struggling on track and just kind of survived seeding yesterday, so today I didn't have any expectations.
"I was so surprised when I came across the finish line and it flashed up first! It's just mind-blowing – I don't really have any words, other than that I'm super emotional!"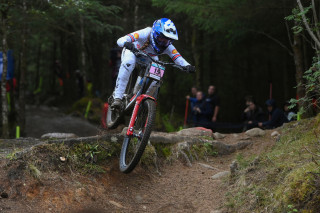 In her first world championships since becoming a mum, Rachel Atherton showed true grit in finishing in eighth place, after dislocating her shoulder in training earlier this week. Mikayla Parton, Harriet Harnden and Stacey Fisher finished 20th, 23rd and 32nd respectively for Great Britain.
Track
The women's team pursuit took a magnificent gold medal in a blistering time of 4:08.771, beating New Zealand by over four seconds for the world championship title. After qualifying fastest yesterday, the women's team pursuit flew into the gold medal race after putting down the fastest overall ride of 4:09.671, beating France by almost three seconds.
Last year's silver medallists then faced New Zealand in the final race of the night, bringing Katie Archibald back into the quartet in place of Megan Barker, alongside Elinor Barker, Anna Morris and Josie Knight. There was little to separate the two teams in the early stages, but the Great Britain Cycling Team steadily built up a gap, and with a raucous home crowd behind them, they soon had the Kiwis in their sights. A blistering finish then secured a first women's team pursuit world title since 2014.
Elinor Barker said: "It's amazing and now I feel like I've not ridden at all in a way! When you win, it feels like the pain in your legs just disappears somehow. At the time, it was an absolute blur of pain and it was such a relief getting over the line.
"I think this is just such a rare opportunity - the last time we had a home worlds was London, and we missed out then and messed up in the qualifier. The chance to win at home is so special and I can't believe we did it. I rode it with my sister Meg and Anna and I went to school together, so what are the chances of that! It just feels all very surreal - the chances of any one of us getting here is so slim and the fact that we've all known each other from childhood is just bizarre!"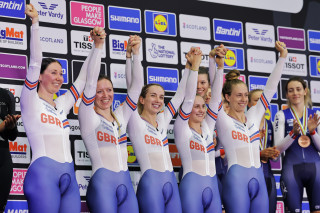 The men's sprint saw Scotland's Jack Carlin and teammate Joe Truman storm through the first three rounds into tomorrow's quarter finals. Carlin went long against Colombia's Kevin Quintero in the 1/8 final, powering in front with two laps to go, while Truman took a spectacular photo-finish victory against Suriname's Jair Tjon En Far, which will see him meet Nicolas Paul of Trinidad and Tobago in tomorrow's quarter-final. Carlin will face Australia's Thomas Cornish to decide which riders will progress through to Monday's semi-final.
In the women's keirin, Katy Marchant and Emma Finucane qualified strongly, and will now progress to tomorrow's second round.
Para-track
In the men's C1 kilo, defending champion Sam Ruddock qualified second in a time of 1:12.136. Ruddock had the crowd on the edge of their seats as as he took the title by the narrowest of margins in a time of 1:12.210.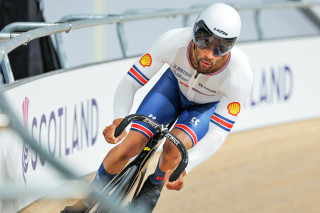 It was smiles all round for the para sprinters, as Blaine Hunt then defended his own C5 kilo time-trial world title, delivering a seamless ride and a time almost a second and a half faster than his closest rival with 1:03.341. Will Bjergfelt finished 15th overall in the men's C5 event.
On defending his kilo title, Ruddock said: "I didn't expect it at all. We've done a lot of work in the pursuit in the last year, and kilo was now the secondary event, so to go faster in the kilo and defend the title was a massive surprise."
In the women's C5 category, Morgan Newberry took eighth place in the omnium flying 200m before competing for bronze in the individual pursuit later in the evening. The young rider put in a strong performance, but unfortunately it wasn't enough and she missed out on a medal to Italian rider Claudia Cretti.
The women's tandems were back in action for the sprint qualification, and having already won two world titles this week, Sophie Unwin and Jenny Holl breezed through qualification before taking a comprehensive win over Argentina. They then faced Italy in the semi final, taking a clear two-nil victory to progress to tomorrow's final.
Even after mishearing the final lap bell, Lizzi Jordan and pilot Amy Cole managed to qualify for the next round to set up a tie against Australia, but were unable to progress with the Australians proving too strong.
The C2 and C3 scratch races were the final two para-track events of the night, and Matthew Robertson was Great Britain's highest finisher in the C2 in 5th place, with Ryan Taylor 12th.
It was pure British dominance in the C3 soon after, where Jaco Van Gass secured his second world title of the event, with teammate Fin Graham taking the silver for Great Britain, as the duo took a lap on their nearest competitors. Martin Hailstone finished in 11th place, while Jacob Smith finished one place behind him in 12th.
Road
Cat Ferguson collected a super silver in the junior women's road race. The Skipton rider looked comfortable in the early stages of the race in Glasgow, as the steep gradient of Montrose Hill decimated the peloton, and the abundant crowds provided an amazing backdrop to the start of the road events.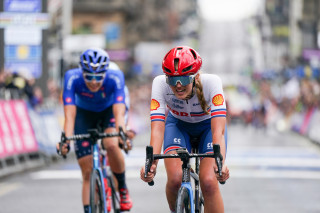 A solo break by French rider Julie Bego couldn't be caught in time by the advancing peloton, with rival nations reticent to work for the strong British team. Ferguson seemed to be heading for fourth place with less than 200m to go, but she turned up the heat and delivered a powerful sprint finish to take her over the line in second place in her first world championships.
Behind her, the remainder of the British team finished in the top 20, with Imogen Wolff close behind in fifth place, Awen Roberts 13th, Carys Lloyd 15th and Izzy Sharp 16th.
Ferguson said: "It was so hard. From the start, because everyone's afraid to do work because there's not much benefit because of the corners, it was so hard. Second place is still amazing but I came here for the jersey so I'm a bit gutted. It's not the end of the world, I've still got a podium, but it would've been so nice to win it at home."
In the junior men's race, a strong group of four was established early on, but after a concerted chase Matt Brennan successfully bridged across.
As the race entered its closing stages Brennan was working hard to stay in contact with the leaders as they crested Montrose Hill for the penultimate time, and the young Brit - who turns 18 tomorrow - can be proud of his efforts, despite the pace proving too much.
Seb Grindley was the highest placed British rider in eighth place, with Tomos Pattinson 23rd and Brennan 33rd. Ben Wiggins and Jed Smithson did not finish.
Reflecting on a gruelling course, Brennan said: "It was pretty grim, it was flat out all day, no rest and nowhere to hide. It was just full gas for 70-80 miles. It was horrendous but really good, big crowds and lots of people cheering us on. I really enjoyed it so that's what counts.
"I might not have the result to show for it, but I was up the road all day and got a big cheer from the crowd which was really nice. I've got the day off tomorrow so will hopefully go and party!"
Ferguson and Sharp will race again in the junior women's time-trial on Wednesday, while Ben Wiggins will join team mate Jacob Bush in the junior men's event on Thursday.
BMX freestyle park
A rain-affected start to the BMX freestyle park competition saw competition suspended during men's qualifying, with only two of Great Britain's seven riders able to complete their two qualifying runs.
Of the 45 elite men to complete their qualifying runs, Jude Jones currently sits in second place with an average score of 82.66, while James Jones is in third on 73.25. Qualifying for the elite women and elite men will conclude tomorrow, with the finals for both on Monday.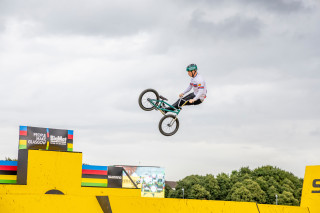 Competition continues tomorrow with the elite men's and women's mountain bike marathon finals and elite men's road race. On the track, the para-cyclists will be going in pursuit of medals in the women's C2 and C4 500m time-trial, the women's C1 and men's C3 individual pursuits, the women's B sprint finals and men's C4 scratch race, while the men's individual pursuit, women's keirin, men's omnium and women's elimination races will also be decided.
You can keep up to date with all the action across the British Cycling social media accounts and #GlasgowScotland2023.