Kieran Reilly claimed his first European title at the Krakow-Malopolska European Games, with teammate Declan Brooks also on the podium in third.
After qualifying in third place, last year's silver medallist Reilly approached the final with one goal in sight, delivering two incredibly impressive, trick-filled runs, gaining him a score of 92.33 and his first European title.
Teammate Declan Brooks joined him on the podium, taking the bronze medal after a cool and confident performance saw him earn an overall score of 87.40.
In the women's event, European Games debutant Holly Pipe delivered a fantastic top 10 result in her fist international final. After qualifying in 12th place on day one, 19-year-old Pipe put in two confident rides with a highest score of 55.66, positioning her in eight place overall.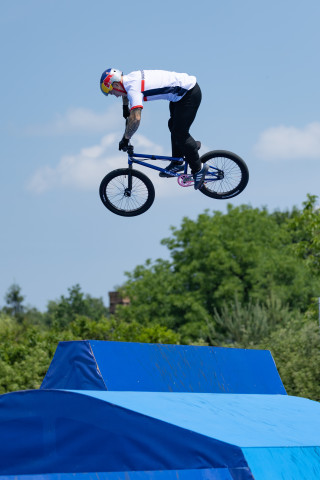 On his win, Reilly said; "At the moment, it still feels pretty surreal – it's just happened and walking round with this [gold medal] round my neck… it's been the goal for the last year, pretty much. Coming here off the back of the Europeans with silver, I wasn't quite happy, the main reason being that I didn't give it 100%.
"I've been chasing this with a vengeance for the past year to get a run down, at this event, which was 100% and I got that done today, which got me the top spot, which is amazing."
Unfortunately, after securing a strong qualifying position of fifth place on the first day of competition, a crash during training ahead of day two's final put 16-year-old Sasha Pardoe out of the competition.
The freestyle park squad join 170 Team GB athletes who will compete across 18 Olympic disciplines in and around the Polish city.
The event marks another opportunity for Great Britain's BMX freestyle park and mountain bike riders to gain all-important ranking points for Paris 2024 qualification, with the mountain bike races taking place on Sunday 25 June.