Day two of the 2023 UCI Cyclo-cross World Championships saw two top 10 finishes for the Great Britain Cycling Team, in the junior women's and under-23 men's races, while Anna Kay finished the elite women's race in the top 20

in her first individual race after injury.
The junior women's race saw Cat Ferguson take sixth place at her debut world championships, after taking the silver medal as part of yesterday's team relay. A shaky start put Ferguson mid-pack but she steadily moved her way up into the top 10, managing to avoid coming down in slippery conditions.
In the third lap, Ferguson sneaked past favourite Lauren Molengraff on the final descent before the home straight, moving her into sixth place; a position she managed to hold onto, crossing the finish in sixth place.
Junior women's national champion Imogen Wolff rode a consistent race, staying in the top 20 throughout the first four laps, but an unfortunate mechanical cost her precious time and she crossed the finish line in 23rd place. Emily Carrick-Anderson and Elizabeth McKinnon finished 34th and 40th respectively at their first ever world championships.
On the race, Ferguson said: "It was just amazing, there's so many people from Great Britain here across the whole course [and] being able to hear someone shouting my name was so cool. Cyclo-cross is so different from road or time trial, it's just so interesting with the mud and the fans here are the best!
"I came sixth so I'm quite happy, I didn't have the best start, I clipped both feet in and one pedal came out so I was about top 20 on the first half lap so that wasn't ideal, but I just kept picking pacers off and moved up to about seventh. At the finish I was just closing in on fourth and fifth so I think with one more lap I might have been able to catch them, but sixth place, can't not be happy with that really."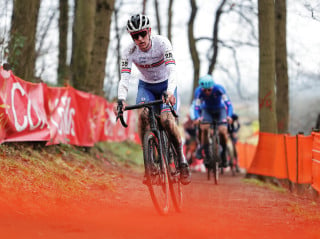 Joe Blackmore and Corran Carrick-Anderson made their debut performances in the men's under 23 category with Blackmore biding his time and slowly moving his way through the pack, chasing the front group to be in seventh position by the end of the third lap.
He maintained his pace and managed to move into sixth two laps later, fighting for position against Belgium's Victor Van de Putte. The young rider worked hard to catch up to the main group, but as the race closed up, he was unable to bridge the gap and crossed the line in a six-strong group, finishing 10th overall.
After consistently staying in the top 30 throughout the race, Corran Carrick-Anderson dug deep in the final lap to manage a 17th place finish at his world championships debut.
On the racing, Blackmore said: "It was hard, it was fast, and it got quite muddy. I swapped bikes for grippier tyres, had a problem with gears so swapped again, so I was constantly chasing after not a great start. I got up into sixth for a while and then it all bunched up and got a bit hectic, but happy with 10th."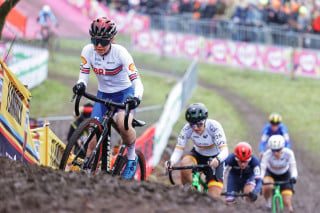 Coming back into her first individual race since breaking her finger a month ago, Kay left the start line steadily and in control. The experienced rider rode a consistent race, managing to stay with small groups, staying between 14th-16th place throughout. However, after seven laps of the course, Kay's pace dipped and she finished the race in 18th place overall.
Kay commented, "I was pretty nervous to start but I did the best that I could, I tried to get a good start and just run my own race. It was really nice [to have family here], my mum just took all the stress for me. I'm away a lot so it was really nice to hear them.
On the championships as a whole, "It's been really good, even to be on the start line was a positive today after breaking my finger a couple of weeks ago. It's gone really well so I'm happy.
Tomorrow's final day of racing will see Oli Akers and Alfie Amey compete in the junior men's race, while Zoe Backstedt, Ella Maclean-Howell and Millie Couzens contest the under-23 women's race. The world championships will culminate in the elite men's race, with Thomas Mein and Cameron Mason competing for the Great Britain Cycling Team.
You can watch the under-23 women's and elite men's races via BBC iPlayer or all races are on GCN.