The Great Britain Cycling Team's para squad were unstoppable on day two of the UCI Para-Cycling World Championships, taking home six gold medals and two silver.
Men's 1000m time trial
Reigning tandem world champions Neil Fachie and Matt Rotherham upheld their title in style, shaving 1.557 seconds off their third place qualifying time to claim back-to-back world titles in the men's tandem kilo.
On claiming his remarkable 15th world title, Fachie said: "It's still as sweet at the first to be honest, I'm quite happy to keep racking them up. I just love racing, it's just that adrenaline rush of being out there on the big scene and if you can still deliver why not keep doing it?"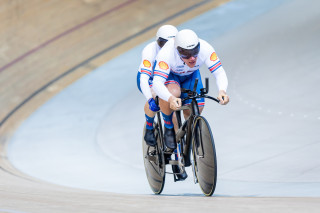 James Ball repeated his 2020 silver medal result, this time with new kid on the block, pilot Steffan Lloyd. After qualifying fastest in 1:01.478, the duo delivered an even faster time of 1:00.184 in the final. But it wasn't quite enough to beat their fellow Brits and they add a silver medal to yesterday's team sprint gold.
After a fourth place finish in 2020, Sam Ruddock was back with something to prove and prove he did, taking home a rainbow jersey. Ruddock qualified fastest and managed to shave off seven tenths of a second in the final to take the men's C1 gold.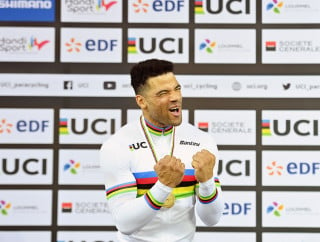 At his first ever para-cycling world championships, Ryan Taylor made it into the men's C2 final qualifying in sixth place. He later delivered a PB ride of 1:15.200, finishing the day in sixth place. This result puts him sixth in the current minimum standings, ahead of tomorrow's individual pursuit.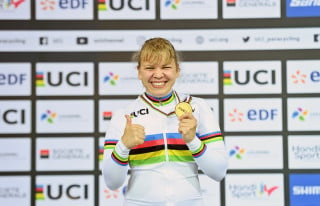 Women's C1 500m TT
Katie Toft claimed the women's C1 500m time trial world title with a time of 47.212 seconds; over 8.47 seconds faster than the 2020 world champion. The time trial was also the second event in the omnium for Toft, with the individual pursuit tomorrow and the final scratch race event on Sunday.


Individual pursuit
Fin Graham took his second C3 world title of the competition, with a stylish final ride after qualifying fastest by over seven seconds. He was pitted against Dutchman Mathijs Drenth, who initially led until at 1km ,Graham picked up the pace and took the lead. He continued to increase the deficit between them over the remaining 3km, finally taking the world title by a large margin, in a time of 3:24.596.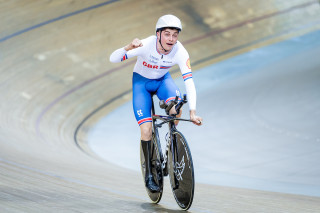 It was a battle of Britain as the women's tandems, Lizzi Jordan with Corrine Hall and Sophie Unwin with Jenny Holl went head-to-head in the evening's gold medal race after qualifying in first and second place.
In the final, both pairs showed incredible power, but it was Tokyo 2020 bronze medallists and world championship debutantes Unwin and Holl who stormed to the title, with a time of 3:26.124. The new pairing of debutante Lizzi Jordan and multiple world champion Corrine Hall took home an impressive silver medal on their first world championships outing together.
In the women's C5 category, Sarah Storey took an incredible 19th para-cycling track world title, defending her 2020 title. Storey qualified fastest with a time of 3:36.448 and continued the momentum to deliver a classy gold-medal winning ride.
On her 19th title, Storey said: "I'm over the moon, every time I've raced individual pursuit in the world champs, the first one in 2006, [I've won] and I've been unbeaten since then. It's still a dream, I don't take it for granted."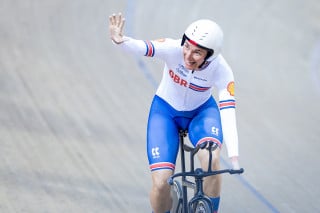 In the same category, Morgan Newberry qualified fourth, taking her into the evening's bronze medal race against last year's bronze medallist, Nicole Murray. Newberry delivered well, with a slightly faster final time of 3:47.655 but it was not quite enough to take home a medal this time.
Crystal Lane-Wright finished sixth in qualifying and did not progress to the final. Lane-Wright and Newberry currently sit in sixth and 10th place respectively, in the women's C5 omnium and will complete the event with the scratch race tomorrow.


MC5 15km scratch race

The men's C5 scratch race was a hotly contested race, with no one rider dominating throughout. Attacks were made and rebuffed over the 60 lap race, with groups breaking off and reforming regularly. Laps were also taken and regained, and Great Britain's riders Will Bjergfelt and Blaine Hunt finished 6th and 11th respectively. The defending world champion, Australia's Alistair Donohoe took the win to uphold his title. Hunt currently sits 9th in the omnium standings, while Bjergfelt is in 10th place ahead of the tomorrow's event, the 1km time trial.